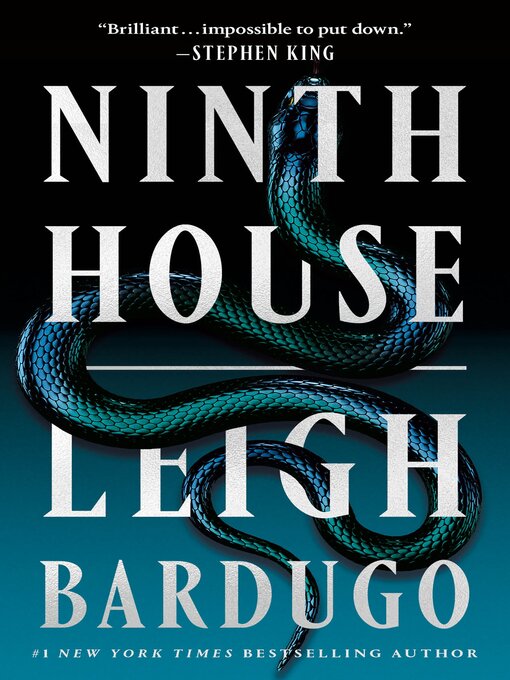 Ninth house Alex Stern Series, Book 1.
Format:

Kindle Book

2019

2019

Adobe EPUB ebook

OverDrive Read

Availability:

Unavailable

0 of 30 copies
79 people on waitlist
Summary
From #1 New York Times bestselling author Leigh Bardugo comes a mesmerizing tale of power, privilege, and dark magic set among the Ivy League elite.Galaxy "Alex" Stern is the most unlikely member of Yale's freshman class. Raised in the Los Angeles hinterlands by a hippie mom, Alex dropped out of school early and into a world of shady drug-dealer boyfriends, dead-end jobs, and much, much worse. In fact, by age twenty, she is the sole survivor of a horrific, unsolved multiple homicide. Some might say she's thrown her life away. But at her hospital bed, Alex is offered a second chance: to attend one of the world's most prestigious universities on a full ride. What's the catch, and why her?Still searching for answers, Alex arrives in New Haven tasked by her mysterious benefactors with monitoring the activities of Yale's secret societies. Their eight windowless "tombs" are the well-known haunts of the rich and powerful, from high-ranking politicos to Wall Street's biggest players. But their occult activities are more sinister and more extraordinary than any paranoid imagination might conceive. They tamper with forbidden magic. They raise the dead. And, sometimes, they prey on the living.Ninth House is the long-awaited adult debut by the beloved author of Shadow and Bone and Six of Crows. Leigh Bardugo will take her place alongside Lev Grossman and Deborah Harkness as one of the finest practitioners of literary fantasy writing today.Praise for Leigh Bardugo:"A master of fantasy." - The Huffington Post"Utterly, extremely bewitching." - The Guardian"[A] world that feels real enough to have its own passport stamp." - NPR"The darker it gets for the good guys, the better." - Entertainment Weekly"Sultry, sweeping and picturesque. . . . Impossible to put down." - USA Today.

Published Reviews
Booklist Review:
"Bestselling YA author (and Yale alum) Bardugo's first adult novel follows Galaxy Alex Stern, a survivor who has won a place at Yale because of her ability to see ghosts. She's the newest initiate of Lethe, the ninth of the university's notorious secret societies, responsible for oversight whenever magical rituals are conducted by the other eight. As Lethe's new Dante, Alex is supposed to learn how all the societies operate, make sure they're not breaking the rules, keep ghosts from interrupting arcane rites, and take a full load of courses and keep up the appearance of being a normal first year student. Then Alex's mentor disappears and a townie with connections to several societies is murdered. Alex's violent past hasn't necessarily prepared her for the academic and arcane rigors of Yale, but she finds she is admirably suited to the role of tenacious detective as she works to understand how all the puzzle pieces fit together. This atmospheric contemporary novel steeped in the spirit of a mystical New Haven is part mystery, part story of a young woman finding purpose in a dark world, and is the first in a potential series. HIGH-DEMAND BACKSTORY: Adults are just as enamored of Bardugo's YA novels as teens are, and many have been anxiously and curiously awaiting this one.--Anna Mickelsen Copyright 2010 Booklist"
From Booklist, Copyright (c) American Library Association. Used with permission.
Publisher's Weekly Review:
"Bardugo's excellent first fantasy novel for adults (following her highly regarded Six of Crows and Shadow and Bone YA series) introduces an antihero who is just the right person to take on rising dangers in an elitist society. Galaxy "Alex" Stern's early life was wrecked by her unusual ability to see "Grays"--earthbound ghosts--but that same ability gains her admission into one of the magic-based houses at Yale. As she struggles to adjust to college life, she's forced to confront evil powers swirling under the thin veneers of tradition and ritual. When a young woman is killed, Alex becomes determined to find the murderer, even if it means dodging attempts on her life and striking eldritch bargains. Alex is the story's gritty, rock-solid heart. While other characters refuse to admit what's happening, too insulated by their own privilege or distracted by banal needs such as funding, Bardugo gives Alex a thoroughly engaging mix of rough edge, courage, and cynicism, all of which are required to get things done. Much of the book's white-knuckled tension comes from the increasingly horrific flashbacks revealing Alex's past, which is still very present in her mind. Fantasy readers, particularly those who love ghosts, will hungrily devour this novel. Agent: Joanna Volpe, New Leaf Literary. (Oct.)"
(c) Copyright PWxyz, LLC. All rights reserved
Additional Information