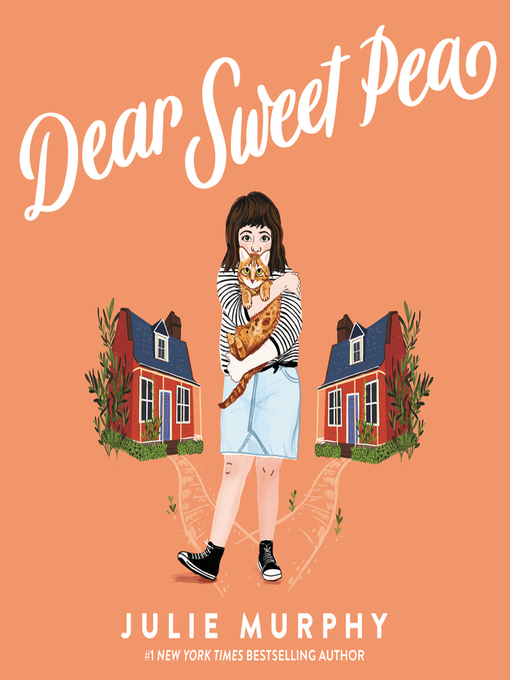 Dear sweet pea
Format:

OverDrive MP3 Audiobook

2019

2019

OverDrive Listen

Availability:

Available from OverDrive

2 of 4 copies
Summary
The first middle grade novel from Julie Murphy, #1 New York Times bestselling author of Dumplin' (now a popular Netflix film), is a funny, heartwarming story perfect for fans of Rebecca Stead, Ali Benjamin, and Holly Goldberg Sloan. Patricia "Sweet Pea" DiMarco wasn't sure what to expect when her parents announced they were getting a divorce. She never could have imagined that they would have the "brilliant" idea of living in nearly identical houses on the same street. In the one house between them lives their eccentric neighbor Miss Flora Mae, the famed local advice columnist behind "Miss Flora Mae I'" Dividing her time between two homes is not easy. And it doesn't help that at school, Sweet Pea is now sitting right next to her ex-best friend, Kiera, a daily reminder of the friendship that once was. Things might be unbearable if Sweet Pea didn't have Oscar-her new best friend-and her fifteen-pound cat, Cheese. Then one day Flora leaves for a trip and asks Sweet Pea to forward her the letters for the column. And Sweet Pea happens to recognize the handwriting on one of the envelopes. What she decides to do with that letter sets off a chain of events that will forever change the lives of Sweet Pea DiMarco, her family, and many of the readers of "Miss Flora Mae I'"

Published Reviews
Booklist Review:
"Murphy (Dumplin', 2015) creates a wonderfully realistic portrait of tween life in her first middle-grade novel. Sweet Pea has a lot going on as she muddles through seventh grade first and foremost, her parents' divorce. Though it's as amicable as they come, the divorce has thrown Sweet Pea for a loop, especially since her dad has simply moved down the street into a weirdly identical house. Luckily, she still has her best friend, Oscar, and cat, Cheese, to help her stay grounded. In an unlikely but immensely enjoyable twist, Sweet Pea begins ghostwriting responses for her neighbor's popular advice column, Miss Flora, Mae I?, while housesitting for her. She's delighted when her writing appears in the local paper, but her clandestine hobby has complicated ramifications. It comes between her and Oscar, yet it also allows her to repair another friendship and work through her feelings about the divorce. Sweet Pea is a treasure of a protagonist. She's fat without it being a cause for shame (though it comes with realistic challenges, like shopping in the junior's section), and she's not shy, popular, or an outcast: she's gloriously normal. Her burgeoning crush, embarrassment over period supplies, and utter mortification from barfing at a trampoline party will draw smiles and sympathy from readers, but Sweet Pea's flaws and personal revelations are what make her unforgettable.HIGH-DEMAND BACKSTORY: A massive promotional campaign is being deployed for this book, and Murphy's younger Dumplin' fans will already be lining up for it.--Julia Smith Copyright 2010 Booklist"
From Booklist, Copyright (c) American Library Association. Used with permission.
Publisher's Weekly Review:
"Seventh grader Patricia "Sweet Pea" DiMarco contends with her parents' divorce, shifting friendships, and newfound self-awareness in this praiseworthy middle grade debut from YA author Murphy (Dumplin'). Along with Cheese, her "fifteen-pound orange tabby," Sweet Pea shuttles between her family's original house in Valentine, Tex., where her mother still lives, and the nearly identical home two doors down, where her father now resides, unsettled and frustrated by her parents' split and her dad's recent coming out. Recruited by her neighbor, eccentric local advice columnist Miss Flora Mae, to manage her mail while she's out of town, Sweet Pea recognizes the handwriting on one letter and can't stop herself from opening--and responding to--some of the others, throwing her friendships into disarray as she navigates the line between right and wrong. As with her books for older readers, Murphy creates a richly imagined protagonist who shines in her strength, humor, and self-confidence; Sweet Pea is also plus-size by today's standards and is accepting and unashamed of her body. With gentle humor, ageless wisdom, and charming, genuine characters who represent a diversity of experiences, Murphy's novel offers all the emotional highs and lows of pitch-perfect middle grade. Ages 8--12. (Oct.)"
(c) Copyright PWxyz, LLC. All rights reserved
Additional Information