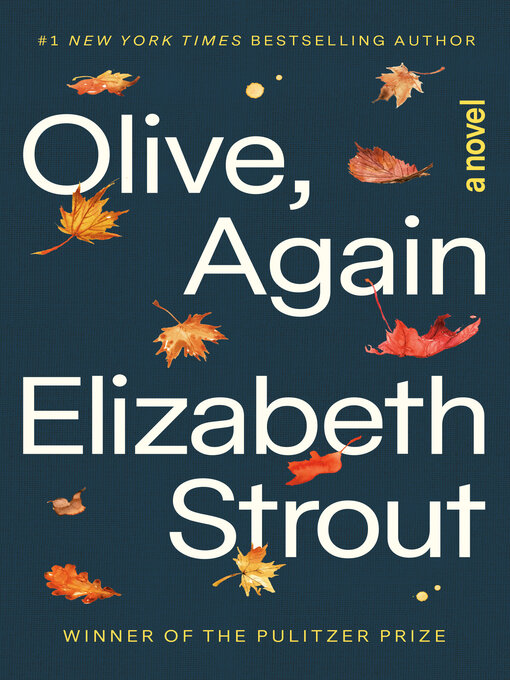 Olive, again A Novel.
Format:

Kindle Book

2019

2019

Adobe EPUB ebook

OverDrive Read

Availability:

Unavailable

0 of 70 copies
86 people on waitlist
Summary
#1 New York Times bestselling author and Pulitzer Prize winner Elizabeth Strout continues the life of her beloved Olive Kitteridge, a character who has captured the imaginations of millions of readers. Prickly, wry, resistant to change yet ruthlessly honest and deeply empathetic, Olive Kitteridge is "a compelling life force" (San Francisco Chronicle). The New Yorker has said that Elizabeth Strout "animates the ordinary with an astonishing force," and she has never done so more clearly than in these pages, where the iconic Olive struggles to understand not only herself and her own life but the lives of those around her in the town of Crosby, Maine. Whether with a teenager coming to terms with the loss of her father, a young woman about to give birth during a hilariously inopportune moment, a nurse who confesses a secret high school crush, or a lawyer who struggles with an inheritance she does not want to accept, the unforgettable Olive will continue to startle us, to move us, and to inspire moments of transcendent grace.

Published Reviews
Booklist Review:
"Has Olive mellowed? She is still irascible, she still speaks her mind with unflinching honesty, but age and the death of her husband, Henry, have worn away some of her edge: ""I feel like I've become, oh, just a tiny tiny bit better as a person,"" she says at one point. Strout's latest work like Olive Kitteridge (2008), a collection of stories set in the coastal town of Crosby, Maine takes Olive from her early seventies into her eighties, through a surprising marriage to Jack Kennison, a second widowhood, a heart attack, a kind of rapprochement with son Christopher, and, finally, a move into Maple Tree Apartments, ""that place for old people."" And also like Olive Kitteridge, in several of the stories, Olive steps aside while other characters, some bussed in from Strout's novels, take center stage and lend their own voices and perspectives. Love, loss, regret, the complexities of marriage, the passing of time, and the astonishing beauty of the natural world are abiding themes, along with ""the essential loneliness of people"" and the choices they make ""to keep themselves from that gaping darkness."" Unmissable, especially for readers who loved Olive Kitteridge. HIGH DEMAND BACKSTORY: Strout's first outing with Olive was a Pulitzer Prize-winner, an Emmy-winning HBO series, and a book club favorite; expect much reader curiosity for her return to her most beloved curmudgeon.--Mary Ellen Quinn Copyright 2010 Booklist"
From Booklist, Copyright (c) American Library Association. Used with permission.
Publisher's Weekly Review:
"As direct, funny, sad, and human as its heroine, Strout's welcome follow-up to Olive Kitteridge portrays the cantankerous retired math teacher in old age. The novel, set in small-town coastal Crosby, Maine, unfolds like its predecessor through 13 linked stories. "Arrested" begins just after the first novel ends, with 74-year-old widower Jack Kennison wooing 73-year-old Olive. "Motherless Child" follows the family visit when Olive tells her son she plans to marry Jack. In "Labor," Olive awkwardly admires gifts at a baby shower, then efficiently delivers another guest's baby. Olive also offers characteristic brusque empathy to a grateful cancer patient in "Light," and, in "Heart," to her own two home nurses--one a Trump supporter, one the daughter of a Somali refugee. "Helped" brings pathos to the narrative, "The End of the Civil War Days" humor, "The Poet" self-recognition. Jim Burgess of Strout's The Burgess Boys comes to Crosby to visit brother Bob ("Exiles"). Olive, in her 80s, living in assisted care, develops a touching friendship with fellow resident Isabelle from Amy and Isabelle ("Friend"). Strout's stories form a cohesive novel, both sequel and culmination, that captures, with humor, compassion, and embarrassing detail, aging, loss, loneliness, and love. Strout again demonstrates her gift for zeroing in on ordinary moments in the lives of ordinary people to highlight their extraordinary resilience. (Oct.)"
(c) Copyright PWxyz, LLC. All rights reserved
Additional Information