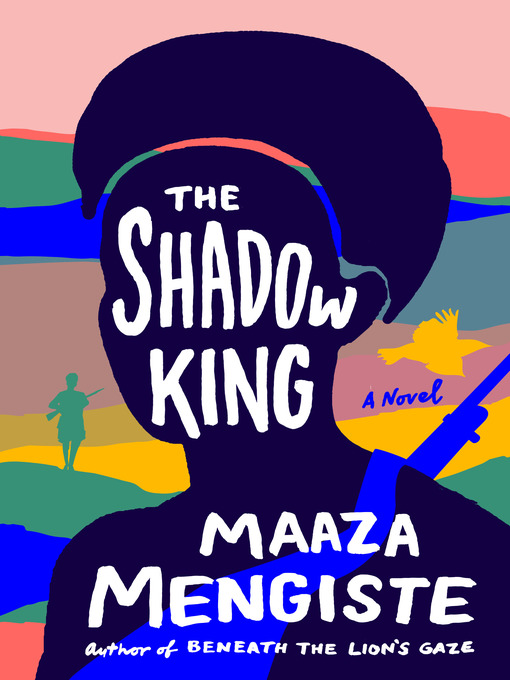 The Shadow king A novel
Format:

Kindle Book

2019

2019

Adobe EPUB ebook

OverDrive Read

Availability:

Available from OverDrive

2 of 6 copies
6 people on waitlist
Summary
"A brilliant novel, lyrically lifting history towards myth. It's also compulsively readable. I devoured it in two days." Salman Rushdie In 1935, orphaned servant Hirut struggles to adapt to her new household as Ethiopia faces Mussolini's looming invasion. As the battles begin in earnest, Hirut and other women must care for the wounded. But when Emperor Haile Selassie goes into exile and Ethiopia is about to lose hope, Hirut helps to disguise a gentle peasant as the emperor to keep the fight alive. She becomes his guard, inspiring women to join the war against fascism. In this extraordinary, beautifully told epic, Hirut overcomes rape, violence, and imprisonment, finding the strength to fight for her country's freedom and her own. Maaza Mengiste breathes life into complicated characters on both sides of the battle line, shaping a searing story of ordinary women and the advanced army they courageously opposed. Set against the first real conflict of World War II, The Shadow King is a heartrending, indelible exploration of what it means to be a woman at war.

Published Reviews
Booklist Review:
"Mengiste's indelible first novel, Beneath the Lion's Gate (2010), put Ethiopian historical fiction on countless best-of, must-read, and award lists. Her monumental new novel draws inspiration from her great-grandmother, who as the eldest and in Mulan-style answered Emperor Haile Selassie's demand for first sons to fight against Fascist Italy despite her father's objections, insisting that her brothers were too young. In her author's note, Mengiste explains that her brave predecessor represents one of the many gaps in European and African history,"" namely, ""Ethiopian women who fought alongside men."" In1974 in the novel, just before Selassie is dethroned, Hirut arrives in Addis Ababa bearing a box filled with the many dead that insist on resurrection. Almost four decades earlier, in 1935, Hirut was an orphaned servant who followed her master, Kidane, and his wife, Aster, into battle against Mussolini's invading troops. The women are initially relegated to being caretakers but prove themselves to be fierce as warriors. Hirut eventually plays servant to the titular Shadow King, a stand-in for the secluded emperor, who remains safe in England while his country bleeds. Mengiste's extraordinary characters shrewd Kidane, militant Aster, the enigmatic cook, narcissistic Italian commander Fucelli, conflicted photographer Ettore, elusive prostitute Fifi, even haunted Selassie epitomize the impossibly intricate ties between humanity and monstrosity, and the unthinkable, immeasurable cost of survival.--Terry Hong Copyright 2010 Booklist"
From Booklist, Copyright (c) American Library Association. Used with permission.
Publisher's Weekly Review:
"Mengiste (Beneath the Lion's Gaze) again brings heart and authenticity to a slice of Ethiopian history, this time focusing on the Italian invasion of her birth country in 1935. While Hirut, a servant girl, and her trajectory to becoming a fierce soldier defending her country are the nexus of the story, the author elucidates the landscape of war by focusing on individuals--offering the viewpoints (among others) of Carlo Fucelli, a sadistic colonel in Mussolini's army; Ettore Navarra, a Jewish Venetian photographer/soldier tasked with documenting war atrocities; and Haile Selassie, the emperor bearing the weight of his country's devastation at the hand of the Italians. In Hirut, Mengiste depicts both a servant girl's low status and the ferocity of her spirit--inspired by the author's great-grandmother who sued her father for his gun so she could enlist in the Ethiopian army--which allows her to survive betrayal by the married couple she serves and her eventual imprisonment by Fucelli, captured with horrifying detail by Navarra's camera. Mengiste breaks new ground in this evocative, mesmerizing account of the role of women during wartime--not just as caregivers, but as bold warriors defending their country. (Sept.)"
(c) Copyright PWxyz, LLC. All rights reserved
Additional Information