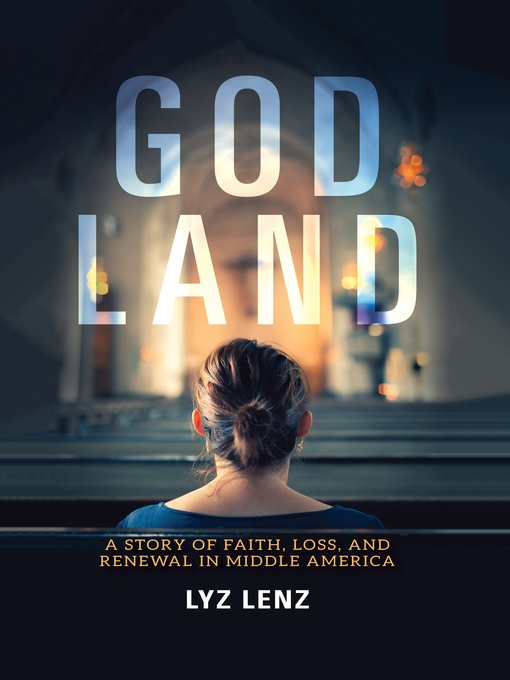 God land a story of faith, loss, and renewal in middle America
Format:

Kindle Book

2019

2019

Adobe EPUB ebook

OverDrive Read

Availability:

Available from OverDrive

1 of 1 copy
Summary
Through a thoughtful interrogation of the effects of faith and religion on our lives, our relationships, and our country, God Land investigates whether our divides can ever be bridged and if America can ever come together.

Contents
1. Dangerous Speculation
2. The Heart of the Heartland
3. Yearning for Better Days
4. The Pew and the Pulpit
5. The Church of the Air
6. Room at the Table
7. A Muscular Jesus
8. The Asian American Reformed Church of Bigelow, Minnesota
9. Bridging the Divide
10. A Den of Thieves
11. The Violence of Our Faith
12. Reclaiming Our Faith
13. The Fire Outside.
Published Reviews
Booklist Review:
"For Lenz, the God Land of her title is the Midwest or Middle America, as she calls it. Why has she chosen to write about Middle America, though? Because, she answers, this is the place we've made the standard bearer for what is American and by extension what are American values. As for her own values, she says she is a woman, a feminist, and someone who desperately believes in the radical inclusion of all God's people at his table. Unfortunately, she finds more exclusion than inclusion: exclusion of people of color, of LGBTQ people, of women from positions of authority, and more. While she acknowledges that big churches are big business in the Midwest, it is small churches, many of them dying, and the impact that loss has on community that are her focus. But she also focuses on her own loss: the loss of a church, the loss of her marriage and maybe the loss of her belief. Her thought-provoking examination of all of this is passionate and, despite the death and loss she sometimes finds, ultimately inspiring.--Michael Cart Copyright 2019 Booklist"
From Booklist, Copyright (c) American Library Association. Used with permission.
Publisher's Weekly Review:
"Journalist Lenz blends memoir and reporting in this slim but powerful debut on the faith and politics of Middle America. After a lifetime of straining against her prescribed place within a white, Protestant world, Lenz left both her marriage and church in the wake of the 2016 election. Unable to compromise any longer with a husband who voted for Donald Trump, and unable to worship at a church that ignored violent white supremacy, divorce and departure become her only path forward. "The story of who leaves the church," Lenz writes, "is just as important as the story of who stays." In a series of episodic chapters, the author travels across the Midwest exploring stories of both the belonging and exclusion she finds there. Highlights include her tale of a home church that imploded around questions of authority and submission, and her tracking of a resurgent "muscular" and patriarchal Christianity. She also reveals online and physical communities built by women, queer Christians, and people of color pushed out of conservative evangelical spaces. This work will resonate with any readers interested in understanding American landscapes where white, evangelical Christianity dominates both politics and culture. (Aug.)"
(c) Copyright PWxyz, LLC. All rights reserved
Additional Information