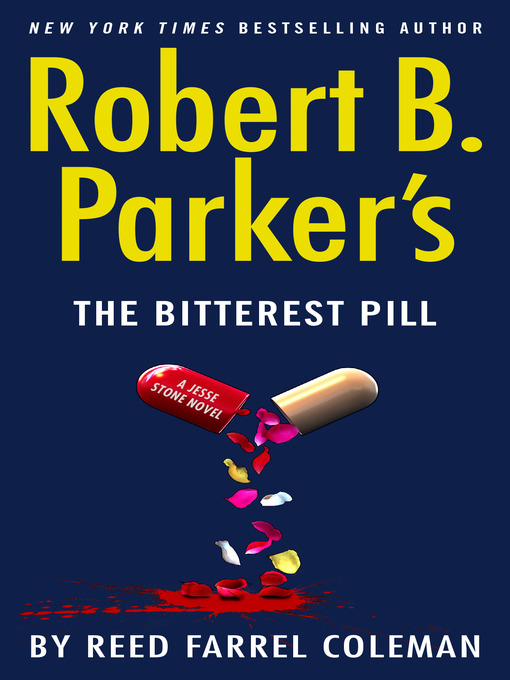 Robert B. Parker's The bitterest pill
Format:

Kindle Book

2019

2019

Adobe EPUB ebook

OverDrive Read

Availability:

Available from OverDrive

2 of 7 copies
Summary
"The opioid epidemic has reached Paradise, and Police Chief Jesse Stone must rush to stop the devastation in the latest thriller in Robert B. Parker's New York Times-bestselling series. When a popular high school cheerleader dies of a suspected heroin overdose, it becomes clear that the opioid epidemic has spread even to the idyllic town of Paradise. It will be up to police chief Jesse Stone to unravel the supply chain and unmask the criminals behind it, and the investigation has a clear epicenter: Paradise High School. Home of the town's best and brightest future leaders and its most vulnerable down-and-out teens, it's a rich and bottomless market for dealers out of Boston looking to expand into the suburbs. But when it comes to drugs, the very people Jesse is trying to protect are often those with the most to lose. As he digs deeper into the case, he finds himself battling self-interested administrators, reluctant teachers, distrustful schoolkids, and overprotective parents. and at the end of the line are the true bad guys, the ones with a lucrative business they'd kill to protect"--

Published Reviews
Booklist Review:
"Heather Mackey is an elite student and a cheerleader. She has a great future ahead of her, until she doesn't, thanks to a heroin overdose. Jesse Stone, Paradise, Massachusetts, police chief, is a former L.A. cop who knows that kids don't usually jump right into heroin. Jesse starts digging at the high school and finds that Heather's grades had been declining, and she had lost her spark since suffering a back injury the year before. It's the first in what Jesse learns is a disturbing pattern: painful injuries followed by opioid addiction and then the reliance on illegal street drugs. The local supplier is a classmate of Heather's, but in short order he's found murdered. Jesse sets out to move up the supply chain. The sixth novel by Coleman in the Jesse Stone series, based on characters created by Robert B. Parker, may be his best. The appeal of the series has always been the unique buzz of small-town crime; in recent episodes, Coleman sometimes left that behind for more spectacular, cinematic violence. Happily, Stone's small-town dynamic is back.--Wes Lukowsky Copyright 2010 Booklist"
From Booklist, Copyright (c) American Library Association. Used with permission.
Publisher's Weekly Review:
"Bestseller Coleman's exceptional sixth Jesse Stone novel finds Jesse, the police chief of Paradise, Mass., still adjusting to the revelation in 2018's Colorblind that he fathered a now adult son, Cole Slayton. Cole's arrival in town comes "just as Paradise was shedding its own skin" and becoming more like Boston, complete with big-city crime, including narcotics. That plague hits home when 17-year-old Heather Mackey is found dead in her bedroom after overdosing on heroin and fentanyl. Concerned over the prospect of more deaths, Jesse devotes himself to finding Heather's supplier and those higher up in the distribution chain. Coleman sustains suspense through chapters told from the perspective of the drug dealers, while withholding the identity of a key member of the drug chain, who has a link with Heather's high school. Developments in Jesse's personal life are effectively interwoven with the mystery plot. Coleman stays faithful to the spirit of Parker's characters without sticking to the status quo. Author tour. Agent: Esther Newberg, ICM Partners. (Sept.)"
(c) Copyright PWxyz, LLC. All rights reserved
Additional Information