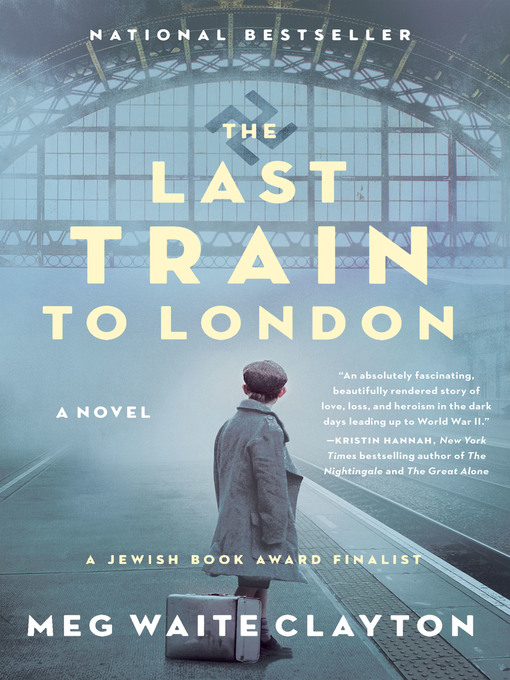 The last train to London : a novel
Format:

Kindle Book

2019

2019

Adobe EPUB ebook

OverDrive Read

Availability:

Unavailable

0 of 6 copies
6 people on waitlist
Summary
In 1936, the Nazis are little more than brutish boors to fifteen-year-old Stephan Neuman, a budding playwright and the son of a wealthy and influential Jewish family in Vienna, Austria. Stephan's best friend and companion is the brilliant Žofie-Helene, a Christian girl whose mother edits a progressive, anti-Nazi newspaper. But the two adolescents' carefree innocence is shattered when Hitler's forces advance. There is hope in the darkness, though. Truus Wijsmuller, a childless Dutchwoman, risks her life to smuggle children out of Nazi-occupied lands to the nations which will take them. It is a mission which becomes even more dangerous as countries across Europe close their borders to the growing number of refugees desperate to escape after the Anschluss, Hitler's annexation of Austria. Tante Truus, as she is known, is determined to save as many children as she can. After Britain passes a measure to take in young refugees from the German Reich, she dares to approach Adolf Eichmann, the man who would later help devise the "Final Solution to the Jewish Question". Truus then sets off in a race against time to lead hundreds of children on a perilous journey to freedom.

Published Reviews
Booklist Review:
"Geertruida Wijsmuller-Meijer a real-life Dutch Resistance fighter and the heroine of Clayton's enlightening, meticulously researched historical novel began rescuing Jewish children from the Third Reich as early as 1933. As Nazi power grew, she expanded her efforts, ushering hundreds of children to safety. Clayton's story of this remarkable woman, known as Tante Truus, is enriched by a compelling cast of fictional characters. Stephan Neuman, son of a Jewish businessman in Austria, is a budding playwright at 17; his good friend, Zofie-Helene, is a math whiz. In chapters alternating with those describing Tante Truus' dangerous trips between Austria and the Netherlands, Clayton relates the struggles faced by the young pair. Stephan's father is picked up by the Gestapo, and dies in German custody; Stephan hides in underground tunnels. Zofie is Christian, but her father is dead, and her mother, a well-known journalist who writes fearlessly about the Nazi treatment of Jews, is sent to jail. Eventually Tante Truus convinces Adolf Eichmann to let her take one last train of Austrian children to England, where they will be housed in camps until families are found to shelter them. Stephan, Zofie, and Stephan's younger brother make this harrowing journey to an uncertain future, one experienced by so many.--Deborah Donovan Copyright 2010 Booklist"
From Booklist, Copyright (c) American Library Association. Used with permission.
Publisher's Weekly Review:
"Clayton (Beautiful Exiles) reaches into the troubled lives of the Third Reich's civilian victims, drawing readers into one woman's efforts to save children in this excellent novel based on actual events. Geertruida Wijsmuller, known as "Tante Truus" and part of the Dutch resistance, is determined to risk everything to save children of all ages despite--or because of--her inability to bring a pregnancy to term herself. In Vienna, the lives of two children are highlighted: Stephan Neuman is Jewish, and because he turned 17 in 1938, he's barely allowed to escape to England in the 1938--1939 Kindertransport, which will not accept 18-year-olds. Stephan's friend and budding beloved, 15-year-old Sofie-Helene Perger, is not Jewish, but her mother is a journalist who refuses to stop writing articles critical of Hitler. Stephan, an aspiring playwright, must adapt to the changes in his life, which was once filled with wealth from his father's famous chocolate factory. Math prodigy Sofie also tries to adapt, uncertain about how to help Stephan without threatening her own family. The children and Tante Truus's stories don't intersect until later in the book, when she secures them safe passage to England due to a daring, last-second decision. Clayton effectively captures the dim hope of survival amid the mounting terror of the lead-up to WWII. This is a standout historical fiction that serves as a chilling reminder of how insidious, pervasive evil can gradually seep into everyday lives. Agent: Marly Rusoff, Marly Rusoff & Associates, Inc. (Sept.)"
(c) Copyright PWxyz, LLC. All rights reserved
Additional Information