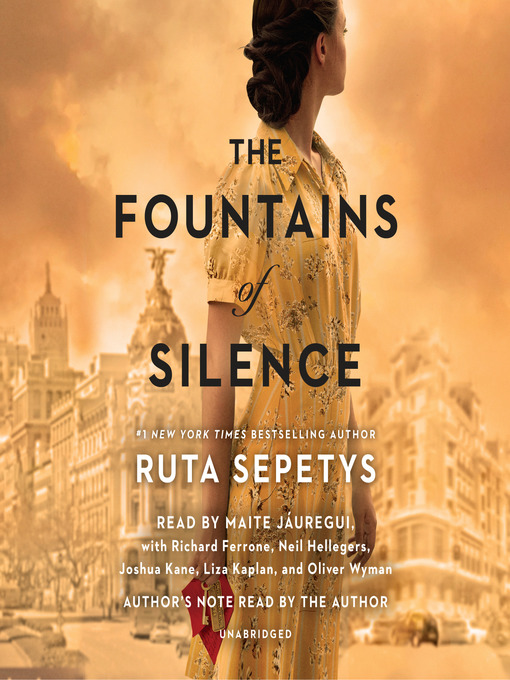 The Fountains of silence
Format:

OverDrive MP3 Audiobook

2019

2019

OverDrive Listen

Availability:

Available from OverDrive

3 of 8 copies
5 people on waitlist
Summary
From the #1 New York Times bestselling author of Salt to the Sea and Between Shades of Gray comes a gripping, extraordinary portrait of love, silence, and secrets amidst a Spanish dictatorship.Madrid, 1957. Under the fascist dictatorship of General Francisco Franco, Spain is hiding a dark secret. Meanwhile, tourists and foreign businessmen flood into Spain under the welcoming guise of sunshine and wine. Among them is eighteen-year-old Daniel Matheson, the son of an oil tycoon, who arrives in Madrid with his parents hoping to connect with the country of his mother's birth through the lens of his camera. Photography—and fate—introduce him to Ana, whose family's interweaving obstacles reveal the lingering grasp of the Spanish Civil War—as well as chilling definitions of fortune and fear. Daniel's photographs leave him with uncomfortable questions amidst shadows of danger. He is backed into a corner of decisions to protect those he loves. Lives and hearts collide, revealing an incredibly dark side to the sunny Spanish city.Master storyteller Ruta Sepetys once again shines light into one of history's darkest corners in this epic, heart-wrenching novel about identity, unforgettable love, repercussions of war, and the hidden violence of silence—inspired by the true post-war struggles of Spain.Includes vintage media interstitials, oral history commentary, photos, and more.

Published Reviews
Booklist Review:
"It's 1957 and aspiring photographer Daniel Matheson is visiting Spain with his Texas oil tycoon father. Daniel is eager for the opportunity to flesh out his portfolio for a photography contest what would be more prize-­worthy than photos of daily life in notoriously secretive Spain? but he gets repeated warnings, some quite aggressive, against looking too closely. Another thing Daniel doesn't bank on is Ana, an arrestingly beautiful maid at the Castellana Hilton, where he's staying with his parents. As their affection deepens, so, too, do their differences: Ana, daughter of executed anti-Fascists, lives a tightly constrained existence, and Daniel has unprecedented freedom in her country and can't quite wrap his head around the danger he puts her in. In another meticulously researched novel, Sepetys (Salt to the Sea, 2015) offers a captivating glimpse into Franco's Spain, a region awash in secrets and misinformation. As Sepetys slowly unspools hard truths about the era, such as the prevalence of babies stolen from poor, Republican families, the facts become increasingly impossible to ignore, both for the reader and for Daniel. The romance ultimately takes center stage, but the troubling events in the margins add terrifyingly high stakes to Daniel and Ana's relationship. For all her extensive, careful research (evident in the back matter), Sepetys doesn't overwhelm readers with facts; rather, she tells a moving story made even more powerful by its placement in a lesser-known historical moment. Captivating, deft, and illuminating historical fiction. HIGH-DEMAND BACKSTORY: A new novel from best-selling, award-winning Sepetys is always news, but this latest has a hefty promotional campaign to bolster it up as well.--Sarah Hunter Copyright 2019 Booklist"
From Booklist, Copyright (c) American Library Association. Used with permission.
Publisher's Weekly Review:
"Sepetys (Salt to the Sea) again deftly explores a painful chapter in history, this time Franco's Madrid. In 1957, 18-year-old Daniel, an aspiring photojournalist from Texas, visits Spain with his Spanish mother and American oil tycoon father. After arriving, he hones his lens on the culture, in some cases capturing forbidden images that earn the wrath of the menacing Guardia Civil, and he forms a relationship with his enigmatic hotel attendant, Ana, and her family, who are barely surviving, in stark contrast to Daniel's family's affluence. The tension heightens as a mystery involving orphans unfolds and Daniel and Ana's magnetic romance progresses. The novel revolves around Ana's brother, Rafa, a bullfighting promoter; her cousin Puri, who works at an orphanage; a lecherous American ambassador; and an experienced newspaper bureau chief, who mentors Daniel. Sepetys skillfully conveys Spain's atmosphere under Franco--who limited women's rights and squelched rebellion--with a pervasive feeling of fear and economic oppression. Compelling primary source materials, such as memos from U.S. presidents, oral history excerpts, and even hotel brochures, precede some chapters and contextualize the narrative. This gripping, often haunting historical novel offers a memorable portrait of fascist Spain. Ages 12--up. (Oct.)"
(c) Copyright PWxyz, LLC. All rights reserved
Additional Information