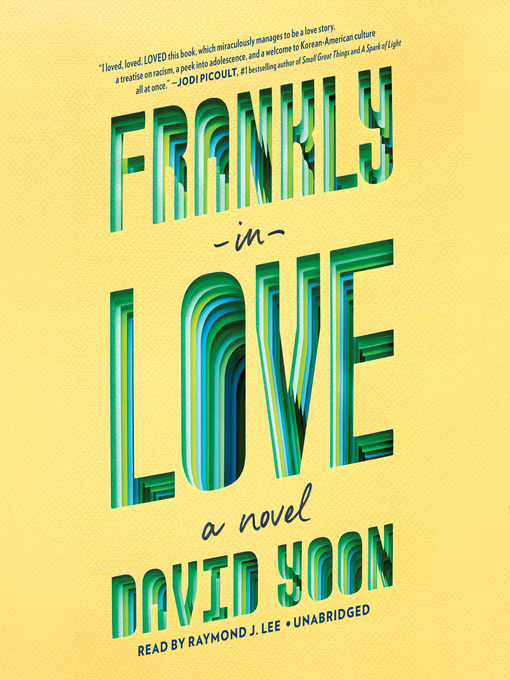 Frankly in love
Format:

OverDrive MP3 Audiobook

2019

2019

OverDrive Listen

Availability:

Unavailable

0 of 3 copies
7 people on waitlist
Summary
"High school senior Frank Li takes a risk to go after a girl his parents would never approve of, but his plans will leave him wondering if he ever really understood love--or himself--at all"--

Published Reviews
Booklist Review:
"Frank Li has always known his parents expected him to date a fellow Korean American. It was an unspoken rule he tried not to think about until he finds himself kissing, texting, and overall obsessing over Brit who's white. To save himself from his parent's disappointment (or outright condemnation) Frank hatches a plan to create a faux relationship with longtime family friend Joy, who has also fallen for a non-Korean. It seems like the perfect plan, at least, for a little while. With Frankly in Love, Yoon has created a story within the well-trod rom-com trope of fake relationships becoming more than a facade that is completely fresh. Frank is a wonderfully self-aware protagonist with a compelling voice that sometimes seems much older than 18 but never in a way that rings false. To say this debut novel is more than a romance would be to malign the genre it is a credit to, but even readers who aren't fans of romance will be drawn into this beautifully written exploration of family, identity, and self-discovery.--Molly Horan Copyright 2019 Booklist"
From Booklist, Copyright (c) American Library Association. Used with permission.
Publisher's Weekly Review:
"Caught in a brawl between romance and family expectations, Frank Li isn't sure which one will knock him out first. His Korean immigrant parents have already disowned his sister for dating a non-Korean, so when Frank falls for a white classmate, he settles on a con. His partner in crime is fellow Korean-American Joy Song, and together they begin a for-their-parents'-eyes relationship that allows them to spend time with their real crushes--but might not be so fake after all. Yoon's debut examines issues of identity through a significant but often-overlooked subset of the Korean diaspora in California: working-class immigrants and their first-generation children. Frank's parents' racism is overtly presented alongside classism, microaggressions, and prejudice that subtly touch all characters. Yoon never settles for stereotypes, instead giving his well-defined characters a diversity of experience, identity, sexuality, and ambition. Told in youthful-sounding prose, Frank's journey reaches beyond Korean-American identity and touches on the common experiences of many children of immigrants, including negotiating language barriers, tradition, and other aspects of what it means to be a "hyphenated" American. Ages 14--up. (Sept.)"
(c) Copyright PWxyz, LLC. All rights reserved
Additional Information