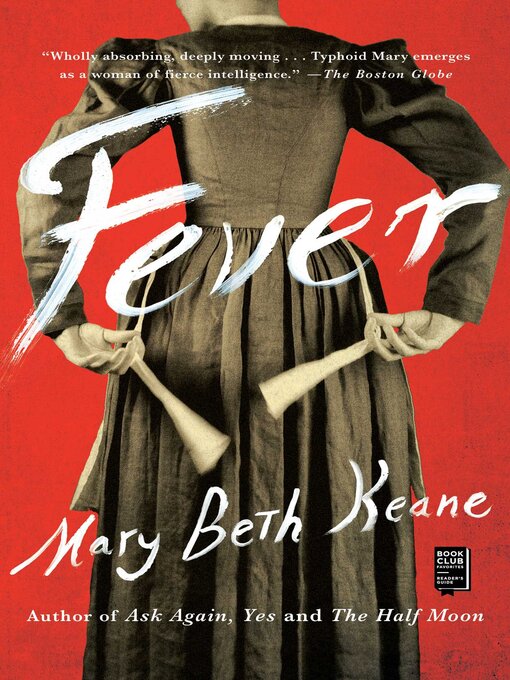 Fever
Format:

Kindle Book

2013

2013

Adobe EPUB ebook

OverDrive Read

Availability:

Available from OverDrive

1 of 3 copies
1 person on waitlist
Summary
"On the eve of the twentieth century, Mary Mallon emigrated from Ireland at age fifteen to make her way in New York City. Brave, headstrong, and dreaming of being a cook, she fought to climb up from the lowest rung of the domestic-service ladder. Canny and enterprising, she worked her way to the kitchen, and discovered in herself the true talent of a chef. Sought after by New York aristocracy, and with an independence rare for a woman of the time, she seemed to have achieved the life she'd aimed for when she arrived in Castle Garden. Then one determined "medical engineer" noticed that she left a trail of disease wherever she cooked and identified her as an "asymptomatic carrier" of Typhoid Fever. With this seemingly preposterous theory, he made Mallon a hunted woman."

Published Reviews
Booklist Review:
"*Starred Review* In this compelling historical novel, the infamous Typhoid Mary is given great depth and humanity by the gifted Keane (The Walking People, 2009). Irish immigrant Mary Mallon is eager to better her station in life and unafraid of hard work. When she is finally made a head cook, she is hired by some of the best families in Manhattan but unwittingly leaves a trail of disease in her wake. A medical engineer ultimately identifies her as a healthy carrier of typhoid fever and quarantines her on North Brother Island, where she is separated from her lifelong companion, Alfred Briehof, and forced to live in isolation. She is released three years later under the condition that she never cook again. But her inability to understand her condition, her passion for cooking, and the income she had become used to all conspire to lure her back into the kitchen. Keane not only makes of the headstrong Mary a sympathetic figure, she also brings the New York City of the early twentieth century to teeming life, sweeping readers into the crowded apartment buildings, filthy bars, and dangerous sweatshops of Upper Manhattan. Most movingly of all, she tells a great love story in depicting Mary and Alfred's flawed but passionate relationship. A fascinating, often heartbreaking novel.--Wilkinson, Joanne Copyright 2010 Booklist"
From Booklist, Copyright (c) American Library Association. Used with permission.
Publisher's Weekly Review:
"Keane (The Walking People) rescues Typhoid Mary from her "cautionary tale" status by telling her true story. Apprehended by the New York Department of Health in 1907, following the deaths of the family for whom she cooks, Mary Mallon is turned into a guinea pig on an East River island with little to comfort her aside from rare letters from her lover Alfred. Slowly she builds a case to win her freedom and returns to a changed New York of Chinese laundries, tenement fires, and Alfred, now-destitute. Dogged by her reputation as a tainted woman, Mary defies the virus she carries by doing what she does best, even as her nemesis-the "medical sleuth" Dr. Soper (the novel's most engaging figure)-hounds her from kitchen to kitchen. There's a tremendous amount of retrospection and research circling the myth, but Keane, by staying so close to Mary, occasionally loses sight of what might have been a more lucrative subject: the birth of the health scare. Typhoid is frequently treated as though it's little more than a metaphor for difference or estrangement, and we don't entirely understand why Mary never seems to grasp the consequences of her actions. Still, as historical fiction, Fever seldom disappoints in capturing the squalid new world where love exists in a battlefield both biological and epochal. Agent: Chris Calhoun, the Chris Calhoun Agency. (Mar.) (c) Copyright PWxyz, LLC. All rights reserved."
(c) Copyright PWxyz, LLC. All rights reserved
Additional Information