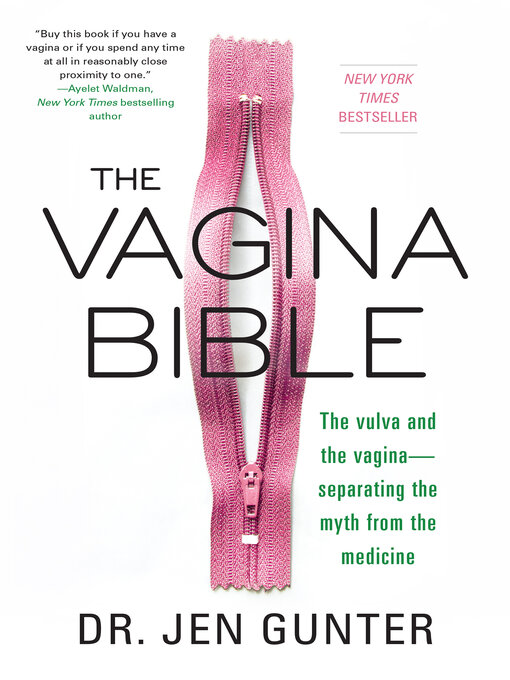 The vagina bible the vulva and the vagina
Format:

Kindle Book

2019

2019

Adobe EPUB ebook

OverDrive Read

Availability:

Unavailable

0 of 7 copies
14 people on waitlist
Summary
With the erroneous or false information currently flooding the internet and some media, Gunter worries that people are not getting the information they need to make good choices about their own health. Through social media, in media interviews and in her New York Times column, Gunter is critical of dubious health claims made by celebrities, and the careless way that media outlets report on matters such as reproductive health and vaccination.

Published Reviews
Booklist Review:
"Gunter, an ob/gyn, wants to empower women with accurate health information, and she does so with humor, referring to her ""vagenda"" and calling douches cigarettes for your vagina. In this fact-filled and funny book, she covers menopause, body parts, menstrual products, birth control, sexually transmitted infections, unusual medical procedures, medicine-cabinet contents, and old-wives' tales. (Skip coffee enemas: a waste of good coffee. ) Some wow-inducing subjects include labial-reduction surgery and crocheted or knitted tampons offered on Etsy, which she does not recommend. Gunter makes good use of eye-opening statistics. For example, she notes that 80 percent of women who have been sexually active with a man will have had at least one STI. These infections are on the rise, likely owing to dating apps, decreased condom use, pubic-hair removal that causes microtrauma, and early access to porn (in which men nearly never wear condoms). Gunter includes plenty of positive news, too. The clitoris, she notes, is the only structure in the human body solely designed for pleasure. Readers will enjoy this entertainingly informative and candid guide.--Karen Springen Copyright 2010 Booklist"
From Booklist, Copyright (c) American Library Association. Used with permission.
Publisher's Weekly Review:
"Empowerment of women through accurate information about their own bodies is the "vagenda" of ob-gyn and New York Times columnist Gunter's comprehensive, pseudoscience-bashing discussion of all things vaginal and vulvar. Gunter begins with anatomy (including information for trans men with vulvas and trans women with vaginoplasties) and continues with some basic sex ed, focusing on female arousal while debunking the G-spot. Mixing medical background with simple, practical advice, Gunter covers health concerns she often encounters in her own practice, such as sexually transmitted infections, and the basic functions of the vulva and vagina at specific times of life--menstruation, pregnancy and birth, and menopause. Gunter is at her most vehement when advising her readers to leave healthy vaginas alone, reassuring them that yearly pelvic exams are not necessary, while also taking on nonevidence-based "natural" practices like vaginal steaming and Internet-propagated misinformation in general. Most valuably, she uses her expertise to clearly describe what to expect during healthcare sessions, giving excellent advice about effectively communicating with medical professionals. Gunter approachably, respectfully, and even playfully presents a huge amount of reproductive and sexual health education information to women, with the assurance that they can use it. (Sept.)"
(c) Copyright PWxyz, LLC. All rights reserved
Additional Information