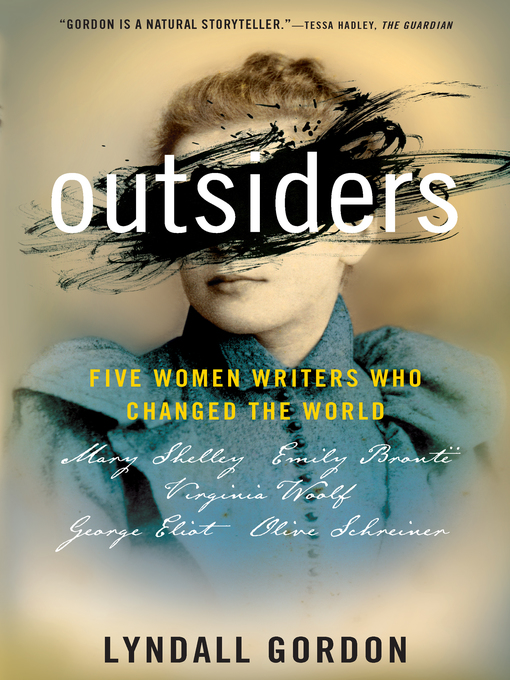 Outsiders five women writers who changed the world
Format:

Kindle Book

2019

2019

Adobe EPUB ebook

OverDrive Read

Availability:

Available from OverDrive

1 of 1 copy
Summary
Mary Shelley, Emily Brontë, George Eliot, Olive Schreiner and Virginia Woolf: they all wrote dazzling books that forever changed the way we see history. In "Outsiders", award-winning biographer Lyndall Gordon shows how these five novelists shared more than talent. In a time when a woman's reputation was her security, each of these women lost hers. They were unconstrained by convention, writing against the grain of their contemporaries, prophetically imagining a different future. We have long known the individual greatness of each of these writers, but in linking their creativity to their lives as outcasts, Gordon throws new light on the genius they share. All five lost their mothers in childbirth or at a young age. With no female role model present, they learned from books - and sometimes from an enlightened mentor. Crucially, each had to imagine what a woman could be in order to invent a voice of her own. The passion in their own lives infused their fiction. Writing with passionate intelligence of her own, Gordon reveals that these renegade writers inspired a new breed of women who wished to change a world locked in war, violence, exploitation and sexual abuse. Gordon's biographies have always shown the indelible connection between life and art: an intuitive, exciting and revealing approach that has been highly praised. In "Outsiders", she crafts nuanced portraits of Shelley, Brontë, Eliot, Schreiner and Woolf, naming each of these writers as prodigy, visionary, 'outlaw,' orator and explorer, and shows how they came, they saw and they left us changed. Today, following the tsunami of women's protest at wide-spread abuse, we do more than read them; we listen and live with their astonishing bravery and eloquence. -- inside cover.

Contents
List of illustrations
Foreword
Prodigy - Mary Shelley
Visionary - Emily Brontë
'Outlaw' - George Eliot
Orator - Olive Schreiner
Explorer - Virginia Woolf
The Outsiders Society
Sources
Further reading
Acknowledgements
Index.
Published Reviews
Publisher's Weekly Review:
"Literary biographer Gordon (Lives Like Loaded Guns) brilliantly ties together the biographies of five women writers who bravely embraced outsider status and "summoned the will to explore oddity in ways that speak to us about our unseen selves." Gordon assigns each woman a primary role: Emily BrontA« (visionary), George Eliot (outlaw), Mary Shelley (prodigy), Olive Schreiner (orator), and Virginia Woolf (explorer). Painstakingly examining her subjects' diaries, letters, speeches, and novels, as well as their lives and times, Gordon draws close connections between them. All of them were passionate readers-Shelley, Eliot, and Woolf being particularly drawn to classical learning, which "epitomized the education closed to women"-and all five lost their mothers very early in life. Gordon also draws intriguing connections between individual figures, noting that Shelley and Eliot both scandalized sexual mores with their affairs with married men, and that Woolf and Schreiner both defied the political establishment by campaigning as pacifists during times of war. By addressing an almost inconceivably wide range of themes through the book's conceit-health, mores, politics, pregnancy, economics, sex, sexism, secrets, and silence-Gordon seduces readers interested in all that these fascinating women had to offer. (Mar.) © Copyright PWxyz, LLC. All rights reserved."
(c) Copyright PWxyz, LLC. All rights reserved
Additional Information
Subjects
Shelley, Mary Wollstonecraft, 1797-1851
Eliot, George, 1819-1880
Brontë, Emily, 1818-1848
Schreiner, Olive, 1855-1920
Woolf, Virginia, 1882-1941
Women authors Biography
Biography & Autobiography
Literary Criticism
Nonfiction
Electronic books.
Biographies.
1797-1851.
1819-1880.
1818-1848.
1855-1920.
1882-1941.

Publisher

[Place of publication not identified] :Johns Hopkins University Press2019




2019



Contributors
OverDrive, Inc.

Language

English



System Details

Mode of access: World Wide Web.




Format: Adobe EPUB eBook




Format: Kindle Book




Format: OverDrive Read




Requires Adobe Digital Editions or Amazon Kindle



Description

1 online resource



Bibliography Notes

Includes bibliographical references (pages [291]-322) and index.



ISBN
9781421429458
9781421429458

Other
Classic View