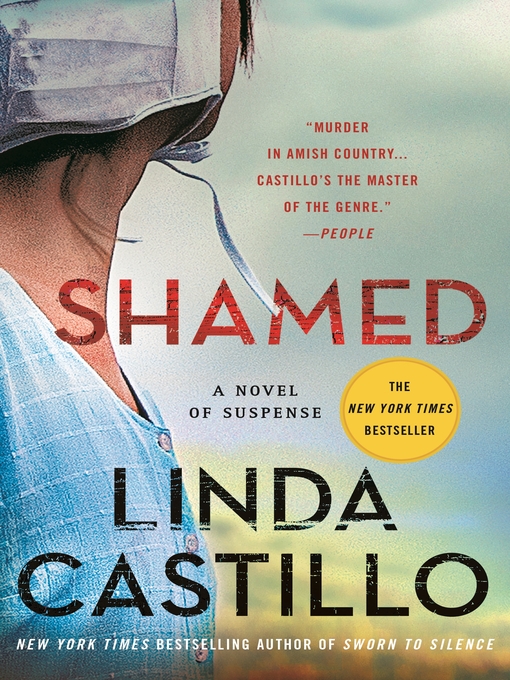 Shamed a Kate Burkholder novel
Format:

OverDrive Read

2019.

Adobe EPUB ebook

Kindle Book

Availability:

Unavailable

0 of 13 copies
27 people on waitlist
Summary
In this gripping thriller from New York Times bestselling author Linda Castillo, a devastating murder exposes an Amish family's tortured past.
The peaceful town of Painters Mill is shattered when an Amish grandmother is brutally murdered on an abandoned farm. When Chief of Police Kate Burkholder arrives on the scene, she learns that the woman's seven-year-old granddaughter is gone, abducted in plain sight. Kate knows time is against her--the longer the girl is missing, the less likely her safe return becomes. The girl's family is a pillar of the Amish community, well-respected by all. But Kate soon realizes they're keeping secrets--and the sins of their past may be coming back to haunt them. What are they hiding and why?
Kate's investigation brings her to an isolated Old Order Amish settlement along the river, a community where family is everything and tradition is upheld with an iron fist. But the killer is close behind, drawing more victims into a twisted game of revenge. Left behind at each new crime scene are cryptic notes that lead Kate to a haunting and tragic secret. What she uncovers threatens to change everything she thought she knew about the family she's fighting for, the Amish community as a whole--and her own beliefs.
As time to find the missing girl runs out, Kate faces a harrowing choice that will test her convictions and leave one family forever changed.
Published Reviews
Booklist Review:
"After going out to harvest walnuts from an abandoned property on a fall day, an Amish woman has been brutally murdered and her seven-year-old granddaughter is missing. The girl's younger sister, who was with them, is unharmed but can only say that ""Da Dievel"" is responsible. The hours ticking painfully by, Painters Mill, Ohio, Chief of Police Kate Burkholder won't rest until she finds young Elsie. Kate, who grew up Amish, uncovers a family secret she thinks could be the key, but no one's talking, Elsie's nowhere to be found and the killer isn't done. While Kate's made peace with leaving the fold, her frustration over not getting the whole story and the reminders to stay in her lane add to the already unbearable pressure. In her swiftly paced, eleventh entry in the best-selling Burkholder series, Castillo (A Gathering of Secrets, 2018) again captures Kate's empathic understanding of Amish culture and Deitsch, and adds atmosphere with falling-down, peeling-paint, rural settings. If they haven't already, readers looking for a fierce-female-fronted procedural should check out Catillo's best-selling series, from the get-go.--Annie Bostrom Copyright 2019 Booklist"
From Booklist, Copyright (c) American Library Association. Used with permission.
Publisher's Weekly Review:
"In the prologue of bestseller Castillo's electrifying 11th novel featuring Painters Mill, Ohio, police chief Kate Burkholder (after 2018's A Gathering of Secrets), an intruder murders Mary Yoder, a 60-year-old Amish widow, in her farmhouse. He then abducts Mary's seven-year-old granddaughter, Elsie Helmuth, who was playing outside with her five-year-old sister, Annie. In a subsequent interview, Annie tells Kate that the devil took Elsie. Kate and her team undertake a methodical search for the missing girl, knowing that the chances of recovering her alive diminish rapidly with the passing hours. A break comes with the discovery that the Helmuth family adopted Elsie as a newborn under mysterious circumstances. The stakes rise as those involved in the adoption, including the midwife who assisted in Elsie's birth, become targets of the person who took Elsie. More than one twist propels the action to its dramatic conclusion. To her credit, Castillo doesn't tie up every loose end in what turns out to be a morally complex case. 200,000 announced first printing. Author tour. Agent: Nancy Yost, Nancy Yost Literary Agency. (July) © Copyright PWxyz, LLC. All rights reserved."
(c) Copyright PWxyz, LLC. All rights reserved
Additional Information