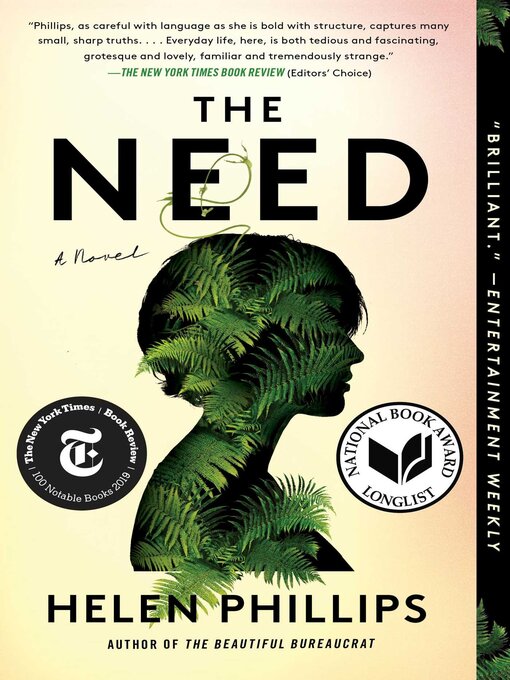 The need a novel
Format:

Kindle Book

2019

2019

Adobe EPUB ebook

OverDrive Read

Availability:

Unavailable

0 of 12 copies
18 people on waitlist
Summary
"When Molly, home alone with her two young children, hears footsteps in the living room, she tries to convince herself it's the sleep deprivation. She's been hearing things these days. Startling at loud noises. Imagining the worst-case scenario. It's what mothers do, she knows. But then the footsteps come again, and she catches a glimpse of movement. Suddenly Molly finds herself face-to-face with an intruder who knows far too much about her and her family. As she attempts to protect those she loves most, Molly must also acknowledge her own frailty. Molly slips down an existential rabbit hole where she must confront the dualities of motherhood: the ecstasy and the dread; the languor and the ferocity; the banality and the transcendence as the book hurtles toward a mind-bending conclusion"--FantasticFiction.com.

Published Reviews
Booklist Review:
"Since her first child was born, Molly has experienced moments of disorientation, misinterpreting what she hears or sees. As the book opens, she is upstairs with her children, Viiv, about to turn four, and Ben, not quite one, on the night her husband, David, has left for a week on business. Molly thinks she hears noises downstairs but dismisses the sounds as another of her episodes. Phillips teases out this tension to an almost unbearable level, jumping from what's happening in the house to accounts of Molly's work as a paleobotanist on a controversial dig. Then what happens vaults Molly into a different, terrifying dimension that she's unable to explain to David on their video calls. Here Phillips (The Beautiful Bureaucrat, 2015) explores issues of identity, responsibility, the burden of constant alertness for the sake of young children and their safety, and the relief of sharing this burden. But central to it all is the absolutely fierce love a mother has for her children, a love beside which everything else pales. A skilfully crafted, thought-provoking domestic thriller best for readers willing to embrace ambiguity.--Michele Leber Copyright 2019 Booklist"
From Booklist, Copyright (c) American Library Association. Used with permission.
Publisher's Weekly Review:
"Phillips (The Beautiful Bureaucrat) delivers an unforgettable tour de force that melds nonstop suspense, intriguing speculation, and perfectly crafted prose. While excavating a fossil quarry, paleobotanist Molly Nye and her colleagues find plant fossils unconnected to all previously identified species and random objects-a Bible describing God as "she," a toy soldier with a monkey's tail, a Coke bottle with a backwards-tilting logo-with odd, seemingly pointless differences from their everyday counterparts. She feels uneasy when news of the Bible draws gawkers to the site, but anxiety is no stranger to Molly; balancing work with her nursing baby and feisty four-year-old, she struggles with "apocalyptic exhaustion" and a constant fear that disaster is about to strike her kids. While her musician husband, David, is performing abroad, real danger arrives in the form of a black-clad intruder, who wears the gold deer mask David gave Molly for her birthday and knows intimate details of Molly's life. As the stranger's mask comes literally and figuratively off en route to a startling conclusion to their confrontation, Molly veers between panic, appeasement, and empathy for an "other" whose story is uncannily like her own except in its tragedies. Structured in brief, sharply focused segments that shift back and forth in time, the novel interrogates the nature of the self, the powers and terrors of parenting, and the illusions of chronology. Yet it's also chock-full of small moments-some scary, some tender, some darkly witty-that ground its cerebral themes in a sharply observed evocation of motherhood. With its crossover appeal to lovers of thriller, science fiction, and literary fiction, this story showcases an extraordinary writer at her electrifying best. Agent: Faye Bender, the Book Group. (July) © Copyright PWxyz, LLC. All rights reserved."
Additional Information