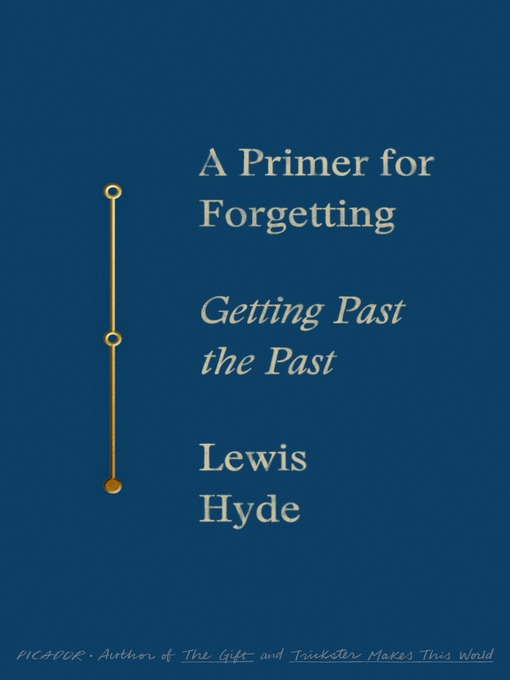 A Primer for forgetting Getting past the past
Format:

Kindle Book

2019

2019

Adobe EPUB ebook

OverDrive Read

Availability:

Unavailable

0 of 1 copy
Summary
"One of our true superstars of nonfiction" (David Foster Wallace), Lewis Hyde offers a playful and inspiring defense of forgetfulness by exploring the healing effect it can have on the human psyche. We live in a culture that prizes memory—how much we can store, the quality of what's preserved, how we might better document and retain the moments of our life while fighting off the nightmare of losing all that we have experienced. But what if forgetfulness were seen not as something to fear—be it in the form of illness or simple absentmindedness—but rather as a blessing, a balm, a path to peace and rebirth? A Primer for Forgetting is a remarkable experiment in scholarship, autobiography, and social criticism by the author of the classics The Gift and Trickster Makes This World. It forges a new vision of forgetfulness by assembling fragments of art and writing from the ancient world to the modern, weighing the potential boons forgetfulness might offer the present moment as a creative and political force. It also turns inward, using the author's own life and memory as a canvas upon which to extol the virtues of a concept too long taken as an evil. Drawing material from Hesiod to Jorge Luis Borges to Elizabeth Bishop to Archbishop Desmond Tutu, from myths and legends to very real and recent traumas both personal and historical, A Primer for Forgetting is a unique and remarkable synthesis that only Lewis Hyde could have produced.

Published Reviews
Booklist Review:
"Poet-essayist Hyde (Common as Air, 2010) celebrates forgetting as a force for creative potency, personal growth, and social justice, and in doing so reminds us of his talent for intellectual synthesis and his restless, contrarian spirit. The ancients, suggests Hyde, understood that memory and forgetting are mutually dependent; according to Plato, we spend our lives trying to recover that which we once knew, before birth. Nietzsche famously viewed amnesia as an unburdening from the weight of history. We, too, might recognize that beneficent forgetting, while not a substitute for forgiveness or an excuse to ignore past injustice, permits us to heal emotional wounds, repair damaged interpersonal relationships, and make meaningful art. We see this dynamic at work in post-conflict reconciliation processes and in friendships between crime victims and perpetrators. It is an essential ingredient in the patriotism that binds disparate populations. But Hyde's thesis less a structured argument than an aggregation of loosely related anecdotes and observations, collected scrapbook-style transcends simple polemic. Rather, in the way of Zen Buddhism, it's an invitation to forget our very selves so that we might finally see the universe clearly. And alongside all of the bright-burning erudition, there is a very moving personal angle: his mother's progressive dementia and the prospect of his own.--Brendan Driscoll Copyright 2019 Booklist"
From Booklist, Copyright (c) American Library Association. Used with permission.
Publisher's Weekly Review:
"In this delicate, allusive thought experiment, literary critic Hyde (The Gift) probes the idea of forgetting as a positive act. He ponders three major themes: ways to release a personal trauma, as in the story of an African-American man who publicly accepted a plea for forgiveness from one of his brother's Klansmen killers; ways of moving past collective traumas, such as through the amnesty for atrocities granted through post-apartheid South Africa's Truth and Reconciliation Commission; and the act of self-forgetting, "a technique to help us shed... the mind's buffering blubber of routine." Hyde draws on widely varied references, including Nietzsche and Kierkegaard, literary luminaries that include Nabokov and Borges, and, most fruitfully, classical literature-he compares the avenging Furies of ancient Greek tragedy to the "restless, intrusive Unforgettable" of America's history of racial violence. Venturing outside Western culture, he also finds a luminous truth in the Buddhist notion that real awakening comes when one forgets everything but the present moment. An elegant exercise in philosophy and form, Hyde's meditation on forgetting as an act of clarity offers stimulating contemplation of the odd paradox that "memory and oblivion... cannot function unless they work together." (June) © Copyright PWxyz, LLC. All rights reserved."
(c) Copyright PWxyz, LLC. All rights reserved
Additional Information