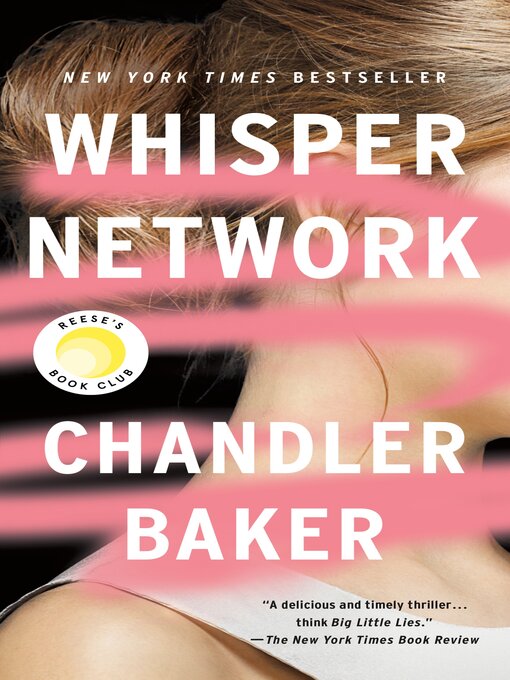 Whisper network : a novel
Format:

Kindle Book

2019

2019

Adobe EPUB ebook

OverDrive Read

Availability:

Available from OverDrive

6 of 29 copies
8 people on waitlist
Summary
"Sloane, Ardie, Grace, and Rosalita have worked at Truviv, Inc. for years. The sudden death of Truviv's CEO means their boss, Ames, will likely take over the entire company. Each of the women has a different relationship with Ames, who has always been surrounded by whispers about how he treats women. Those whispers have been ignored, swept under the rug, hidden away by those in charge. But the world has changed, and the women are watching this promotion differently. This time, when they find out Ames is making an inappropriate move on a colleague, they aren't willing to let it go. This time, they've decided enough is enough. Sloane and her colleagues' decision to take a stand sets in motion a catastrophic shift in the office. Lies will be uncovered. Secrets will be exposed. And not everyone will survive. All of their lives--as women, colleagues, mothers, wives, friends, even adversaries--will change dramatically as a result."--

Published Reviews
Booklist Review:
"In her adult-fiction debut, YA author Baker deftly mixes mystery and the #MeToo movement. When the CEO of Dallas sportswear company Truviv drops dead from a heart attack, the in-house favorite to succeed him is General Counsel Ames Garrett. But at the same time, a spreadsheet called the BAD (Beware of Asshole Dallas Men) is circulating, and, after some thought, Truviv lawyer Sloane Glover, who'd had an affair with Garrett before she was married, adds him to the list, believing that he has designs on new hire Katherine Bell. Soon Glover and her close colleagues, divorced mom Ardie Valdez and new mom Grace Stanton, take action against the company as another unexpected death high in the company's ranks raises the question of murder or suicide. In the midst of a police investigation and meetings involving suits and countersuits, Baker works in succinct statements about the quandaries of modern women: torn between motherhood and work, plagued with guilt about nearly everything, suppressing their femininity while being undervalued because of their sex, and schooled in secrecy. These truths serve to bolster the plot, not distract from it, and the result is a compulsively readable mystery with a strong message. Don't miss it.--Michele Leber Copyright 2019 Booklist"
From Booklist, Copyright (c) American Library Association. Used with permission.
Publisher's Weekly Review:
"YA author Baker (Alive) makes her adult debut with an engrossing, bracingly funny thriller. For too long, fear of career suicide has kept the women of Truviv, a Dallas-based athletic apparel brand, quiet about Ames Garrett, the company's general counsel, known throughout the company as a sexual predator. With Ames's promotion to CEO imminent, three of Truviv's female attorneys-dynamo Sloane Glover; down-to-earth, recently divorced Ardie Valdez; and overwhelmed new mom Grace Stanton-inch toward finally taking action. Sloane starts by adding Ames's name to a high-visibility, supposedly anonymous online spreadsheet, the Beware of Asshole Dallas Men list. When a shaken Katherine Bell, the legal department's freshest hire, complains to the trio, also members of the department, that their boss has become sexually aggressive with her, Sloane persuades Ardie and Grace to join her in taking legal action. The women get more than they bargained for in the ensuing fireworks, which include a death and a lawsuit. Baker, a corporate lawyer and the mother of a toddler, clearly knows her protagonists' conflicting professional and personal worlds, though she goes a bit overboard with plot twists toward the end. This empowering novel is sure to resonate with many readers in the #MeToo era. Agent: Dan Lazar, Writers House. (July) © Copyright PWxyz, LLC. All rights reserved."
(c) Copyright PWxyz, LLC. All rights reserved
Additional Information