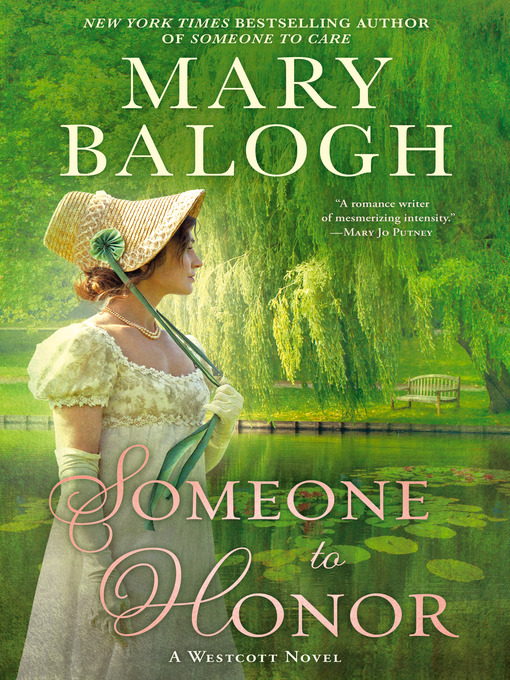 Someone to honor a Westcott novel
Format:

Kindle Book

2019

2019

Adobe EPUB ebook

OverDrive Read

Availability:

Available from OverDrive

13 of 14 copies
Summary
Abigail Westcott's dreams for her future were lost when her father died and she discovered her parents were not legally married. But now, six years later, she enjoys the independence a life without expectation provides a wealthy single woman. Indeed, she's grown confident enough to scold the careless servant chopping wood outside without his shirt on in the proximity of ladies. But the man is not a servant. He is Gilbert Bennington, the lieutenant colonel and superior officer who has escorted her wounded brother, Harry, home from the wars with Napoleon. Gil has come to help his friend and junior officer recover, and he doesn't take lightly to being condescended to -- secretly because of his own humble beginnings. If at first Gil and Abigail seem to embody what the other most despises, each will soon discover how wrong first impressions can be. For behind the appearances of the once-grand lady and the once-humble man are two people who share an understanding of what true honor means, and how only with it can one find love.

Published Reviews
Booklist Review:
"Lieutenant Colonel Gilbert Gil Bennington might be an officer, but he is no gentleman. At least that is what Abigail ""Abby"" Westcott thinks when she first encounters him, sans shirt, chopping wood at her family's country estate. After all, what sort of man would parade around exuding all that raw masculinity knowing that there might be ladies present? However, once Abby gets over her initial impression of Gil and learns exactly how much he has done for her brother, Harry, who is finally home recovering from the Napoleonic wars, she begins to think that of all the men she knows, Gil may actually deserve the honorific of gentleman most of all. Poignant, heartrending, hopeful, and quietly profound, the latest exquisitely written installment in Balogh's Regency Westcott series is another sure bet for the author's legion of fans as well as an excellent introduction for new readers to Balogh's effortlessly elegant and superbly romantic brand of literary magic.--John Charles Copyright 2019 Booklist"
From Booklist, Copyright (c) American Library Association. Used with permission.
Publisher's Weekly Review:
"A false impression hides the answer to a woman's dreams in Balogh's layered sixth Westcott Regency (after Someone to Trust). Abigail Westcott, raised in the nobility, had been disgraced on the discovery that her parents' marriage was illegal, but now she is newly wealthy and content to remain single. Thrilled to welcome home her injured soldier brother, Harry, she's not impressed by his friend, Gil Bennington, whom she initially mistakes for a servant. Gil, a high-ranking officer, is ashamed of his illegitimacy, and he assumes Abby's introverted nature is merely snobbery. Only when they both stay with Harry during his convalescence do the two realize there's more to the other than meets the eye. When Gil is faced with a family emergency, Abby risks everything to help him, and Gil must decide whether he deserves a place in her titled family-and in her heart. Through these charming characters, Balogh explores the universal question "Who am I?" and its related concerns about self-worth. This warmhearted addition to the Westcott series adds depth to a complex, congenial family. (July) © Copyright PWxyz, LLC. All rights reserved."
(c) Copyright PWxyz, LLC. All rights reserved
Additional Information