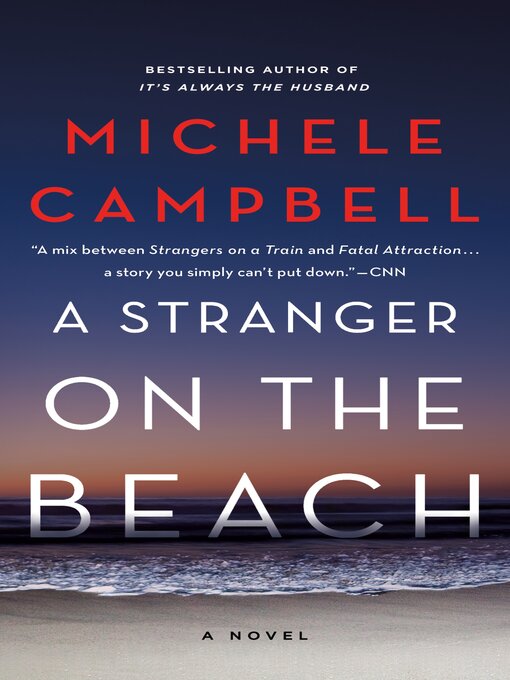 A Stranger on the Beach A Novel
Format:

Kindle Book

2019

2019

Adobe EPUB ebook

OverDrive Read

Availability:

Available from OverDrive

6 of 12 copies
1 person on waitlist
Summary
"There is a stranger outside Caroline's house. Her spectacular new beach house, built for hosting expensive parties and vacationing with the family she thought she'd have. But her husband is lying to her and everything in her life is upside down, so when the stranger, Aidan, shows up as a bartender at the same party where Caroline and her husband have a very public fight, it doesn't seem like anything out of the ordinary. As her marriage collapses around her and the lavish lifestyle she's built for herself starts to crumble, Caroline turns to Aidan for comfort...and revenge. After a brief and desperate fling that means nothing to Caroline and everything to him, Aidan's obsession with Caroline, her family, and her house grows more and more disturbing. And when Caroline's husband goes missing, her life descends into a nightmare that leaves her accused of her own husband's murder."--

Published Reviews
Booklist Review:
"This twisting psychological thriller features two main characters whose relationship becomes a roller coaster of fear and intrigue. In the first part of the novel, we meet Caroline Stark, a once-rich Long Islander on the brink of losing it all. Her husband appears to be having an affair, and lonely, scared and newly broke Caroline finds solace in a fling with a handsome local bartender, Aidan Callahan. She's immediately remorseful and tries to put the indiscretion behind her, but Aidan won't take no for an answer and starts stalking Caroline and her family. The chapters alternate between Aidan's and Caroline's points of view, which become frighteningly disparate (unfortunately, the differences sometimes become confusing for the reader). The second portion of the book is a murder mystery that includes some out-of-the-blue surprises that will have readers wondering whether Caroline or Aidan was the unreliable narrator earlier in the tale. While the plot here is very different from that of Campbell's last novel She Was the Quiet One (2018), set in a boarding school this believable and engrossing he-said, she-said thriller will be a hit with fans of the earlier book as well as those who enjoy Alice LaPlante.--Henrietta Verma Copyright 2019 Booklist"
From Booklist, Copyright (c) American Library Association. Used with permission.
Publisher's Weekly Review:
"Well-to-do New Yorker Caroline Stark, the narrator of this engrossing, if flawed, thriller from Campbell (She Was the Quiet One), loses everything starting the night her husband, Jason, arrives late for the housewarming party at their new beach house followed by a Russian woman he claims is a business associate. Caroline knows the woman is his mistress, and their marriage falls apart. Soon the bank accounts are empty, the credit cards are canceled, and Caroline's college-age daughter is siding with Jason. Drunk and despondent, Caroline has an impetuous fling with a bartender, Aiden Callahan, who has a history of violence. Aiden becomes obsessed with Caroline and her house, which is built on land that was once owned by his family. Meanwhile, Jason disappears and suspicion falls on Caroline that she murdered him. The fast pace and strong characters, especially secondary ones such as Aiden, will help the reader overlook the plot holes (some Russian mobsters show unconvincing restraint). Those looking for breezy intrigue on a hot summer day will be satisfied. Agent: Meg Ruley, Jane Rotrosen Agency. (July) © Copyright PWxyz, LLC. All rights reserved."
(c) Copyright PWxyz, LLC. All rights reserved
Additional Information