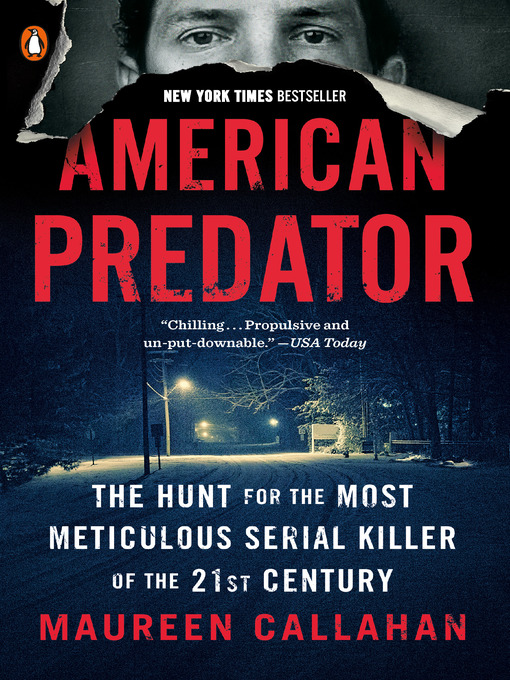 American predator the hunt for the most meticulous serial killer of the 21st century
Format:

Kindle Book

2019

2019

Adobe EPUB ebook

OverDrive Read

Availability:

Available from OverDrive

5 of 9 copies
Summary
"A gripping tour de force of investigative journalism that takes us deep into the investigation behind one of the most frightening and enigmatic serial killers in modern American history, and into the ranks of a singular American police force: the Anchorage PD Most of us have never heard of Israel Keyes. But he is one of the most ambitious, meticulous serial killers of modern time. The FBI considered his behavior unprecedented. Described by a prosecutor as "a force of pure evil," he was a predator who struck all over the United States. He buried "kill kits"--cash, weapons, and body-disposal tools--in remote locations across the country and over the course of fourteen years, would fly to a city, rent a car, and drive thousands of miles in order to use his kits. He would break into a stranger's house, abduct his victims in broad daylight, and kill and dispose of them in mere hours. And then he would return home, resuming life as a quiet, reliable construction worker devoted to his only daughter. When journalist Maureen Callahan first heard about Israel Keyes in 2012, she was captivated by how a killer of this magnitude could go undetected by law enforcement for over a decade. And so began a project that consumed her for the next several years--uncovering the true story behind how the FBI ultimately caught Israel Keyes, and trying to understand what it means for a killer like Keyes to exist. A killer who left a path of monstrous, randomly committed crimes in his wake--many of which remain unsolved to this day. American Predator is the ambitious culmination of years of on-the-ground interviews with key figures in law enforcement and in Keyes's life, and research uncovered from classified FBI files. Callahan takes us on a journey into the chilling, nightmarish mind of a relentless killer, and the limitations of traditional law enforcement, in one of America's most isolated environments--Alaska--when faced with a killer who defies all expectation and categorization"--

Published Reviews
Booklist Review:
"The subtitle of Callahan's (Champagne Supernovas, 2014) true-crime drama is a bit misleading, as the hunt for Israel Keyes is over by page 60. But what follows is a fascinating attempt to profile a serial killer that defies categorization. When an Anchorage teenager goes missing in 2012, local police muddle the case from the beginning. It's only due to Keyes' mistakes that he's caught, in Texas. Shortly after the interrogation begins, it's clear that this isn't the first time Keyes has committed murder. Rather, he'd become so skilled that he started taking more risks including committing the crime in his hometown, where he was known as a capable carpenter and loving father. Previously, Keyes had generally carried out his plans in the lower 48, burying kill kits that he would return to, disposing of remains in a different state, and taking advantage of ill-equipped, small-town police departments. Keyes is terrifying, and his crimes horrific, but Callahan's focus on the FBI's attempts to learn about his other crimes makes for a truly edge-of-your-seat page-turner even without the hunt. A must for fans of Mindhunter (1995) both the book and its recent Netflix adaptation and the long-running police drama Criminal Minds.--Kathy Sexton Copyright 2019 Booklist"
From Booklist, Copyright (c) American Library Association. Used with permission.
Publisher's Weekly Review:
"Investigative journalist Callahan (Champagne Supernovas: Kate Moss, Marc Jacobs, Alexander McQueen, and the '90s Renegades Who Remade Fashion) provides a chilling true-crime narrative in this detailed study of Israel Keyes, whom she describes as "a new kind of monster, likely responsible for the greatest string of unsolved disappearances and murders in modern American history." In 2012, a multi-jurisdictional search for Keyes, believed responsible for abducting 18-year-old Samantha Koenig from the Anchorage, Alaska, coffee kiosk where she worked, led to him being stopped for speeding in Texas. In his wallet, the police found Samantha's driver's license. Keyes confessed to killing Samantha, but was less forthcoming about other murders he said he'd committed, and the exact number of his victims was unresolved at the time of his suicide in custody, though he is believed to have killed at least 11 people over 14 years. The text is replete with disturbing revelations such as Keyes having carefully studied books by the FBI's top experts on profiling and serial killers. Through Callahan's access to many of the key players in law enforcement, she has produced the definitive account of a terrifying psychopath. Agent: Nicole Tourtelot, DeFiore and Company. (July) © Copyright PWxyz, LLC. All rights reserved."
(c) Copyright PWxyz, LLC. All rights reserved
Additional Information