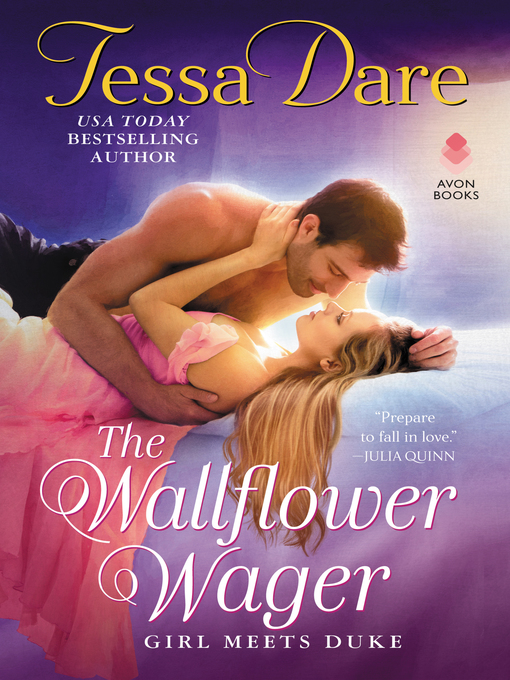 The Wallflower wager Girl meets duke
Format:

Kindle Book

2019

2019

Adobe EPUB ebook

OverDrive Read

Availability:

Unavailable

0 of 4 copies
1 person on waitlist
Summary
They call him the Duke of Ruin. To an undaunted wallflower, he's just the beast next door. Wealthy and ruthless, Gabriel Duke clawed his way from the lowliest slums to the pinnacle of high society—and now he wants to get even. Loyal and passionate, Lady Penelope Campion never met a lost or wounded creature she wouldn't take into her home and her heart. When her imposing—and attractive—new neighbor demands she clear out the rescued animals, Penny sets him a challenge. She will part with her precious charges, if he can find them loving homes. Done, Gabriel says. How hard can it be to find homes for a few kittens? And a two-legged dog. And a foul-mouthed parrot. And a goat, an otter, a hedgehog . . . Easier said than done, for a cold-blooded bastard who wouldn't know a loving home from a workhouse. Soon he's covered in cat hair, knee-deep in adorable, and bewitched by a shyly pretty spinster who defies his every attempt to resist. Now she's set her mind and heart on saving him. Not if he ruins her first.

Published Reviews
Booklist Review:
"After happily dedicating the last nine years of her life to taking in stray creatures, ranging from kittens to a parrot with a drunken sailor's vocabulary, Penny Campion's plan to be Regency London's premier equivalent of a crazy cat lady is in serious jeopardy. Penny's older brother, Bradford, and her aunt, Caroline, insist that Penny give up her so-called life in London and return home to Cumberland. Penny resists, convincing her aunt to give her a reprieve by promising that she will update her wardrobe, make an effort to appear in society, and find suitable new homes for her menagerie, all within one month. Fortunately, Penny's sexy new neighbor, Gabriel Duke, has a vested interest in helping Penny out, even if that interest initially seems to be quite mercenary. RITA Award-winning Dare's (The Governess Game, 2018) flair for ingeniously inventive and wonderfully whimsical story lines is on full display in the latest of her marvelous Girl Meets Duke books, which distinguishes itself with a plot with a serious side while still delivering just the right ratio of lushly detailed love scenes to laugh-out-loud moments.--John Charles Copyright 2010 Booklist"
From Booklist, Copyright (c) American Library Association. Used with permission.
Publisher's Weekly Review:
"Dare outdoes herself with the scintillating third Girl Meets Duke Regency romance (after The Governess Game). Lady Penelope Campion would rather be at home with her rescued animals than out in society, but her Aunt Caroline instructs her to give up her pets and be a proper lady--or move in with her brother in Cumberland, a fate Penny dreads. Then Penny meets her neighbor, wealthy commoner Gabriel Duke, while retrieving her escaped parrot. Gabe wants to sell his residence for a profit and believes that having a lady reside next door to him will increase his property value, so he agrees to help find homes for her animals so she can stay in London. As Gabe and Penny spend more time together, she sees the kindness hidden below his drive for success and riches. The attraction between Penny and Gabe is magnetic even as their class difference threatens to destroy their relationship. Authentic characters, witticisms, profound emotion, and echoes of trauma are primary elements in this expertly crafted novel. This riveting romance may be Dare's best yet. Agent: Steve Axelrod, Axelrod Agency. (Sept.)"
(c) Copyright PWxyz, LLC. All rights reserved
Additional Information