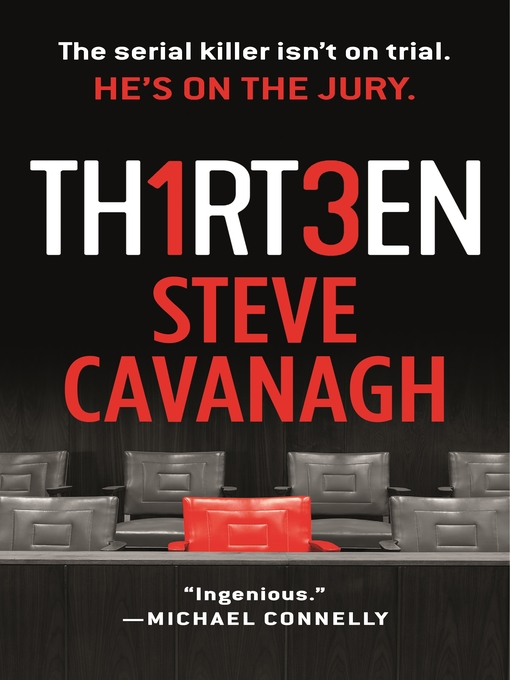 Thirteen
Format:

Kindle Book

2019

2019

Adobe EPUB ebook

OverDrive Read

Availability:

Available from OverDrive

5 of 12 copies
Summary
"Steve Cavanagh is an Irish author from Belfast and at the age of eighteen he studied law by mistake. He is now the international award-winning author of the Eddie Flynn novels. His debut novel, The Defense, was nominated for the Ian Fleming Steel Dagger Award for Thriller of the Year, and The Plea won the Prix Polar Award for Best International Novel. Steve is still a practicing lawyer (someday he'll get the hang of it) and co-host of the chart-topping podcast Two Crime Writers And A Microphone. He has been involved in several high-profile civil rights cases, his Eddie Flynn novels have been published in over twenty countries, he's married with two young children, and in his spare time he is mostly asleep."--

Published Reviews
Booklist Review:
"What better way to influence the outcome of the trial of the century than to serve on its jury? When movie star Bobby Solomon is charged with murdering his wife, who costarred with him in a major film due for release, and his chief of security, both found naked in bed in Solomon's Manhattan brownstone, high-powered attorney Rudy Carp takes the defense and persuades Eddie Flynn, con man turned lawyer, to assist him. When the movie studio pulls its financial support, Carp jumps ship, but Flynn believing his client innocent stays the course, even though it means giving up a job at Carp Law that's a potential lifeline for saving his marriage. Flynn soon finds he's up against the sophisticated serial killer known to the FBI as Dollar Bill, for the distinctly marked bills he leaves by his victims. Dollar Bill's unusual MO includes targeting those charged with the murders he himself commits. From the start, it's clear to the reader that the killer has maneuvered his way onto the Solomon jury, and action accelerates when the defense team puts together the bigger picture. A red herring is a bit disconcerting, but it doesn't substantially lower the impact of the adrenaline-fueled finale. A knockout legal thriller with a doozy of a twist.--Michele Leber Copyright 2019 Booklist"
From Booklist, Copyright (c) American Library Association. Used with permission.
Publisher's Weekly Review:
"What if the killer is on the jury? That's the harrowing question posed by Cavanagh's pulse-pounding third novel featuring New York defense attorney Eddie Flynn (after 2018's The Liar). Cavanagh juxtaposes the viewpoints of Flynn, brought in to help defend actor Bobby Solomon, who's accused of killing his wife in their Manhattan home, and Joshua Kane, who murders and connives his way onto the jury in the actor's trial. Some literal courtroom sleight of hand and sharp questioning by Flynn throws doubt on the seemingly airtight case of the prosecution, but Flynn's best chance is to identify another killer. His ex-FBI investigator Harper and her contact in the Bureau's Behavioral Analysis Unit provide a solid lead--a serial killer who has remained hidden by framing others for his crimes. Meanwhile, from within the jury, the ruthless Kane is able to discredit or kill the fellow jurors who won't vote his way. Cavanagh throws in false leads and red herrings to heighten the uncertainty. This tightly plotted page-turner delivers as both a legal thriller and serial killer investigation. Agent: George Lucas, Inkwell Management. (Aug.)"
(c) Copyright PWxyz, LLC. All rights reserved
Additional Information