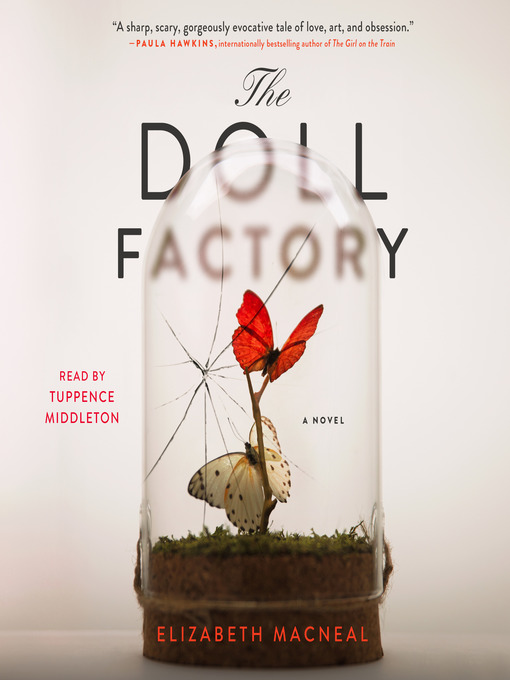 The doll factory a novel
Format:

OverDrive MP3 Audiobook

2019

2019

OverDrive Listen

Availability:

Available from OverDrive

2 of 2 copies
Summary
In this "sharp, scary, gorgeously evocative tale of love, art, and obsession" (Paula Hawkins, bestselling author of The Girl on the Train), a beautiful young woman aspires to be an artist, while a man's dark obsession may destroy her world forever.The Doll Factory is a sweeping tale of curiosity, love, and possession set among all the sordidness and soaring ambition of 1850s London. The greatest spectacle London has ever seen is being erected in Hyde Park and, among the crowd watching, two people meet. For Iris, an aspiring artist of unique beauty, it is the encounter of a moment--forgotten seconds later--but for Silas, a curiosity collector enchanted by the strange and beautiful, the meeting marks a new beginning. When Iris is asked to model for Pre-Raphaelite artist Louis Frost, she agrees on the condition that he will also teach her to paint, and suddenly her world expands beyond anything she ever dreamed of. But she has no idea that evil stalks her. Silas, it seems, has thought of only one thing since that chance meeting, and his obsession is darkening by the day...

Published Reviews
Booklist Review:
"In London, 1850, porcelain-doll painter Iris' family disowns her for leaving the oppressive but respectable doll shop to become an artist's model. Her coworker and twin sister, Rose, deformed in her teens by smallpox, feels especially betrayed. Meanwhile, taxidermist and curiosity-shop owner Silas nurses an obsession for Iris and her own deformity, a bent collarbone. In the build-up to and shadow of the 1851 Great Exhibition and Royal Academy show, love grows between Iris and Pre-Raphaelite painter Louis; Iris tastes true freedom and determinedly pursues her own painting; and Silas finalizes plans for capturing his most prized specimen. Talented debut novelist Macneal drops readers right into a Victorian London that's home to stinking squalor and chaos, but also significant beauty and possibility. Midway through, readers won't know if they're holding a romance, tragedy, or murder mystery, but won't pause long enough to wonder about it as Iris rails against the limitations of her gender and social status, and Silas' creepiness comes into sharp focus. (There's also a marriage scandal, and a gold-hearted street urchin.) This terrifically exciting, chiaroscuro novel became an instant bestseller in England, with TV rights already sold, and will jolt, thrill, and bewitch U.S. readers, too.--Annie Bostrom Copyright 2019 Booklist"
From Booklist, Copyright (c) American Library Association. Used with permission.
Publisher's Weekly Review:
"MacNeal's lively debut finds a fresh way to dramatize the Pre-Raphaelite Brotherhood of revolutionary, mid-19th-century British painters. In addition to William Holman Hunt, John Everett Millais, and Dante Gabriel Rossetti, MacNeal creates a fictitious PRB member, Louis Frost, who meets Iris Whittle, the heroine, a painter of miniature faces at Mrs. Salter's Doll Emporium. Dismissed for being a woman, Iris longs to be seen as a real painter, and when she meets Frost, he proposes a deal: if she poses for him, he will give her art lessons. At the same time, Iris also comes to the attention of Silas Reed, a taxidermist who sells stuffed animals to artists as props for their paintings. Unbeknownst to Iris, he stalks her with the intention of possessing her like an object . Louis turns out to be a generous mentor and Iris ends up falling for him. Only Albie, a light-fingered street urchin befriended by Iris, is aware of how much danger she is in from the obsessed Silas. Told against the backdrop of the Great Exposition at the Crystal Palace and its industrial wonders, MacNeal's consistently enjoyable novel reads like an art history lecture co-delivered by Wilkie Collins and Charles Dickens and read from a revisionist feminist script. This debut is a blast; it enticingly vacillates between a realistic depiction of the Pre-Raphaelite Brotherhood's London and lurid Victorian drama. (Aug.)"
(c) Copyright PWxyz, LLC. All rights reserved
Additional Information