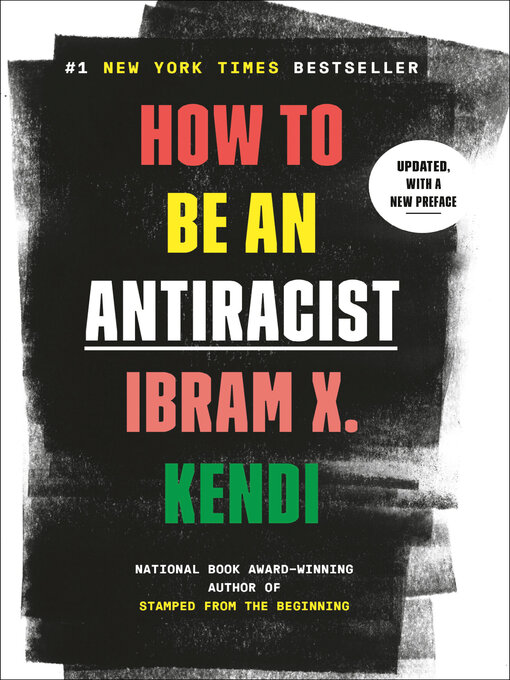 How to be an antiracist
Format:

Kindle Book

2019

2019

Adobe EPUB ebook

OverDrive Read

Availability:

Unavailable

0 of 15 copies
198 people on waitlist
Summary
""The only way to undo racism is to consistently identify and describe it -- and then dismantle it." Ibram X. Kendi's concept of antiracism reenergizes and reshapes the conversation about racial justice in America -- but even more fundamentally, points us toward liberating new ways of thinking about ourselves and each other. In How to Be an Antiracist, Kendi asks us to think about what an antiracist society might look like, and how we can play an active role in building it. In this book, Kendi weaves an electrifying combination of ethics, history, law, and science, bringing it all together with an engaging personal narrative of his own awakening to antiracism. How to Be an Antiracist is an essential work for anyone who wants to go beyond an awareness of racism to the next step: contributing to the formation of a truly just and equitable society." --

Contents
Definitions
Dueling consciousness
Power
Biology
Ethnicity
Body
Culture
Behavior
Color
White
Black
Class
Space
Gender
Sexuality
Failure
Success
Survival.
Published Reviews
Booklist Review:
"When we realize old words do not exactly and clearly convey what we are trying to describe, we should turn to new words, writes Kendi, winner of the National Book Award for Stamped from the Beginning (2016), in his memoir-with-history about confronting personal racism and embracing antiracism. Accordingly, to contextualize his experience as a Black youth, budding scholar, ethicist, and activist, he defines different kinds of racism (biological, behavioral) and describes antiracist policies and terms in light of racial strife today. While admirably fit for agitating discussion, some terms are confusing and feel labored, like Kendi's hyphenated identifiers: gender-racism, queer-racism, class-racism, space-racism. And his descriptions of his life in Queens, New York, Manassas, Virginia, and Philadelphia, Pennsylvania, seem structured to set himself up as proof of his sociological declaratives. (He decided to live in a poor neighborhood because he believed culture filtered upward, that Black elites, in all our materialism, individualism, and assimilationism, needed to go to the bottom' to be civilized. ) Kendi does successfully model self-examination and inspires readers to consider whether ignorance or self-interest drives racist policies into reality.--Sean Chambers Copyright 2019 Booklist"
From Booklist, Copyright (c) American Library Association. Used with permission.
Publisher's Weekly Review:
"Kendi follows his National Book Award-winning Stamped from the Beginning with a boldly articulated, historically informed explanation of what exactly racist ideas and thinking are, and what their antiracist antithesis looks like both systemically and at the level of individual action. He weaves together cultural criticism, theory (starting each chapter with epigraph-like definitions of terms), stories from his own life and philosophical development (he describes his younger self as a "racist, sexist homophobe"), and episodes from history (including the 17th-century European debate about "polygenesis," the idea that different races of people were actually separate species with distinct origins). He delves into typical racist ideas (e.g. that biology and behavior differ between racial groups) and problems (such as colorism), as well as the intersections between race and gender, race and class, and race and sexuality. Kendi puts forth some distinctive arguments: he posits that "internalized racism is the true Black-on-Black crime," critiquing powerful black people who disparage other black people and racializing behaviors they disapprove of, and argues that black people can be racist in their views of white people (when they make negative generalizations about white people as a group, thereby espousing the racist idea that ethnicity determines behavior). His prose is thoughtful, sincere, and polished. This powerful book will spark many conversations. Agent: Ayesha Pande, Pande Literary. (Aug.) © Copyright PWxyz, LLC. All rights reserved."
(c) Copyright PWxyz, LLC. All rights reserved
Additional Information