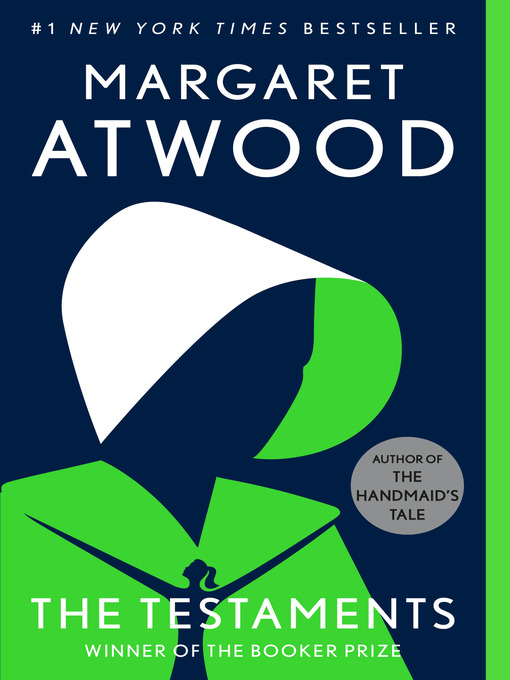 The testaments
Format:

Kindle Book

2019

2019

Adobe EPUB ebook

OverDrive Read

Availability:

Available from OverDrive

81 of 131 copies
14 people on waitlist
Summary
Set 15 years after events in the Handmaid's tale, the theocratic regime in Gilead is beginning to show signs of rotting from within. At this crucial moment in time, the lives of three women converge. One is from Gilead, the privileged daughter of an important Commander; one is from Canada, where she marches in protests; and one is an enforcer for the regime, a woman whose power comes from secrets. When secrets bring the women together, there are explosive results.

Contents
Statue
Precious flower
Hymn
The clothes hound
Van
Six for dead
Stadium
Carnarvon
Thank tank
Spring green
Sackcloth
Carpitz
Secateurs
Ardua Hall
Fox and cat
Pearl girls
Perfect teeth
Reading room
Study
Bloodlines
Fast and thick
Heartstopper
Wall
The Nellie J. Banks
Wakeup
Landfall
Sendoff
The thirteenth symposium.
Published Reviews
Booklist Review:
"The Handmaid's Tale (1985) is a prisoner's memoir written in shock, despair, and longing by a woman who has been hijacked from her life and enslaved in a tyrannical theocracy on a poisoned planet where human fertility is imperiled. Margaret Atwood's concussive and prescient novel remains electrifying and appallingly relevant in the Trump era, both on the page and in its Emmy-winning television adaptation. In her avidly awaited sequel, Atwood returns to Gilead, 15 years after the Handmaid called Offred recorded her indelible experiences. Readers will again enter a dystopia of eerie orderliness as women under ruthless surveillance, their social status indicated by cumbersome, color-coded uniforms, are forced into dehumanizing rituals of sex and punishment. One key character returns, the formidable Aunt Lydia. But in this very different novel, three women tell their stories, the lens widens so that Gilead is seen from the outside, and the focus is not only on men oppressing women, but also on women wielding power. The result is a shrewdly suspenseful tale of survival and resistance. And Atwood's wit is phosphorescent.In Gilead, a university's libraries have been claimed by the elite for their headquarters, and deep in her inner sanctum among the Forbidden World Literature collection Aunt Lydia risks all to write her testament. We learn that she emerged from an abusive childhood to become a family judge until she and all other professional women were rounded up and taken to a stadium-turned-concentration-camp in some of the novel's most harrowing scenes. Aunt Lydia's tenacity and Machiavellianism ultimately serve her well as the self-described alpha hen among the Aunts charged with intimidating and indoctrinating young women. Because the men don't want to be bothered with the petty details of the female sphere, as she sardonically explains, Aunt Lydia becomes a force unto herself.Two young women provide the other testaments. Agnes, the daughter of a prominent Commander in Gilead, is about to be forced by her conniving stepmother into an arranged marriage at age 13. Daisy, 16, has grown up in Canada, where she has participated in demonstrations against Gilead. Why and how these three converge propels the high-velocity plot and its dramatic and daring missions and quests. And what a great gust of fresh air a teenager's sarcastic irreverence is. Throughout Atwood's extraordinarily creative, brilliantly grounded, mordantly funny, and eviscerating oeuvre women are portrayed as complex, diabolical, fiery, and competitive. Warriors for good and ill. Finding that subversive female energy flowing molten beneath the surface of chilling Gilead is positively therapeutic.For all the wrenching violence and heart-pounding action in The Testaments, which is written in the mode of Atwood's astutely speculative MaddAddam trilogy Oryx and Crake (2003), The Year of the Flood (2009), Maddaddam (2013) it is the droll and righteous commentary that sets this novel alight. Both Gilead novels face head-on the horrors of tyranny and find some glimmer of hope in the redemptive act of bearing witness, a courageous expression of dissent and declaration of freedom in all its hectic and essential splendor.--Donna Seaman Copyright 2010 Booklist"
From Booklist, Copyright (c) American Library Association. Used with permission.
Publisher's Weekly Review:
"Atwood's confident, magnetic sequel to The Handmaid's Tale details the beginning of the end for Gilead, the authoritarian religion-touting dystopia where fertile single women (handmaids) live in sexual servitude. The novel opens in New England 15 years after the first novel ends. Aunt Lydia has become a renowned educator, an ally of Gilead's spy chief, and an archivist for Gilead's secrets. Ensconced in her library, Aunt Lydia recalls how she went from prisoner to collaborator during Gilead's early days. Now she is old and dying and ready for revenge. Her plan involves two teenagers. Gilead native Agnes Jemima is almost 13 when she learns her real mother was a runaway handmaid. Rather than marry, Agnes Jemima becomes an aunt-in-training. Sixteen-year-old Daisy in Toronto discovers she is the daughter of a runaway handmaid after the people she thought were her parents die in an explosion. Aunt Lydia brings the girls together under her tutelage, then sends them off to try to escape with Gilead's secrets. Since publication, The Handmaid's Tale has appeared as a movie, graphic novel, and popular miniseries. Atwood does not dwell on the franchise or current politics. Instead, she explores favorite themes of sisterhood, options for the disempowered, and freedom's irresistible draw. Atwood's eminently rewarding sequel revels in the energy of youth, the shrewdness of old age, and the vulnerabilities of repressive regimes. (Sept.)"
(c) Copyright PWxyz, LLC. All rights reserved
Additional Information