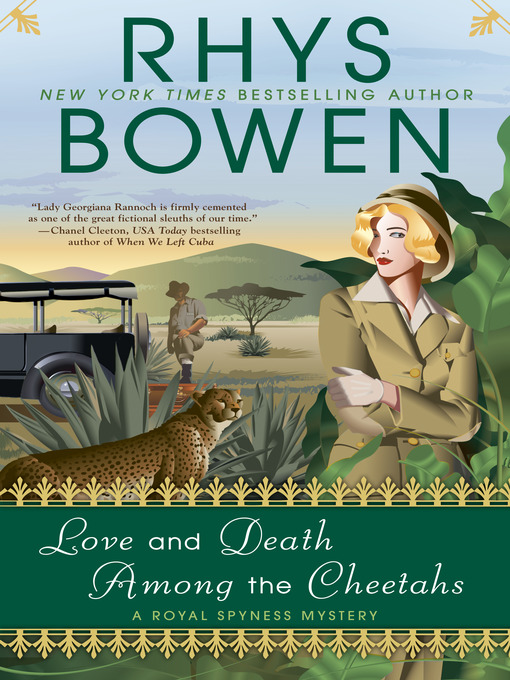 Love and death among the cheetahs
Format:

Kindle Book

2019

2019

Adobe EPUB ebook

OverDrive Read

Availability:

Unavailable

0 of 8 copies
8 people on waitlist
Summary
Georgie is excited when Darcy announces out of the blue that they are flying to Kenya for their extended honeymoon. It is only after they arrive that she suspects he has actually been sent there on an assignment. She tries not to be angry, because she is, after all, in a paradise! They are picked up in Nairobi and taken to a lovely house in Happy Valley--the center of upper-class English life there. Darcy finally confides that there have been some spectacular robberies in London and Paris, and it is suspected that the thief was a member of the aristocracy and may have fled to Kenya. Georgie is shocked at the completely decadent lifestyle that involves wild parties and rampant infidelity. One of the leading lights in the community, Lord Cheriton, makes a play for Georgie. She rebuffs him. Then he is found dead along a lonely stretch of road. At first it seems to be a lion attack. But why was he on that stretch of road, alone, late at night?

Published Reviews
Booklist Review:
"A honeymoon in Kenya is a surprise for Lady Georgiana Rannoch, granddaughter of Queen Victoria and thirty-fourth in line for the throne, after she marries Darcy O'Mara in 1935. He announces the plan after several postnuptial days on a houseboat on the Thames, and Georgie is suspicious that this is a trip for more than pleasure. She's right: while the Queen asks Georgie to keep an eye on the Prince of Wales in Africa, so that he doesn't run off with Mrs. Simpson, Darcy is tasked with finding a jewel thief and more. Soon after the couple arrives in Happy Valley where the upper-class English residents are devoted to drink, drugs, and bed-hopping a prominent member of the community, thrice-married Lord Cheriton, makes a pass at Georgie. Days later Georgie and Darcy decline the activities at one of Lady Idina Sackville's infamous parties and leave early, only to come upon Cheriton's partially eaten body off the road near his car. Then someone begins threatening the couple's safety as they prepare for a safari. An appealing addition to the Royal Spyness mystery series, with hints of the political upheavals that lie ahead.--Michele Leber Copyright 2019 Booklist"
From Booklist, Copyright (c) American Library Association. Used with permission.
Publisher's Weekly Review:
"Set in 1935, bestseller Bowen's disappointing 13th Royal Spyness mystery (after 2018's Four Funerals and Maybe a Wedding) finds Lady Georgiana Rannoch, a distant relative of the royal family, finally married to Darcy O'Mara, who performs shadowy work on behalf of the British government. After an enjoyable honeymoon in England, Darcy reveals plans to extend the post-wedding celebration in Kenya, where he has been asked, as he admits on arrival, to find the jewel thief responsible for "several daring and spectacular burglaries in London" targeting high society. The community of expats provides a pool of suspects. Darcy's investigation takes a more serious turn when he and Georgiana come across a body that has been mauled by wild animals, which he believes is that of a murder victim. Much of the humor in previous volumes originated with Georgiana's inept and clumsy maid, Queenie, who remains offstage. As in her Molly Murphy series, Bowen struggles to transition her lead into married life without detracting from what made that lead memorable. Fans will hope for a return to form next time. Agent: Meg Ruley, Jane Rotrosen Agency. (Aug.) © Copyright PWxyz, LLC. All rights reserved."
(c) Copyright PWxyz, LLC. All rights reserved
Additional Information