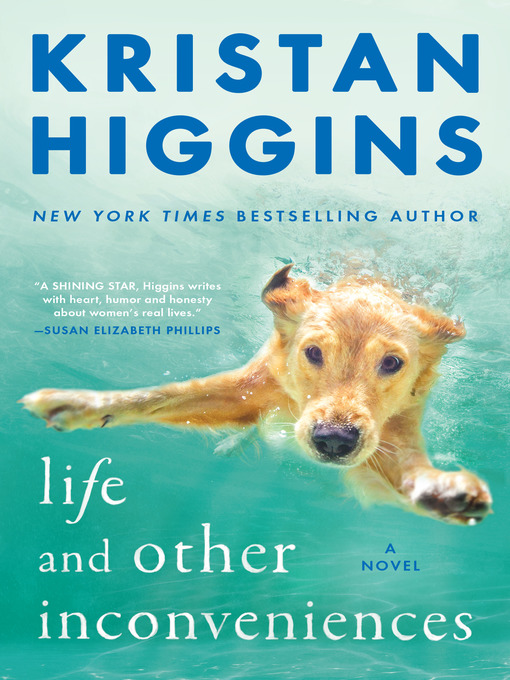 Life and other inconveniences
Format:

Kindle Book

2019

2019

Adobe EPUB ebook

OverDrive Read

Availability:

Available from OverDrive

9 of 18 copies
1 person on waitlist
Summary
Emma London never thought she had anything in common with her grandmother Genevieve London. The regal old woman came from wealthy and bluest-blood New England stock, but that didn't protect her from life's cruelest blows: the disappearance of Genevieve's young son, followed by the premature death of her husband. But Genevieve rose from those ashes of grief and built a fashion empire that was respected the world over, even when it meant neglecting her other son. When Emma's own mother died, her father abandoned her on his mother's doorstep. Genevieve took Emma in and reluctantly raised her--until Emma got pregnant her senior year of high school. Genevieve kicked her out with nothing but the clothes on her back. But Emma took with her the most important London possession: the strength not just to survive but to thrive. And indeed, Emma has built a wonderful life for herself and her teenage daughter, Riley. So what is Emma to do when Genevieve does the one thing Emma never expected of her and, after not speaking to her for nearly two decades, calls and asks for help?

Published Reviews
Booklist Review:
"Thirty-five-year-old Emma London has had a hard life. When her mother committed suicide when Emma was 8 years old, her father left her at her grandmother Genevieve's doorstep, and she stayed with that woman for ten years. When Emma got pregnant at 18, however, Genevieve kicked her out. She moved in with Paul, her grandfather on her mother's side, and raised her daughter, Riley. Estranged from Genevieve since the day she left, Emma is surprised to get a call from her, requesting that she and Riley come back to help her. Higgins (Good Luck with That, 2018) is back with a beautiful story that eloquently captures the raw emotions of abandonment and grief. The narration alternates between the main characters, and Higgins makes each voice distinct, using language that clearly illustrates each character's age and intellect. There are some intense scenes that will break readers' hearts. This work is a perfect example of the ways a multi-generational family copes with loss on a variety of levels. Excellent for those who enjoyed Bev Thomas' A Good Enough Mother.--Erin Holt Copyright 2019 Booklist"
From Booklist, Copyright (c) American Library Association. Used with permission.
Publisher's Weekly Review:
"Higgins's deeply moving contemporary story of three generations of strong-willed women doesn't allow anyone to be a simple hero or villain. Emma London's estranged paternal grandmother, wealthy entrepreneur Genevieve London, has terminal cancer and wants Emma to return home to Stoningham, Conn., and reconcile with her. Genevieve raised Emma after her mother committed suicide and her father left. When Emma got pregnant at 18, Genevieve kicked her out of her house, and Emma went to live with her maternal grandfather, Paul, who helped her raise her daughter, Riley. Emma is shaken by hearing from Genevieve, who hasn't said a word to her in the 16 years since Riley was born; she consults with well-adjusted Riley, who decides they should at least visit Stoningham for the summer. Emma, Riley, and Paul quickly learn that Genevieve is as bitter and aristocratic as ever, but Genevieve and Riley form an instant bond, and Genevieve respects Riley's intelligent, confident nature. Meanwhile, Emma falls for Genevieve's neighbor, Miller Finlay, a widower with a challenging three-year-old. Readers will be riveted as the well-drawn characters uncover one another's hidden depths and heal old wounds. This rich and memorable story will instantly win readers over. Agent: Maria Carvainis, Maria Carvainis Agency. (Aug.)"
(c) Copyright PWxyz, LLC. All rights reserved
Additional Information