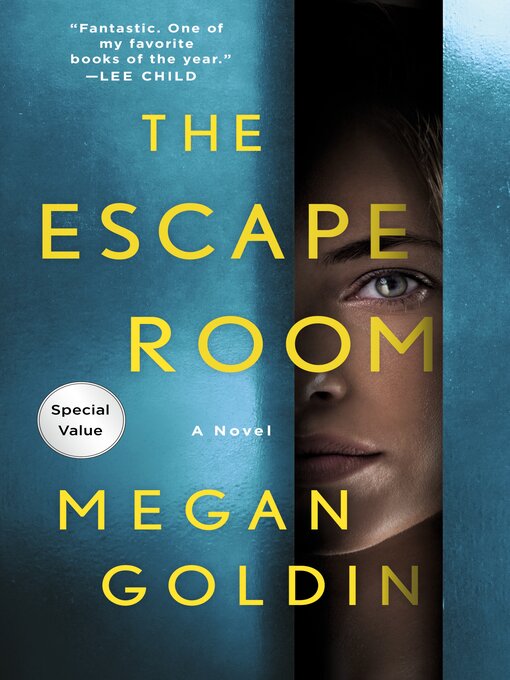 The escape room A Novel.
Format:

OverDrive Read

2019.

Adobe EPUB ebook

Kindle Book

Availability:

Unavailable

0 of 8 copies
58 people on waitlist
Summary
"One of my favorite books of the year." --Lee Child

"Cancel all your plans and call in sick; once you start reading, you'll be caught in your own escape room--the only key to freedom is turning the last page!" -- Kirkus Reviews (starred)

"A sleek, well-crafted ride." -- The New York Times

In Megan Goldin's unforgettable debut, The Escape Room , four young Wall Street rising stars discover the price of ambition when an escape room challenge turns into a lethal game of revenge.

Welcome to the escape room. Your goal is simple. Get out alive.
In the lucrative world of finance, Vincent, Jules, Sylvie, and Sam are at the top of their game. They've mastered the art of the deal and celebrate their success in style--but a life of extreme luxury always comes at a cost.
Invited to participate in an escape room challenge as a team-building exercise, the ferociously competitive co-workers crowd into the elevator of a high-rise building, eager to prove themselves. But when the lights go off and the doors stay shut, it quickly becomes clear that this is no ordinary competition: they're caught in a dangerous game of survival.
Trapped in the dark, the colleagues must put aside their bitter rivalries and work together to solve cryptic clues to break free. But as the game begins to reveal the team's darkest secrets, they realize there's a price to be paid for the terrible deeds they committed in their ruthless climb up the corporate ladder. As tempers fray, and the clues turn deadly, they must solve one final chilling puzzle: which one of them will kill in order to survive?
Published Reviews
Booklist Review:
"It is not difficult to figure out who has set up the escape room, which is actually an elevator, in this debut from journalist Goldin, and there is clearly no happy ending likely for the four colleagues trapped inside; but fans of JP Delany and Ruth Ware will want to be right in there with them. Vincent, Jules, Sylvie, and Sam are living the life of overindulged entitlement, straight out of The Wolf of Wall Street. Their ruthless ambition and greed drive them to all manner of arrogance and intimidation. Perhaps even murder. Their poisonous remarks to each other have always concealed secrets that leak out as the hours pass in a hellishly overheated, confined place, and it seems only a matter of time before they turn feral and attempt to devour one another. Meanwhile, the sad fates of two of their coworkers unfold in the background. A nail-biting tale of a corporate team-building exercise gone horribly wrong, with a credible explanation of how the seemingly undoable is done. And to the victor go the spoils.--Jane Murphy Copyright 2019 Booklist"
From Booklist, Copyright (c) American Library Association. Used with permission.
Publisher's Weekly Review:
"Australian author Goldin makes her debut with a riveting, if flawed, tale of greed and revenge set on Wall Street. After being called to an out-of-office meeting, four investment bankers from the Stanhope and Sons firm are trapped in an elevator on their way to an escape room challenge organized by their company. They realize that the elevator itself is the escape room when they start to receive increasingly more personal puzzles to solve on the elevator's TV monitor. Meanwhile, in flashbacks, recent hire Sara Hall becomes indoctrinated into the firm's culture of long hours and incredible pay. When a coworker dies, Sara wonders whether foul play was involved. Though both plots start off strong, the elevator narrative slows as it waits for Sara's story to catch up. Lucky flukes and coincidences stretch credulity, and the unlikability of those targeted for revenge lessens the scheme's impact. But these shortcomings aren't fatal. Thriller fans will eagerly turn the pages to see what happens next. 150,000-copy announced first printing. Agent: David Gernert, Gernert Company. (Aug.) © Copyright PWxyz, LLC. All rights reserved."
(c) Copyright PWxyz, LLC. All rights reserved
Additional Information
Subjects
Electronic books.
Thrillers (Fiction)

Publisher

[Place of publication not identified] :St. Martin's Publishing Group2019.



Contributors
OverDrive, Inc.

Language

English



System Details

Mode of access: World Wide Web.




Format: Adobe EPUB eBook




Format: Kindle Book




Format: OverDrive Read




Requires Adobe Digital Editions or Amazon Kindle



Description

1 online resource



ISBN
9781250219671
9781250219671

Other
Classic View