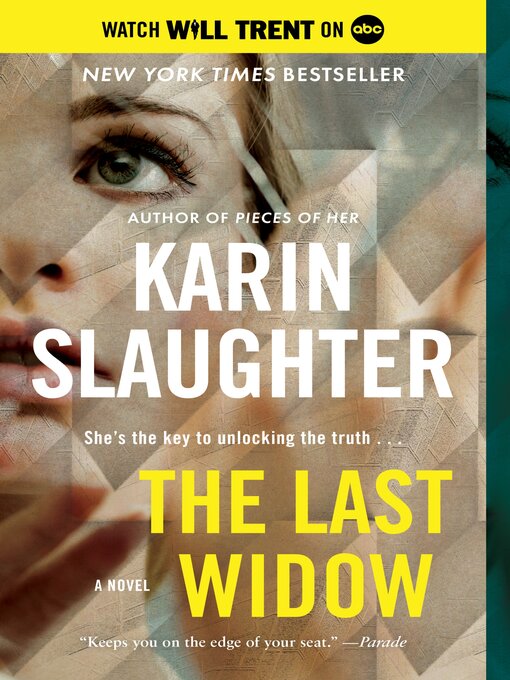 The Last widow A novel
Format:

OverDrive Read

2019.

Adobe EPUB ebook

Kindle Book

Availability:

Unavailable

0 of 16 copies
121 people on waitlist
Summary
New York Times bestselling author Karin Slaughter brings back Will Trent and Sara Linton in this superb and timely thriller full of devious twists, disturbing secrets, and shocking surprises you won't see coming
A mysterious kidnapping
On a hot summer night, a scientist from the Centers for Disease Control is grabbed by unknown assailants in a shopping center parking lot. The authorities are desperate to save the doctor who's been vanished into thin air.
A devastating explosion
One month later, the serenity of a sunny Sunday afternoon is shattered by the boom of a ground-shaking blast--followed by another seconds later. One of Atlanta's busiest and most important neighborhoods has been bombed--the location of Emory University, two major hospitals, the FBI headquarters, and the CDC.
A diabolical enemy
Medical examiner Sara Linton and her partner Will Trent, an investigator with the Georgia Bureau of Investigation, rush to the scene--and into the heart of a deadly conspiracy that threatens to destroy thousands of innocent lives. When the assailants abduct Sara, Will goes undercover to save her and prevent a massacre--putting his own life on the line for the woman and the country he loves.
Published Reviews
Booklist Review:
"The latest entry in the Will Trent series (and the first since The Kept Woman, 2016) is cause for celebration by fans of Slaughter, in particular, and of crime fiction in general. A month after Michelle Spivey, an epidemiologist at the Centers for Disease Control, is kidnapped, explosions are set off at Emory University. Arriving at the scene, Georgia Bureau of Investigation (GBI) agent Will Trent and Sara Linton, GBI medical examiner and Will's lover, are stopped at an odd accident scene, where attackers assault Will and abduct Sara. Bereft at his failure to stop the attack and still in severe pain, Will perseveres to do whatever it takes to save Sara. But he's up against the Invisible Patriot Army (IPA), a paramilitary white nationalist group led by a pedophile known as Dash, who plans to send a message to the nation that will cause countless casualties. As the narrative moves between law-enforcement officers and the secluded IPA camp, and time becomes critical, the depth of the relationship between Will and Sara is also vividly portrayed. With familiar characters, further developed here, and a plot as timely as it is riveting, Slaughter's latest will enthrall her ever-growing legion of fans.HIGH-DEMAND BACKSTORY: Slaughter's thrillers have become near-automatic best-sellers, and this is one of her best.--Michele Leber Copyright 2019 Booklist"
From Booklist, Copyright (c) American Library Association. Used with permission.
Publisher's Weekly Review:
"In bestseller Slaughter's harrowing seventh novel featuring Sara Linton and her boyfriend, Georgia Bureau of Investigation agent Will Trent (after 2016's The Kept Woman), Sara and Will are visiting her family in the Atlanta suburbs when explosions rock nearby Emory University. As the couple heads toward campus, they encounter a multiple-car accident. Sara stops to offer medical assistance and discovers that one vehicle contains several armed men--two with gunshot wounds--and a traumatized woman she recognizes as missing CDC epidemiologist Michelle Spivey. After a brutal fight that injures Will, the men take Sara and flee. Will is certain that Sara's kidnappers bombed Emory, and intelligence suggests the men are part of a paramilitary group that's planning something catastrophic. With the clock ticking, Will and his partner, Faith Mitchell, scramble to follow bread crumbs left by a terrified but determined Sara. Vivid characters and rapidly escalating stakes complement the riveting, adrenaline-fueled plot. Along the way, Slaughter examines such topics as misogyny, white nationalism, and the politicization of law enforcement. Thriller fans will devour this visceral, gratifying entry. Author tour. Agent: Victoria Sanders, Victoria Sanders & Assoc. (Aug.)"
(c) Copyright PWxyz, LLC. All rights reserved
Additional Information