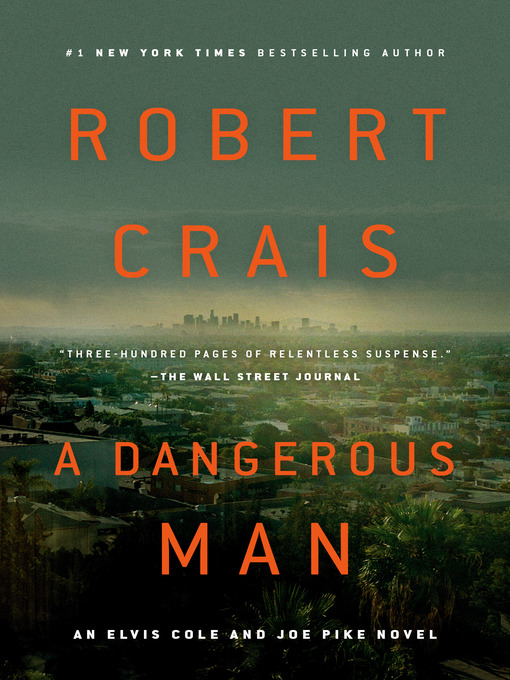 A dangerous man Elvis Cole Series, Book 18.
Format:

OverDrive Read

2019.

Adobe EPUB ebook

Kindle Book

Availability:

Unavailable

0 of 11 copies
64 people on waitlist
Summary
A brilliant new crime novel from the beloved, bestselling, and award-winning master of the genre--and Joe Pike's most perilous case to date.

Joe Pike didn't expect to rescue a woman that day. He went to the bank same as anyone goes to the bank, and returned to his Jeep. So when Isabel Roland, the lonely young teller who helped him, steps out of the bank on her way to lunch, Joe is on hand when two men abduct her. Joe chases them down, and the two men are arrested. But instead of putting the drama to bed, the arrests are only the beginning of the trouble for Joe and Izzy.

After posting bail, the two abductors are murdered and Izzy disappears. Pike calls on his friend, Elvis Cole, to help learn the truth. What Elvis uncovers is a twisted family story that involves corporate whistleblowing, huge amounts of cash, the Witness Relocation Program, and a long line of lies. But what of all that did Izzy know? Is she a perpetrator or a victim? And how far will Joe go to find out?
Published Reviews
Booklist Review:
"Joe Pike, ex-cop, ex-military, and sometime mercenary, goes to his bank to do a little routine business. The young teller who helps him leaves for lunch a few minutes later. Outside, she's snatched by two men, who toss her into the backseat of a car. Pike sees what's happening and quickly disables the two men and brings in the cops to clean up. Isabel Roland, the teller, assumes she was the potential victim of a sex kidnapping. When the two kidnappers are released on bond and subsequently murdered, it's apparent something else is going on. Isabel disappears. Pike enlists his partner, PI Elvis Cole, to investigate. A retired U.S. marshal, whom Isabel called Uncle Ted, is also dead. He was brutally tortured before death. Cole digs deeper and finds indications that Ted, who was involved in the witness protection program, had relocated Isabel's parents to protect them. Cole isn't the human wrecking ball that Pike is, but he's no slouch as a detective, and the two find Isabel promptly, with Pike dispatching some bad guys along the way. But Isabel's hunters keep coming. Crais is a whip-smart writer. Cole and Pike are carefully drawn, multilayered characters who've grown more complex through the years. This is one of the very best entries in a long-running and still first-rate series.--Wes Lukowsky Copyright 2019 Booklist"
From Booklist, Copyright (c) American Library Association. Used with permission.
Publisher's Weekly Review:
"In MWA Grand Master Crais's outstanding 18th Elvis Cole and Joe Pike novel (after 2017's The Wanted), Elvis, a private detective, and Joe, a very private paramilitary contractor, try to determine why young Los Angeles bank teller Isabel Roland was seized by kidnappers after she left the bank on a lunch break. Only Joe's fortuitous intervention saved her at the time--but another kidnapping attempt succeeds. But who wants Isabel and why? Now Joe and Elvis have to locate Isabel and rescue her from a coterie of extremely proficient hired guns. Crais begins the story with deceptive simplicity but slowly ratchets up both the tension and the action with surgical precision. The scenes in which Joe saves Isabel from her captors and the final shoot-out among a colorful array of hit men, police, and U.S. Marshals stand as high-water marks among Crais's illustrious crime oeuvre. So, who is the dangerous man to which the book's title refers? Who but the stoic Joe Pike, demonstrating yet again why the particular kind of danger he carries is just plain off the charts. This one's sure to hit the bestseller charts. Author tour. Agent: Aaron Priest, Aaron M. Priest Literary. (Aug.)"
(c) Copyright PWxyz, LLC. All rights reserved
Additional Information