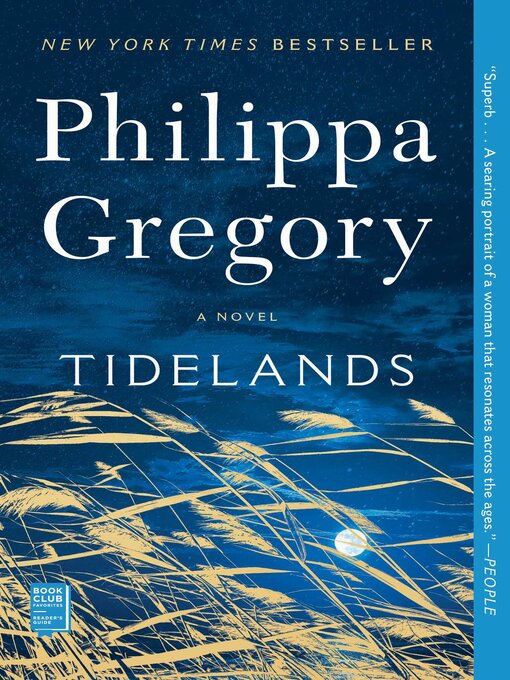 Tidelands
Format:

OverDrive Read

2019.

Adobe EPUB ebook

Kindle Book

Availability:

Unavailable

0 of 8 copies
63 people on waitlist
Summary
The #1 New York Times bestselling author and "one of the great storytellers of our time" ( San Francisco Book Review ) turns from the glamour of the royal courts to tell the story of an ordinary woman, Alinor, who cannot bear to conform to the life that lies before her.

Midsummer's Eve, 1648, England is in the grip of a civil war between renegade king and rebellious parliament. The struggle reaches every corner of the kingdom, even the remote tidelands --the marshy landscape of the south coast.

Alinor, a descendant of wisewomen, trapped in poverty and superstition, waits in the graveyard under the full moon for a ghost who will declare her free from her abusive husband. Instead, she meets James, a young man on the run, and shows him the secret ways across the treacherous marsh, not knowing that she is leading disaster into the heart of her life.

Suspected of possessing dark secrets in superstitious times, Alinor's ambition and determination mark her out from her neighbors. This is the time of witch mania, and Alinor, a woman without a husband, skilled with herbs, suddenly enriched, arouses envy in her rivals and fear among the villagers, who are ready to take lethal action into their own hands.

It is dangerous for a woman to be different.
Published Reviews
Booklist Review:
"Perennially popular Gregory, renowned for her Plantagenet and Tudor novels, turns her attention away from the royals to weave a tale of an ordinary woman caught up in a web of extraordinary circumstances. The seventeenth-century English Civil War provides the tumultuous political backdrop for a tale steeped in history, superstition, and societal norms and restrictions. On a mission to free herself from an absent and abusive husband during an era when most women held little or no power, Alinor, a gifted herbalist, meets and subsequently guides a fugitive across the treacherous marshes of her native Tidelands, a decision that has very serious and long-lasting consequences. As Alinor begins to prosper, she arouses the suspicions of her neighbors, is accused of witchery, and must rely on her own wits and judgement in order to protect her family and provide for their future. A welcome topical pivot from gifted Gregory, the first entry in her promising Fairmile Series sets the stage for a multigenerational, multivolume saga about the rise of a family from rags to riches.--Margaret Flanagan Copyright 2019 Booklist"
From Booklist, Copyright (c) American Library Association. Used with permission.
Publisher's Weekly Review:
"Gregory (The Splendor Before the Dark) deviates from her usual focus on historical figures to shine a light on the plight of common women in 1640s England in the dynamic first book of her new Fairmile series. Alinor, a midwife with knowledge of herbal remedies, is in difficult circumstances. Her fisherman husband has been gone for months, and she must care for herself and her two growing children during a precarious time in England's history. King Charles, forced off his throne by Parliament, has been banished to the Isle of Wight following his defeat in civil war. It's also a period when a strong woman on her own, like the beautiful Alinor who has skills that others can't understand, can easily be accused of being a witch; the author cleverly plants such seeds of suspicion throughout. At the open, Alinor meets a handsome, young Catholic priest, a royals champion with the means to help the king escape. She helps the priest find a haven, and their ensuing romance has devastating consequences for both. Against the backdrop of political turmoil, Gregory's narrative displays the harrowing mores of the time, showcasing the vulnerability of women who speak their mind and introducing a family struggling out of poverty who will provide plenty of grist for the mill of a continuing saga. History buffs and Gregory's fans alike will be anticipating the next installment. (Aug.) © Copyright PWxyz, LLC. All rights reserved."
(c) Copyright PWxyz, LLC. All rights reserved
Additional Information
Series
The Fairmile series
#1 - Tidelands

Subjects
Electronic books.
Historical fiction.

Publisher

[Place of publication not identified] :Atria Books2019.



Contributors
OverDrive, Inc.

Language

English



System Details

Mode of access: World Wide Web.




Format: Adobe EPUB eBook




Format: Kindle Book




Format: OverDrive Read




Requires Adobe Digital Editions or Amazon Kindle



Description

1 online resource



Bibliography Notes

Includes bibliographical references and index.



ISBN
9781501187179
9781501187179

Other
Classic View