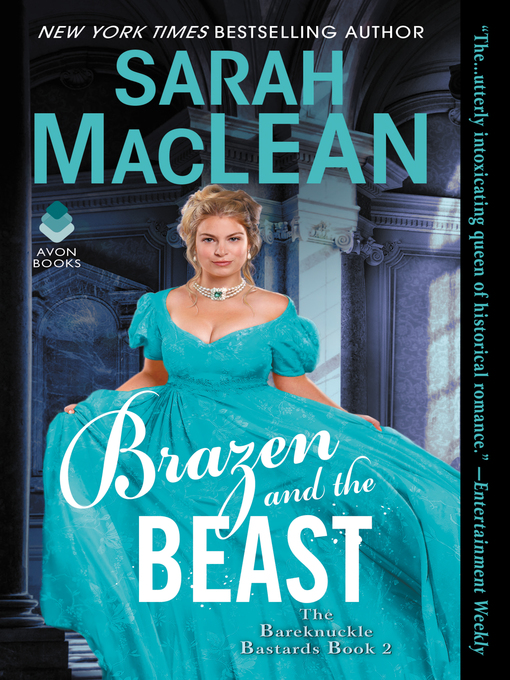 Brazen and the beast Bareknuckle Bastards Series, Book 2
Format:

Kindle Book

2019

2019

Adobe EPUB ebook

OverDrive Read

Availability:

Unavailable

0 of 12 copies
Summary
New York Times Bestselling Author Sarah MacLean returns with the next book in the Bareknuckle Bastards series about three brothers bound by a secret that they cannot escape—and the women who bring them to their knees.The Lady's PlanWhen Lady Henrietta Sedley declares her twenty-ninth year her own, she has plans to inherit her father's business, to make her own fortune, and to live her own life. But first, she intends to experience a taste of the pleasure she'll forgo as a confirmed spinster. Everything is going perfectly...until she discovers the most beautiful man she's ever seen tied up in her carriage and threatening to ruin the Year of Hattie before it's even begun.The Bastard's ProposalWhen he wakes in a carriage at Hattie's feet, Whit, a king of Covent Garden known to all the world as Beast, can't help but wonder about the strange woman who frees him—especially when he discovers she's headed for a night of pleasure . . . on his turf. He is more than happy to offer Hattie all she desires...for a price. An Unexpected PassionSoon, Hattie and Whit find themselves rivals in business and pleasure. She won't give up her plans; he won't give up his power . . . and neither of them sees that if they're not careful, they'll have no choice but to give up everything . . . including their hearts.

Published Reviews
Booklist Review:
"Before her arrival at 72 Shelton Street (a discreet establishment catering to the romantic needs of ladies), Lady Henrietta Hattie Sedley had been quite specific in what she required in a man. Saviour Whit Whittington, whom Hattie had just a few hours before tossed out of her carriage, is not that man at all. Whit, however, is positive that Hattie knows exactly who not only left him tied up in her carriage but who is also responsible for stealing something very valuable from him. While he may not be the man Hattie ordered, he is more than willing to offer his services if she will meet his price. When it comes to crafting unforgettable romances that are both emotionally and thematically complex, nobody does it quite like RITA Award-winning MacLean (Wicked and the Wallflower, 2018), and the latest brilliantly written and boldly sensual addition to her Bareknuckle Bastards series is another exquisitely constructed and exceptionally entertaining celebration of the power of love to transform lives.--John Charles Copyright 2019 Booklist"
From Booklist, Copyright (c) American Library Association. Used with permission.
Publisher's Weekly Review:
"MacLean's second Bareknuckle Bastards Regency veers away from the typical Regency romance focus on the nobility to explore the lives of London's ordinary folk, populating Covent Garden with delightful recurring characters. Lady Henrietta "Hattie" Sedley is 29 and heartily tired of being seen as "just" a woman. She longs to take over her father's shipping company, but she's hampered by her gender and her ne'er-do-well brother, Augie. While embarking on a plan to enjoy some sensual pleasures in the seedier parts of town, she's dismayed to find that Augie has left Beast, a smuggler and one of the infamous Bareknuckle Bastards, tied up and unconscious in her carriage. She wakes up Beast, kisses him, and tosses him out the door while the carriage is moving, ensuring he'll come looking for her--en route to taking revenge on Augie. Hattie finds Beast's good looks and confidence impossibly appealing, and her independence and determination pique his interest. Soon their business fortunes are as entwined as their bodies. The imaginative plot carries readers along in this deliciously sexy story filled with heart. Agent: Steven Axelrod, Axelrod Agency. (Aug.)"
(c) Copyright PWxyz, LLC. All rights reserved
Additional Information