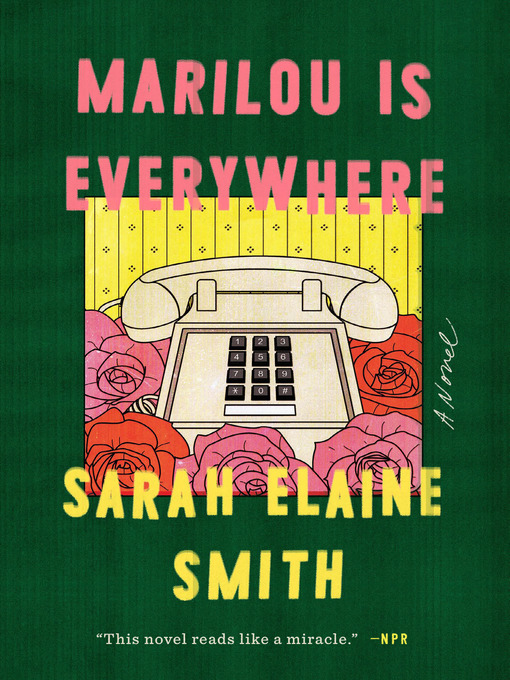 Marilou is everywhere
Format:

Kindle Book

2019

2019

Adobe EPUB ebook

OverDrive Read

Availability:

Unavailable

0 of 9 copies
2 people on waitlist
Summary
One of NPR's "Favorite Books of 2019"!A SKIMM READS PICKA BELLETRIST BOOK CLUB PICK"This novel reads like a miracle." —NPRConsumed by the longing for a different life, a teenager flees her family and carefully slips into another — replacing a girl whose own sudden disappearance still haunts the town. Fourteen-year-old Cindy and her two older brothers live in rural Pennsylvania, in a house with occasional electricity, two fierce dogs, one book, and a mother who comes and goes for months at a time. Deprived of adult supervision, the siblings rely on one another for nourishment of all kinds. As Cindy's brothers take on new responsibilities for her care, the shadow of danger looms larger and the status quo no longer seems tolerable. So when a glamorous teen from a more affluent, cultured home goes missing, Cindy escapes her own family's poverty and slips into the missing teen's life. As Jude Vanderjohn, Cindy is suddenly surrounded by books and art, by new foods and traditions, and most important, by a startling sense of possibility. In her borrowed life she also finds herself accepting the confused love of a mother who is constitutionally incapable of grasping what has happened to her real daughter. As Cindy experiences overwhelming maternal love for the first time, she must reckon with her own deceits and, in the process, learn what it means to be a daughter, a sister, and a neighbor. Marilou Is Everywhere is a powerful, propulsive portrait of an overlooked girl who finds for the first time that her choices matter.

Published Reviews
Booklist Review:
"In rural Pennsylvania, just up the road from the crowded place where 14-year-old Cindy and her two brothers live (sans parents), older teen Jude and her witchy mom, Bernadette, have a sprawling estate to themselves. When Jude disappears, locals expect the worst, and Bernadette, about whom rumors already flew, loses any remaining grip on reality. Without much intention, Cindy becomes Bernadette's caretaker, trying to keep her from burning down the house or drinking herself to death, and soon becomes Jude in Bernadette's eyes. A crucial moment arrives when Cindy must commit to Bernadette's presumption, or come clean. This is a mysterious and strangely exciting debut. Smith is a poet, and writes in sensory-driven, soul-tapping prose: "I had a way of standing around which indicated I would like to be pulled inside out and swiftly disappeared from the earth." Despite her isolation, professed ignorance, and desire to self-annihilate, bright and brave narrator Cindy understands much of the world, its hardships and moral quandaries, and the startling lack of guarantees that come with being born.--Annie Bostrom Copyright 2019 Booklist"
From Booklist, Copyright (c) American Library Association. Used with permission.
Publisher's Weekly Review:
"Smith's solid debut follows the isolated and overlooked life of a teen in rural Pennsylvania. After 14-year-old Cindy Stoat and her older brothers, Clinton and Virgil, are abandoned by their mother, they make do with canned goods, candy, and income from the brothers' lawn-mowing business amid the constant meddling of education officials who hope to bring Cindy back to school. Their stagnant and isolated existence is broken open when a teenage neighbor, Jude Vanderjohn, goes missing. A popular but complicated girl, Jude is so much of what Cindy herself feels she could never be, and her disappearance rocks not only the community, but Cindy's day-to-day existence, especially after Virgil begins bringing her to spend time with Jude's mother, Bernadette. Bernadette is a former hippie, a half-mystic, and an alcoholic who mistakes Cindy for her disappeared daughter, an identity crisis that Cindy cherishes, hoping desperately for her life to change, and leading to a terrible decision as she tries to maintain the illusion. Smith's rural world is brought to life with precise and devastating descriptions of poverty and neglect, though sometimes the lyricism of the prose doesn't gel. Still, fans of Gabriel Tallent's My Absolute Darling will appreciate Cindy's toughened point of view and Smith's close attention to the details of rural Appalachian life. This is a promising debut. (July) © Copyright PWxyz, LLC. All rights reserved."
(c) Copyright PWxyz, LLC. All rights reserved
Additional Information