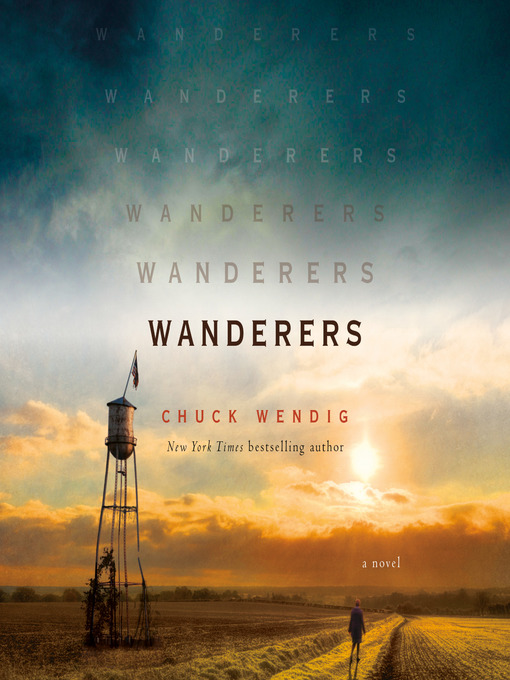 Wanderers A novel
Format:

OverDrive MP3 Audiobook

2019

2019

OverDrive Listen

Availability:

Available from OverDrive

2 of 6 copies
2 people on waitlist
Summary
A decadent rock star. A deeply religious radio host. A disgraced scientist. And a teenage girl who may be the world's last hope. From the mind of Chuck Wendig comes "a magnum opus . . . a story about survival that's not just about you and me, but all of us, together" ( Kirkus Reviews , starred review). Shana wakes up one morning to discover her little sister in the grip of a strange malady. She appears to be sleepwalking. She cannot talk and cannot be woken up. And she is heading with inexorable determination to a destination that only she knows. But Shana and her sister are not alone. Soon they are joined by a flock of sleepwalkers from across America, on the same mysterious journey. And like Shana, there are other "shepherds" who follow the flock to protect their friends and family on the long dark road ahead. For as the sleepwalking phenomenon awakens terror and violence in America, the real danger may not be the epidemic but the fear of it. With society collapsing all around them{u2014}and an ultraviolent militia threatening to exterminate them{u2014}the fate of the sleepwalkers depends on unraveling the mystery behind the epidemic. The terrifying secret will either tear the nation apart{u2014}or bring the survivors together to remake a shattered world. Advance praise for Wanderers "This career-defining epic deserves its inevitable comparisons to Stephen King's The Stand ." {u2014} Publishers Weekly (starred review) "A suspenseful, twisty, satisfying, surprising, thought-provoking epic." {u2014}Harlan Coben, #1 New York Times bestselling author of Run Away "A true tour de force." {u2014}Erin Morgenstern, New York Times bestselling author of The Night Circus "A masterpiece with prose as sharp and heartbreaking as Station Eleven ." {u2014}Peng Shepherd, author of The Book of M "A magnum opus . . . It reminded me of Stephen King's The Stand{u2014} but dare I say, this story is even better." {u2014}James Rollins, #1 New York Times bestselling author of Crucible "An inventive, fierce, uncompromising, stay-up-way-past-bedtime masterwork. " {u2014}Paul Tremblay, author of A Head Full of Ghosts and The Cabin at the End of the World "An American epic for these times." {u2014}Charles Soule, author of The Oracle Year

Published Reviews
Booklist Review:
"In rural Pennsylvania, a teenage girl sleepwalks away from her family farm and begins heading west. Her family and experts from the government attempt to follow, but so do other sleepwalkers, and the pack slowly traverses an America that's divided in its response to the phenomenon. In pockets of the nation already shaken by paranoia, the reaction is violent, raising doubts that the group will survive long enough for its ultimate purpose to be revealed. Already well-established through his work in series fiction, Wendig (Star Wars: Aftermath, 2015) charts a new course with this pre-apocalyptic standalone. This is a sprawling work and, though some scenes are stronger than others, it's to Wendig's credit that the reader's attention never drifts, even as disparate plotlines unfurl and medicine and technology are added to the mix. Though there is plenty of technical content, the novel never loses contact with the human and allows its characters plenty of space to build family and romantic relationships. An imaginative and absorbing work of speculative fiction that's sure to please genre fans.--Craig Lefteroff Copyright 2019 Booklist"
From Booklist, Copyright (c) American Library Association. Used with permission.
Publisher's Weekly Review:
"Wendig (the Miriam Black series) pulls no punches in this blockbuster apocalyptic novel, which confronts some of the darkest and most divisive aspects of present-day America with urgency, humanity, and hope. The day after a comet blazes over the west coast of North America, Benji Ray, a disgraced former CDC epidemiologist, is summoned to meet Black Swan, a superintelligent computer designed to predict and prevent disasters, which has determined that Benji must treat an upcoming pandemic. That same morning, Shana wakes up to find her little sister, Nessie, sleepwalking down the driveway and off toward an unknown goal, one of a growing number of similar travelers who are unable to stop or to wake. Shana in turn becomes one of many shepherds, protecting the travelers from a crumbling American society that's ravaged by fear, dogma, disease, and the effects of climate change, while Benji grapples with his daunting assignment and questions about Black Swan's nature and agenda. Wendig challenges readers with twists and revelations that probe issues of faith and free will while crafting a fast-paced narrative with deeply real characters. His politics are unabashed-characters include a populist president brought to power by neo-Nazis, as well as murderous religious zealots-but not simplistic, and he tackles many moral questions while eschewing easy answers. This career-defining epic deserves its inevitable comparisons to Stephen King's The Stand, easily rising above the many recent novels of pandemic and societal collapse. Agent: Stacia Decker, Dunow, Carlson & Lerner Literary. (July) © Copyright PWxyz, LLC. All rights reserved."
(c) Copyright PWxyz, LLC. All rights reserved
Additional Information
Subjects
Science fiction
Thriller
Suspense
Fiction
Science Fiction
Thrillers (Fiction)
Audiobooks.

Publisher

[Place of publication not identified] :Penguin Random House Audio Publishing Group2019




2019



Edition
Unabridged.
Contributors
OverDrive, Inc.

Participants/Performers

Dominic Hoffman.



Language

English



System Details

Mode of access: World Wide Web.




Format: OverDrive Listen




Format: OverDrive MP3 Audiobook




Requires OverDrive app 3.0 (Windows) / 1.0 (Mac) / 1.0 (Windows Mobile)



Description

1 audio file : digital



ISBN
9781984891754
9781984891754

Other
Classic View