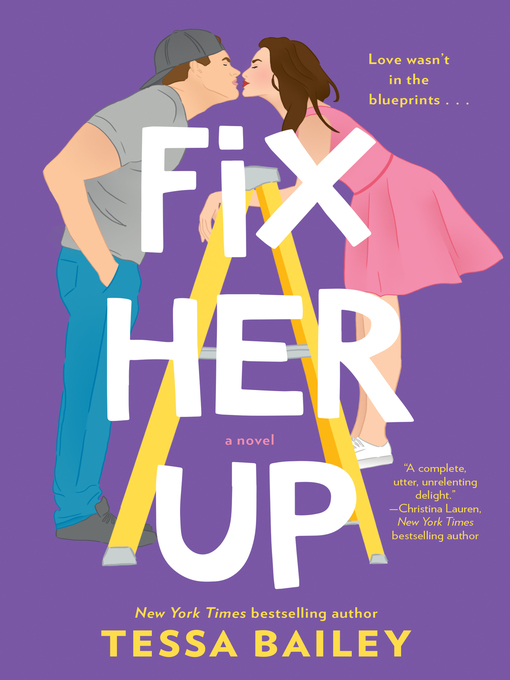 Fix her up a novel
Format:

Kindle Book

2019

2019

Adobe EPUB ebook

OverDrive Read

Availability:

Available from OverDrive

3 of 16 copies
Summary
A brand new romantic comedy from New York Times bestseller Tessa Bailey! Georgette Castle's family runs the best home renovation business in town, but she picked balloons instead of blueprints and they haven't taken her seriously since. Frankly, she's over it. Georgie loves planning children's birthday parties and making people laugh, just not at her own expense. She's determined to fix herself up into a Woman of the World... whatever that means. Phase one: new framework for her business (a website from this decade, perhaps?) Phase two: a gut-reno on her wardrobe (fyi, leggings are pants.) Phase three: updates to her exterior (do people still wax?) Phase four: put herself on the market (and stop crushing on Travis Ford!) Living her best life means facing the truth: Georgie hasn't been on a date since, well, ever. Nobody's asking the town clown out for a night of hot sex, that's for sure. Maybe if people think she's having a steamy love affair, they'll acknowledge she's not just the little sister who paints faces for a living. And who better to help demolish that image than the resident sports star and tabloid favorite? Travis Ford was major league baseball's hottest rookie when an injury ended his career. Now he's flipping houses to keep busy and trying to forget his glory days. But he can't even cross the street without someone recapping his greatest hits. Or making a joke about his... bat. And then there's Georgie, his best friend's sister, who is not a kid anymore. When she proposes a wild scheme-that they pretend to date, to shock her family and help him land a new job-he agrees. What's the harm? It's not like it's real. But the girl Travis used to tease is now a funny, full-of-life woman and there's nothing fake about how much he wants her...

Published Reviews
Booklist Review:
"Georgie Castle is in her 20s, but everyone treats her like the baby of the family. It doesn't help that she is literally a clown, working kids' birthday parties every weekend. Meeting a man is not on her radar (she's content with Dale, her vibrator) until her childhood crush Travis Ford comes back to town. Travis needs work since an injury ended his baseball career, so his best friend hires him for the Castle family house-flipping business. Georgie convinces him to pretend to date her so that her family will see her as a fully grown woman and he can gain a more wholesome reputation to land a baseball-commentating job. Bailey creates fireworks in this steamy novel as Georgie and Travis quickly break their own rules about their fake relationship. The story moves fluidly from one situation to the next, with lots of hot sex in between, and Bailey will keep readers on their toes as the ""couple"" starts to realize this might be the real thing. Perfect for fans of Christina Lauren and Helena Hunting.--Erin Holt Copyright 2019 Booklist"
From Booklist, Copyright (c) American Library Association. Used with permission.
Publisher's Weekly Review:
"Small-town atmosphere permeates bestseller Bailey's comedic contemporary visit to Port Jefferson, N.Y., where outstanding children's birthday clown Georgie Castle reconnects with her lifelong crush, Travis Ford, a former star professional baseball player sidelined by an injury. His despair over the end of his career is fueled by lingering trauma from an unstable childhood. Meanwhile, Georgie, at age 23, is tired of being seen as the pesky little sister whose wants and needs are unimportant; even Travis, a close friend to Georgie's older brother, still sees her as a kid. As Georgie helps Travis out of his pit of misery and into a deeply supportive, protective, and giving relationship, he gets into construction work and makes his way back into the world. Seeing Georgie with new eyes, and appreciating her straightforward, loving honesty, fuels his desire. Meanwhile, Georgie is inspired to seek a new look, expand her business, and bond with other women, especially her big sister. Delightfully intense and creative sex scenes and potent emotions will reward both fans and new readers alike. (June) © Copyright PWxyz, LLC. All rights reserved."
(c) Copyright PWxyz, LLC. All rights reserved
Additional Information