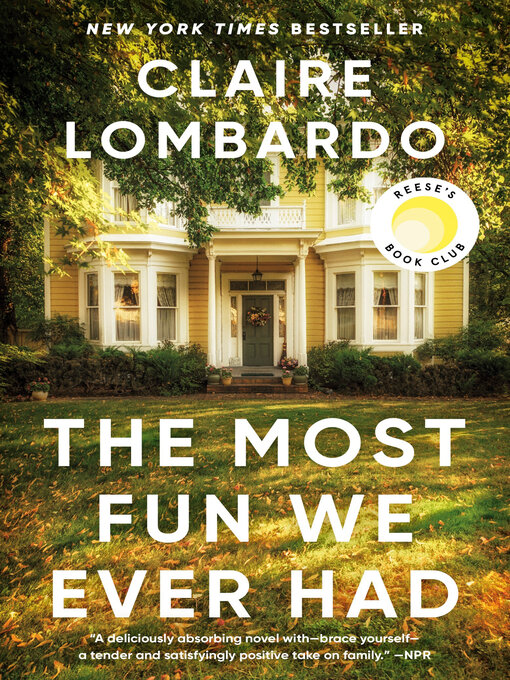 The most fun we ever had
Format:

OverDrive Read

2019.

Adobe EPUB ebook

Kindle Book

Availability:

Unavailable

0 of 44 copies
100 people on waitlist
Summary
AN INSTANT NEW YORK TIMES BESTSELLER

"Ambitious and brilliantly written."--Jane Smiley, The Washington Post

"Outstanding...[the] literary love child of Jonathan Franzen and Anne Tyler."-- The Guardian

"Everything about this brilliant debut cuts deep: the humor, the wisdom, the pathos. Claire Lombardo writes like she's been doing it for a hundred years, and like she's been alive for a thousand."--Rebecca Makkai, author of The Great Believers

When Marilyn Connolly and David Sorenson fall in love in the 1970s, they are blithely ignorant of all that's to come. By 2016, their four radically different daughters are each in a state of unrest: Wendy, widowed young, soothes herself with booze and younger men; Violet, a litigator-turned-stay-at-home-mom, battles anxiety and self-doubt when the darkest part of her past resurfaces; Liza, a neurotic and newly tenured professor, finds herself pregnant with a baby she's not sure she wants by a man she's not sure she loves; and Grace, the dawdling youngest daughter, begins living a lie that no one in her family even suspects. Above it all, the daughters share the lingering fear that they will never find a love quite like their parents'.

As the novel moves through the tumultuous year following the arrival of Jonah Bendt--given up by one of the daughters in a closed adoption fifteen years before--we are shown the rich and varied tapestry of the Sorensons' past: years marred by adolescence, infidelity, and resentment, but also the transcendent moments of joy that make everything else worthwhile.

Spanning nearly half a century, and set against the quintessential American backdrop of Chicago and its prospering suburbs, Lombardo's debut explores the triumphs and burdens of love, the fraught tethers of parenthood and sisterhood, and the baffling mixture of affection, abhorrence, resistance, and submission we feel for those closest to us. In painting this luminous portrait of a family's becoming, Lombardo joins the ranks of writers such as Celeste Ng, Elizabeth Strout, and Jonathan Franzen as visionary chroniclers of our modern lives.
Published Reviews
Booklist Review:
"When Marilyn Sorensen, a young college dropout far from her Chicago home, tells her husband's colleague that mothering her newborn is the most fun she's ever had, it's a flimsy cover for her isolated misery. Borrowing its title form Marilyn's lame line, Lombardo's debut novel accompanies the Sorensen family during a difficult year when a secret child given up for adoption years earlier reappears, causing relationships to sour and longstanding feuds to come to a head. It is also a family epic chapters taking place in the rough present of 2016 are interspersed with ones chronologically covering 30 years of family history, from when Marilyn first met her husband, David, in the mid-1970s, to the births of their four daughters and their respective teenage rebellions and adult tragedies. Though it resembles other sprawling midwestern family dramas, like Jonathan Franzen's The Corrections (2001), Lombardo's book steers clear of social critique and burrows into the drama of familial relationships. The result is an affectionate, sharp, and eminently readable exploration of the challenges of love in its many forms.--Maggie Taft Copyright 2019 Booklist"
From Booklist, Copyright (c) American Library Association. Used with permission.
Publisher's Weekly Review:
"Lombardo's impressive debut follows the Sorenson clan-physician David, wife Marilyn, and their four daughters: Wendy, Violet, Liza, and Grace-through the 1970s to 2017. David and Marilyn raised the family in a rambling suburban Chicago house that belonged to Marilyn's father. The daughters find varying degrees of success in their professional lives but fail to find the passion and romance that their parents continue to have in their own marriage. Wendy is a wealthy widow with a foul mouth and a drinking problem. Violet is a former lawyer turned stay-at-home mother of two young sons. At 32, Liza is a tenured professor with a depressive boyfriend. The baby of the family, 20-something Grace, is the only one of the daughters to have moved away, and now lives in Oregon. The daughters' lives are in various stages of tumult: Wendy locates Jonah, the teenage son Violet gave up for adoption years prior; Violet struggles to integrate Jonah into her perfectly controlled life; Liza is shocked to discover she is pregnant; and Grace lies about being in law school after she was rejected. Lombardo captures the complexity of a large family with characters who light up the page with their competition, secrets, and worries. Despite its length and number of plotlines, the momentum never flags, making for a rich and rewarding family saga. (June) © Copyright PWxyz, LLC. All rights reserved."
(c) Copyright PWxyz, LLC. All rights reserved
Additional Information
Subjects
Family secrets -- Fiction.
Domestic fiction.
Electronic books.

Publisher

[Place of publication not identified] :Knopf Doubleday Publishing Group2019.



Edition
First edition.
Contributors
OverDrive, Inc.

Language

English



System Details

Mode of access: World Wide Web.




Format: Adobe EPUB eBook




Format: Kindle Book




Format: OverDrive Read




Requires Adobe Digital Editions or Amazon Kindle



Description

1 online resource



ISBN
9780385544269
9780385544269

Other
Classic View