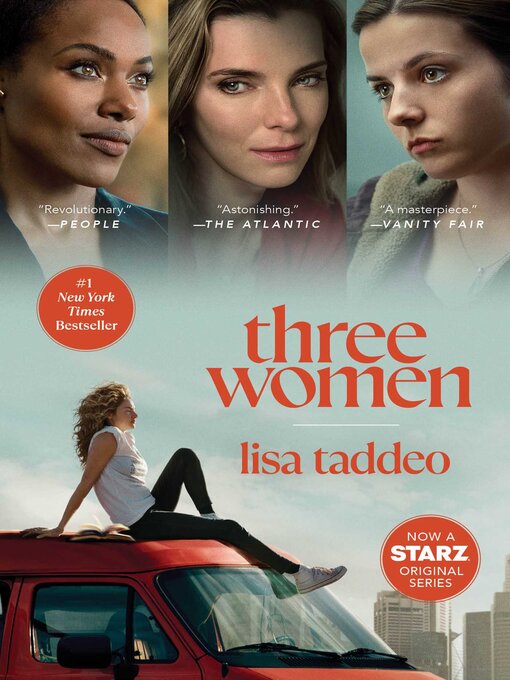 Three women
Format:

OverDrive Read

2019.

Adobe EPUB ebook

Kindle Book

Availability:

Unavailable

0 of 60 copies
161 people on waitlist
Summary
#1 NEW YORK TIMES BESTSELLER

"THIS IS THE BEST BOOK OF THE YEAR. This is it. This is the one....It blew the top of my head off and I haven't been able to stop thinking or talking about it since." --Elizabeth Gilbert

"Taddeo spent eight years reporting this groundbreaking book....Breathtaking....Staggeringly intimate." -- Entertainment Weekly

"The most in-depth look at the female sex drive that's been published in decades." -- New York

"A breathtaking and important book...What a fine thing it is to be enthralled by another writer's sentences. To be stunned by her intellect and heart." --Cheryl Strayed

"A dazzling achievement... Three Women burns a flare-bright path through the dark woods of women's sexuality." -- Los Angeles Times

Desire as we've never seen it before: a riveting true story about the sex lives of three real American women, based on nearly a decade of reporting

It thrills us and torments us. It controls our thoughts, destroys our lives, and it's all we live for. Yet we almost never speak of it. And as a buried force in our lives, desire remains largely unexplored--until now. Over the past eight years, journalist Lisa Taddeo has driven across the country six times to embed herself with ordinary women from different regions and backgrounds. The result, Three Women , is the deepest nonfiction portrait of desire ever written and one of the most anticipated books of the year.

We begin in suburban Indiana with Lina, a homemaker and mother of two whose marriage, after a decade, has lost its passion. She passes her days cooking and cleaning for a man who refuses to kiss her on the mouth, protesting that "the sensation offends" him. To Lina's horror, even her marriage counselor says her husband's position is valid. Starved for affection, Lina battles daily panic attacks. When she reconnects with an old flame through social media, she embarks on an affair that quickly becomes all-consuming.

In North Dakota we meet Maggie, a seventeen-year-old high school student who finds a confidant in her handsome, married English teacher. By Maggie's account, supportive nightly texts and phone calls evolve into a clandestine physical relationship, with plans to skip school on her eighteenth birthday and make love all day; instead, he breaks up with her on the morning he turns thirty. A few years later, Maggie has no degree, no career, and no dreams to live for. When she learns that this man has been named North Dakota's Teacher of the Year, she steps forward with her story--and is met with disbelief by former schoolmates and the jury that hears her case. The trial will turn their quiet community upside down.

Finally, in an exclusive enclave of the Northeast, we meet Sloane--a gorgeous, successful, and refined restaurant owner--who is happily married to a man who likes to watch her have sex with other men and women. He picks out partners for her alone or for a threesome, and she ensures that everyone's needs are satisfied. For years, Sloane has been asking herself where her husband's desire ends and hers begins. One day, they invite a new man into their bed--but he brings a secret with him that will finally force Sloane to confront the uneven power dynamics that fuel their lifestyle.

Based on years of immersive reporting, and told with astonishing frankness and immediacy, Three Women is a groundbreaking portrait of erotic longing in today's America, exposing the fragility, complexity, and inequality of female desire with unprecedented depth and emotional power. It is both a feat of journalism and a triumph of storytelling, brimming with nuance and empathy, that introduces us to three unforgettable women--and one remarkable writer--whose experiences remind us that we are not alone.
Published Reviews
Booklist Review:
"For her first book, journalist Taddeo ""set out to register the heat and sting of female want so that men and other women might more easily comprehend before they condemn."" She spent years following many women's stories, but ultimately focuses on three. Lina, a midwestern stay-at-home mom, finds the romantic kiss (and more) that her husband refuses her when she reconnects with her high-school sweetheart. East Coast restaurateur Sloane is thrilled by her husband's request that she sleep with other people, though it can get socially complicated. North Dakota teenager Maggie, whose story is likely to hit readers hardest, falls in devastating love with her high-school teacher a matter of public record following a 2015 trial. Taddeo braids together the women's narratives, which adds both suspense and heft as their desire-biographies echo and diverge. Her distinct proximity to her subjects shows in the intimate fantasies, scorching encounters, and profound pains they relate through her, but, the power resting fully with them, this never becomes voyeuristic. Instead, she allows them to be defined not by their jobs, kids, or, significantly, the men in their lives, but by a deep and essential part of themselves. Readers will almost certainly fly through this, and want to talk about it.--Annie Bostrom Copyright 2019 Booklist"
From Booklist, Copyright (c) American Library Association. Used with permission.
Publisher's Weekly Review:
"In her ambitious, if flawed, debut, journalist Taddeo reports on the risks women take to fulfill their sexual desires. The result of eight years and thousands of hours of interviews, the book describes how each of her three subjects is undone by an intimate relationship that eventually damaged her. Maggie, a troubled 23-year-old in Fargo, N.Dak., recalls how her high school English teacher seduced her at 17 after learning she'd slept with a man twice her age. When he's named statewide teacher of the year five years later, she reports their affair to the police; townspeople quickly label her "a freaky slut." Indiana wife and mother Lina, married to a man who refuses to kiss her, reconnects on Facebook with high school crush Aidan. Their affair, perfunctory on his end, is played out in parked cars while she becomes "a tangle of need and anxiety." Forty-something Sloane, "beautiful and skinny," runs a successful Newport, R.I., restaurant with her chef husband who chooses her sexual partners and watches them have sex. Sloane believes her marriage to be secure yet had to "constantly reassess what kind of woman she was." Unfortunately, all three feel underdeveloped, with no real insight into them or their lives outside of their sexual histories, and with little connective tissue between their stories. Taddeo's immersive narrative is intense, but more voyeuristic than thoughtful. (July) © Copyright PWxyz, LLC. All rights reserved."
(c) Copyright PWxyz, LLC. All rights reserved
Additional Information