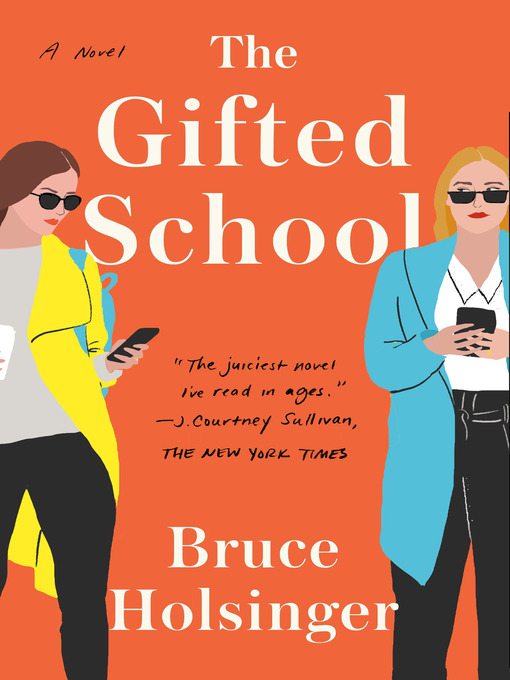 The gifted school a novel
Format:

OverDrive Read

2019.

Adobe EPUB ebook

Kindle Book

Availability:

Unavailable

0 of 29 copies
70 people on waitlist
Summary
INSTANT NATIONAL BESTSELLER

"Wise and addictive... The Gifted School is the juiciest novel I've read in ages... a suspenseful, laugh-out-loud page-turner and an incisive inspection of privilege, race and class."--J. Courtney Sullivan in The New York Times

"The summer read that predicted the college-admissions scandal." - The Wall Street Journal

Smart and juicy, a compulsively readable novel about a previously happy group of friends and parents that is nearly destroyed by their own competitiveness when an exclusive school for gifted children opens in the community

This deliciously sharp novel captures the relentless ambitions and fears that animate parents and their children in modern America, exploring the conflicts between achievement and potential, talent and privilege.

Set in the fictional town of Crystal, Colorado, The Gifted School is a keenly entertaining novel that observes the drama within a community of friends and parents as good intentions and high ambitions collide in a pile-up with long-held secrets and lies. Seen through the lens of four families who've been a part of one another's lives since their kids were born over a decade ago, the story reveals not only the lengths that some adults are willing to go to get ahead, but the effect on the group's children, sibling relationships, marriages, and careers, as simmering resentments come to a boil and long-buried, explosive secrets surface and detonate. It's a humorous, keenly observed, timely take on ambitious parents, willful kids, and the pursuit of prestige, no matter the cost.
Published Reviews
Booklist Review:
"The fictional town of Crystal, Colorado, is the setting for Holsinger's (The Invention of Fire, 2015) biting, astute, immediately engaging novel exploring the means some parents use to push their children up the elite educational ladder. Four couples moved to Crystal about the same time, and now, 10 years later, the wives have become closely knit as their youngest offspring approach middle school. When they get wind of the imminent opening of Crystal Academy, a new public magnet school for exceptional learners, the ties binding the four families begin to unravel. There is a rigorous application process for the limited spots in this gifted school, and while each mother seems to root for all their children to make the cut, behind the scenes a different story unfolds as lies are told and old jealousies surface. Holsinger perceptively portrays how each couple copes with the stress each family faces in addition to the usual money problems, sibling rivalries, and marital difficulties they camouflage. Given recent college-admission scandals, Holsinger's tale about money, connections, and education couldn't be more timely.--Deborah Donovan Copyright 2019 Booklist"
From Booklist, Copyright (c) American Library Association. Used with permission.
Publisher's Weekly Review:
"In this sharply entertaining novel from Holsinger (The Invention of Fire), Crystal, Colo., is an affluent community where a new gifted magnet school for grades six through 12 will soon open. With limited spaces available, the competition among parents to get their offspring into the school, called the "Stuyvesant of the Rockies," turns ruthless. Dr. Rose Holland, a pediatric neurologist, uses her position to gather inside information that could be vital for her daughter, Emma Q's, admission. Queen bee Samantha Zeller and her moneyman husband, Kevin, are not above lying about the IQ test results of their daughter, Emma Z. Divorced Azra and Beck are forced to deal with the emotional fallout when the admission process causes friction between their twin sons. And single mother Lauren's daughter, Tessa, recently out of rehab, keeps a video blog that sees through all the adult pretensions around her. As the application process spools out, it pits parent against parent, student against student, and spouse against spouse until relationships are frayed to the breaking point and betrayals build to a shattering climax during an open house at the new school. This depiction of the depths to which some parents will stoop to win social advantage for their offspring makes for a smart, piercing novel, and timely given recent headlines. (July) © Copyright PWxyz, LLC. All rights reserved."
(c) Copyright PWxyz, LLC. All rights reserved
Additional Information
Subjects
Psychological fiction.
Electronic books.

Publisher

[Place of publication not identified] :Penguin Publishing Group2019.



Contributors
OverDrive, Inc.

Language

English



System Details

Mode of access: World Wide Web.




Format: Adobe EPUB eBook




Format: Kindle Book




Format: OverDrive Read




Requires Adobe Digital Editions or Amazon Kindle



Description

1 online resource



ISBN
9780525534983
9780525534983

Other
Classic View