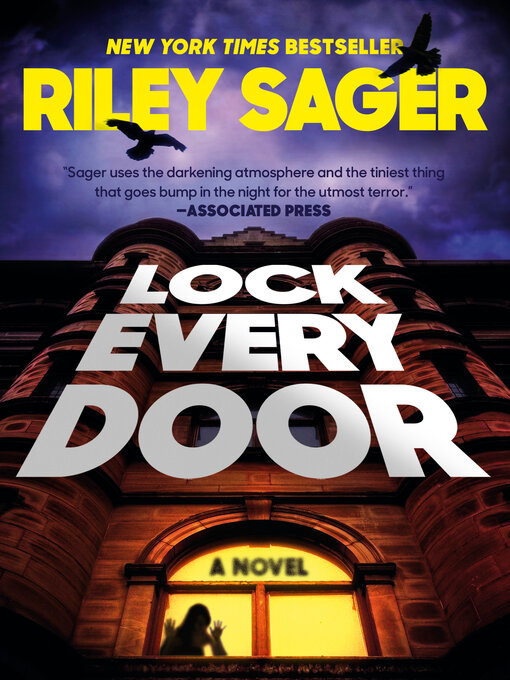 Lock every door a novel
Format:

Kindle Book

2019

2019

Adobe EPUB ebook

OverDrive Read

Availability:

Unavailable

0 of 23 copies
6 people on waitlist
Summary
"The next heart-pounding thriller from New York Times bestselling author Riley Sager follows a young woman whose new job apartment sitting in one of New York's oldest and most glamorous buildings may cost more than it pays. No visitors. No nights spent away from the apartment. No disturbing the other residents, all of whom are rich or famous or both. These are the only rules for Jules Larsen's new job as an apartment sitter at the Bartholomew, one of Manhattan's most high-profile and mysterious buildings. Recently heartbroken and just plain broke, Jules is taken in by the splendor of her surroundings and accepts the terms, ready to leave her past life behind. As she gets to know the residents and staff of the Bartholomew, Jules finds herself drawn to fellow apartment sitter Ingrid, who comfortingly reminds her of the sister she lost eight years ago. When Ingrid confides that the Bartholomew is not what it seems and the dark history hidden beneath its gleaming facade is starting to frighten her, Jules brushes it off as a harmless ghost story. until the next day, when Ingrid disappears. Searching for the truth about Ingrid's disappearance, Jules digs deeper into the Bartholomew's sordid past and into the secrets kept within its walls. What she discovers pits Jules against the clock as she races to unmask a killer, expose the building's hidden past, and escape the Bartholomew before her temporary status becomes permanent"--

Published Reviews
Booklist Review:
"The building manager's strange rules should have tipped Jules off that her new apartment-sitting gig was too good to be true: no visitors, no nights away from the apartment, and no speaking to the regular tenants unless spoken to. But, for the incredible pay and three months in NYC's legendary Bartholomew Building, Jules would agree to almost anything. She's between both jobs and apartments, so she isn't overcome with options, but doubt creeps in after she meets Ingrid, another Bartholomew apartment sitter, who confesses that the building scares her. That night, Jules hears a scream coming from Ingrid's apartment and is told the next morning that Ingrid secretly moved out in the night. Jules isn't buying it and searches for Ingrid, digging into the building's historic connection to a murderous cult. Through disoriented future interludes, Jules reveals that she's escaped the Bartholomew. But, escaped from what? Sager's third reinterpretation of iconic horror themes (following The Last Time I Lied, 2018) is an utterly riveting thriller that melds Rosemary's Baby with Sager's masterful storytelling.--Christine Tran Copyright 2019 Booklist"
From Booklist, Copyright (c) American Library Association. Used with permission.
Publisher's Weekly Review:
"Jules Larsen, the 25-year-old heroine of this compulsively readable thriller from bestseller Sager (The Last Time I Lied), has hit rock bottom. Scarred by the deaths of her parents and the disappearance of her sister years before, she has recently lost her administrative assistant job and learned that her boyfriend has been cheating on her. With her finances perilously low, Jules responds to an ad for a house sitter at a Manhattan luxury apartment building, which turns out to be the Bartholomew, the setting for her favorite book, a bestselling novel published in the '80s about a 20-year-old orphan who lives there. In order to earn $12,000 for living in one of the Bartholomew's vacant apartments for three months, she must follow strict rules, which include absolutely no visitors and refraining from interacting with the other residents. Jules leaps at the opportunity, only to learn that the property is rumored to be haunted and that her acceptance of the job may be placing her in jeopardy. Fans of Ira Levin, to whom the book is dedicated, will be delighted by Sager's clever variation on a typical Levin plot. Agent: Michelle Brower, Aevitas Creative Management. (July) © Copyright PWxyz, LLC. All rights reserved."
(c) Copyright PWxyz, LLC. All rights reserved
Additional Information