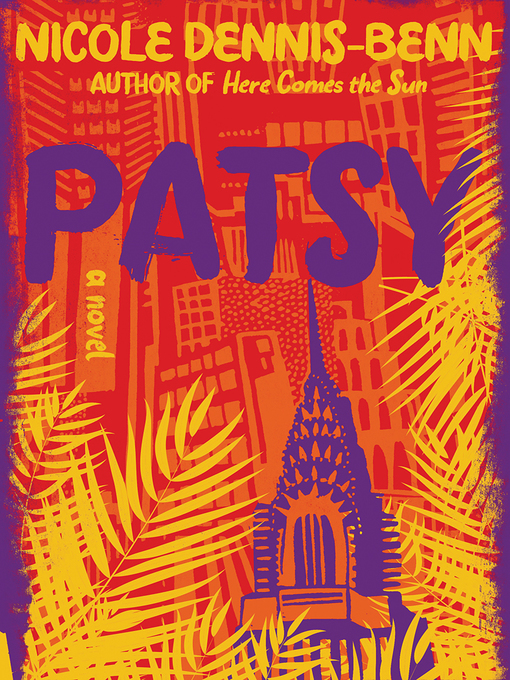 Patsy A novel
Format:

OverDrive Read

2019.

Adobe EPUB ebook

Kindle Book

Availability:

Unavailable

0 of 10 copies
22 people on waitlist
Summary
When Patsy gets her long-coveted visa to America, it comes after years of yearning to leave Pennyfield, the beautiful but impoverished Jamaican town where she was raised. More than anything, Patsy wishes to be reunited with her oldest friend, Cicely, whose letters arrive from New York steeped in the promise of a happier life and the possible rekindling of their young love. But Patsy's plans don't include her overzealous, evangelical mother--or even her five-year-old daughter, Tru.Beating with the pulse of a long-witheld confession, Patsy gives voice to a woman who looks to America for the opportunity to choose herself first--not to give a better life to her family back home. Patsy leaves Tru behind in a defiant act of self-preservation, hoping for a new start where she can be, and love, whomever she wants. But when Patsy arrives in Brooklyn, America is not as Cicely's treasured letters described; to survive as an undocumented immigrant, she is forced to work as a bathroom attendant and nanny. Meanwhile, Tru builds a faltering relationship with her father back in Jamaica, grappling with her own questions of identity and sexuality, and trying desperately to empathize with her mother's decision.Expertly evoking the jittery streets of New York and the languid rhythms of Jamaica, Patsy weaves between the lives of Patsy and Tru in vignettes spanning more than a decade as mother and daughter ultimately find a way back to one another.As with her masterful debut, Here Comes the Sun, Nicole Dennis-Benn once again charts the geography of a hidden world--that of a paradise lost, swirling with the echoes of lilting patois, in which one woman fights to discover her sense of self in a world that tries to define her. Passionate, moving, and fiercely urgent, Patsy is a prismatic depiction of immigration and womanhood, and the lasting threads of love stretching across years and oceans.
Published Reviews
Booklist Review:
"When Patsy finally gets a U.S. travel visa in 1998, she is so sure that she is neither a good mother nor capable of becoming one that she plans to leave her young daughter, Tru, behind in Jamaica and never look back. There's something pulling Patsy, too, the promise of reunion with her girlhood best friend turned lover, Cicely, who left Jamaica a decade ago. But things quickly fall apart when Patsy arrives in Brooklyn to a less-welcoming situation than Cicely suggested in her letters. As Patsy survives the mind-numbing terror of undocumented life, stories from her past seep in to reveal her familiarity with hardship and a well of strength that is nonetheless invisible to her. Meanwhile, Tru deals with her own terror, suffering from her mother's abandonment while living with her father and his family, strangers to her at first. Ten years later, stoic teen Tru is almost undone by the loneliness of her gnawing depression and feelings of queerness, unaware that her mother, now a Manhattan nanny, shares both. Dennis-Benn (Here Comes the Sun, 2016) builds big worlds inside and outside of her touchable characters, writing through their knotty love in all its failures and mercies in this empathic intergenerational epic of womanhood and inheritance.--Annie Bostrom Copyright 2019 Booklist"
From Booklist, Copyright (c) American Library Association. Used with permission.
Publisher's Weekly Review:
"A Jamaican woman abandons her daughter for a chance to reunite with her childhood friend turned lover in this wrenching second novel from Dennis-Benn (Here Comes the Sun). Adoring letters from Cicely, who left several years earlier, inspire Patsy to emigrate from Jamaica to America, but when she arrives in New York in 1998, her dreams of a romantic reunion are dashed by the discovery that Cicely has married an abusive husband. Forced to set out on her own, Patsy finds work as a bathroom attendant and a nanny. Meanwhile, Tru, her six-year-old daughter, is still in Jamaica under the care of her father, who helps to ease the girl's devastation by teaching her to play soccer, a game she excels at. Though Patsy has decided that "the absence of a mother is more dignified than the presence of a distant one," as she settles into a sustainable life over the next decade, Tru struggles with depression and self-harm. Patsy's ambivalence about motherhood transforms this otherwise familiar immigrant narrative into an immersive study in unintended consequences, where even the push Patsy's new girlfriend gives her to try and make amends, by sending a gift to Tru, leads to disaster. Out of that debacle, though, a chance for rapprochement appears, one that sets the stage for Tru to turn her athletic talent into the kind of life her mother is still grasping at. This is a marvelous novel. (June) © Copyright PWxyz, LLC. All rights reserved."
(c) Copyright PWxyz, LLC. All rights reserved
Additional Information
Subjects
Emigration and immigration -- Fiction.
Electronic books.

Publisher

[Place of publication not identified] :Liveright2019.



Contributors
OverDrive, Inc.

Language

English



System Details

Mode of access: World Wide Web.




Format: Adobe EPUB eBook




Format: Kindle Book




Format: OverDrive Read




Requires Adobe Digital Editions or Amazon Kindle



Description

1 online resource



ISBN
9781631495649
9781631495649

Other
Classic View