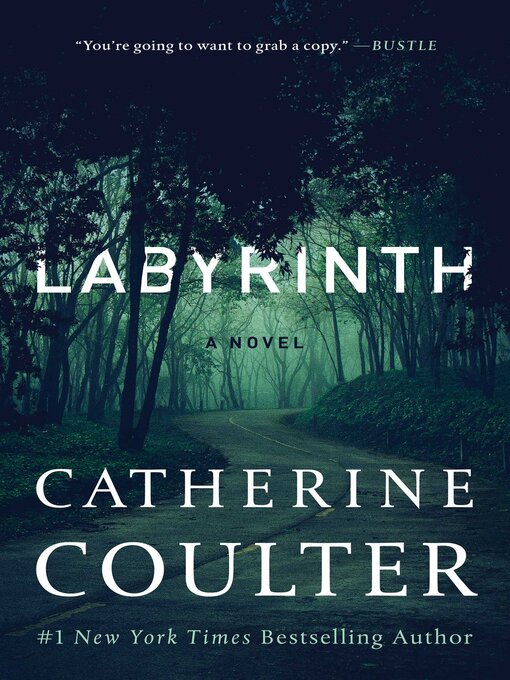 Labyrinth
Format:

Kindle Book

2019

2019

Adobe EPUB ebook

OverDrive Read

Availability:

Available from OverDrive

1 of 29 copies
Summary
The #1 New York Times bestselling FBI Thriller series returns with another tour de force in which Agent Sherlock risks losing her career--and her sanity--over a case that is more complicated and twisted than any she's ever encountered.

Published Reviews
Booklist Review:
"FBI Agent Lacey Sherlock is lucky to be alive after an SUV broadsides her Volvo, sending it spinning into traffic and ramming a fire hydrant. She escapes with bruises, a concussion, and amnesia so severe that she doesn't know her husband, FBI Agent Dillon Savich, or their young son, Sean. And the blood on her windshield isn't hers but rather that of a man running from something, who bounced off her car and disappeared. Two days later, the pair takes off to help Agent Griffin Hammersmith, who's vacationing in a small western Virginia town near where three teenage girls have recently gone missing; Griffin has landed in trouble with the local law after his gift of reading others' thoughts helps him rescue a kidnapped woman. Establishing Hammersmith's credentials and leaving him in charge of investigating the missing girls, Sherlock and Savich find the man who fled from her Sherlock's accident, who turns out to be a CIA analyst who stumbled onto something big. Coulter toggles between the two story lines, expertly raising the tension in each, as Sherlock's memory gradually returns. Prime summer reading by one of the most reliable authors in the genre.--Michele Leber Copyright 2010 Booklist"
From Booklist, Copyright (c) American Library Association. Used with permission.
Publisher's Weekly Review:
"Bestseller Coulter's high-speed 23rd FBI thriller (after 2018's Paradox) opens on a busy road in Washington, D.C., where an SUV rams into FBI agent Lacey Sherlock's car, causing her to spin out of control and hit a man, who subsequently disappears. Sherlock wakes up in the hospital with no memory of the accident, nor of her husband, fellow agent Dillon Savich. The FBI determines that the man she ran into was CIA analyst Justice Cummings. The search for Cummings uncovers chilling links to an international spy plot. Meanwhile, in tiny Gaffer's Ridge, Va., FBI agent Griffin Hammersmith rescues kidnapped journalist Carson Di Silva, who tells him that her abductor, Rafer Bodine, is also responsible for the disappearance of three teenagers, information she received through a psychic experience. The local sheriff, Rafer's uncle, declares him innocent and jails Hammersmith and Di Silva. In an attempt to help Sherlock regain her memory, Savich brings her to Gaffer's Ridge to investigate the abduction of the teens. Never mind the unlikely plot developments. Readers will cheer kick-butt Sherlock all the way to the action-packed finale. Agent: Robert Gottlieb, Trident Media Group. (July)"
(c) Copyright PWxyz, LLC. All rights reserved
Additional Information