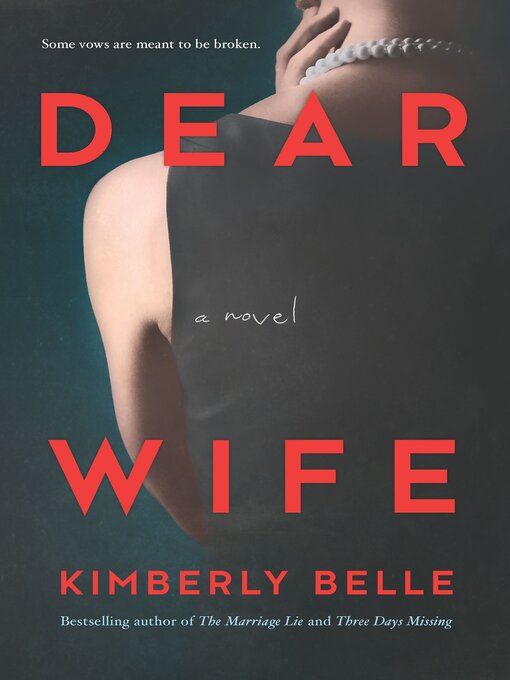 Dear wife A Novel
Format:

Kindle Book

2019

2019

Adobe EPUB ebook

OverDrive Read

Availability:

Unavailable

0 of 16 copies
10 people on waitlist
Summary
From the bestselling author of The Marriage Lie and Three Days Missing comes a riveting new novel of suspense about a woman who, in a fight for survival, must decide just how far she'll go to escape the person she once lovedBeth Murphy is on the run...For nearly a year, Beth has been planning for this day. A day some people might call any other Wednesday, but Beth prefers to see it as her new beginning—one with a new look, new name and new city. Beth has given her plan significant thought, because one small slip and her violent husband will find her.Sabine Hardison is missing...A couple hundred miles away, Jeffrey returns home from a work trip to find his wife, Sabine, is missing. Wherever she is, she's taken almost nothing with her. Her abandoned car is the only evidence the police have, and all signs point to foul play.As the police search for leads, the case becomes more and more convoluted. Sabine's carefully laid plans for her future indicate trouble at home, and a husband who would be better off with her gone. The detective on the case will stop at nothing to find out what happened and bring this missing woman home. Where is Sabine? And who is Beth? The only thing that's certain is that someone is lying and the truth won't stay buried for long.

Published Reviews
Booklist Review:
"Real estate agent Sabine Hardison has disappeared without a trace. At the same time, a woman named Beth Murphy appears just outside of town, on the run from an abusive husband. Beth has put months' worth of effort into reinventing herself, squirreling away money and deliberately laying a misleading trail to her whereabouts. Dogged detective Marcus Durand has identified Sabine's husband Jeffrey as the prime suspect in her disappearance, but as both Marcus and Jeffrey dig deeper, they find that Sabine had a secret life outside of her marriage. Meanwhile, Beth begins to build a new life in Atlanta, including friends and a job cleaning a megachurch but the person who's after her isn't going to stop. Belle's latest domestic thriller has everything genre fans want: plenty of twists, turns, and misdirection, plus an unexpected and satisfying ending. The alternating points of view give readers a glimpse inside the minds of Beth, Marcus, and Jeffrey a woman in peril and the two men who will stop at nothing to track her down. Ideal for fans of Gilly Macmillan and Alafair Burke.--Nanette Donohue Copyright 2019 Booklist"
From Booklist, Copyright (c) American Library Association. Used with permission.
Publisher's Weekly Review:
"At the start of this intense thriller from Belle (Three Days Missing), a woman called Beth drives west from Arkansas into Oklahoma to escape her violent husband. She's carefully planned her exit for almost a year. Meanwhile, Jeffrey Hardison returns to Pine Bluff, Ark., after a business trip to discover that his real estate broker wife, Sabine, is not yet home and has once again left the house a mess. When Sabine's car is found abandoned, and her whereabouts remain unknown, Det. Marcus Durand of the Pine Bluff PD investigates and soon focuses on Jeffrey as the chief suspect in her disappearance. As the first-person narrative shifts among Beth, Jeffrey, and Marcus, hints of each main character's motivations emerge. The stakes rise when the police learn that Jeffrey abused Sabine. Multiple plot twists keep the reader guessing all the way to the stunning conclusion, and the link between Beth and Sabine comes as one of the book's bigger surprises. Belle once again displays a knack for high suspense. Agent: Nikki Terpilowski, Holloway Literary. (June) © Copyright PWxyz, LLC. All rights reserved."
(c) Copyright PWxyz, LLC. All rights reserved
Additional Information