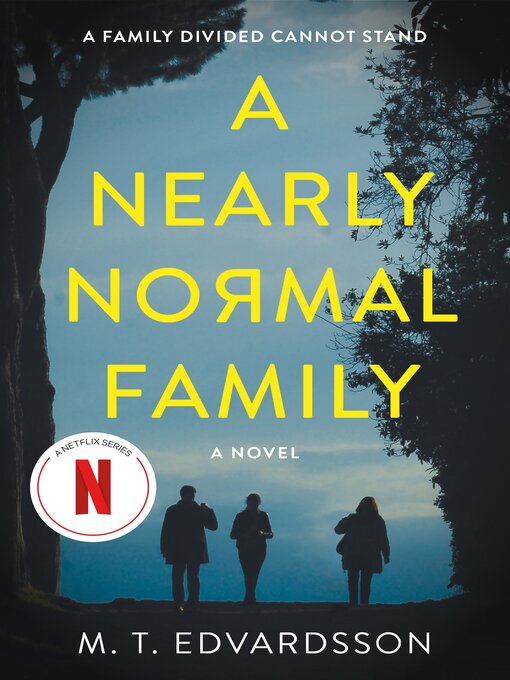 A nearly normal family
Format:

Kindle Book

2019

2019

Adobe EPUB ebook

OverDrive Read

Availability:

Unavailable

0 of 13 copies
6 people on waitlist
Summary
Eighteen-year-old Stella Sandell stands accused o the brutal murder of a man almost fifteen years her senior. She is an ordinary teenager from an upstanding local family. What reason could she have to know a shady businessman, let alone to kill him? Stella's father, a pastor, and mother, a criminal defense attorney, find their moral compasses tested as they defend their daughter while struggling to understand why she is a suspect. How well do they know their own child? And how far would they go to protect her?

Published Reviews
Booklist Review:
"Swedish couple Adam and Ulrika are awakened by their teenage daughter, Stella, sobbing inconsolably at their bedside. Ulrika finally calms her down and assures Adam not to worry. The next morning, however, Adam finds Stella's bloodstained shirt in the laundry. Then, incomprehensibly, Adam and Ulrika are notified that detectives are questioning Stella about a murder. Christopher Olsen, a real-estate developer, has been killed, and his neighbor claims to have seen Stella there just before she heard Olsen's screams. As Adam and Ulrika struggle to work out Stella's connection to Olsen, protective instincts reign. The bloodied shirt and Stella's phone disappear, and Adam finds himself providing a false alibi. Then, after Stella's best friend disputes Stella's story, and police discover evidence of a volatile secret relationship between Olsen and Stella, Stella is charged with murder. As the trial looms, Adam deteriorates into rage, Ulrika guards secrets, and Stella slowly reveals the storm of manipulation, repressed trauma, and fierce loyalty that led to Olsen's death. An intense legal thriller that successfully plays realistic, gripping emotion against a shocking legal twist.--Christine Tran Copyright 2019 Booklist"
From Booklist, Copyright (c) American Library Association. Used with permission.
Publisher's Weekly Review:
"Swedish author Edvardsson make his U.S. debut with an ambitious novel that focuses on the question: What would one do to save one's child from the consequences of a horrible crime? Rebellious 18-year-old Stella Sandell has a violent temper and a penchant for getting into trouble, reflecting a need to defy her overprotective father, Adam, a Church of Sweden pastor in the town of Lund. When Stella is arrested for the murder of her lover, 33-year-old Christopher Olsen, a criminal law professor's son with a checkered past, Adam and his lawyer wife, Ulrika, go to great lengths to help their troubled daughter. Edvardsson uses first-person narratives from Adam, Stella, and Ulrika to tell the story of the family, the crime, and the trial. This structure adds complexity and ambiguity, but the three different versions of the events result in too much repetition, dampening the suspense and weakening the denouement. This novel works better as a domestic drama than as a mystery. Agent: Astri Ahlander, Ahlander Agency (Sweden). (June) © Copyright PWxyz, LLC. All rights reserved."
(c) Copyright PWxyz, LLC. All rights reserved
Additional Information