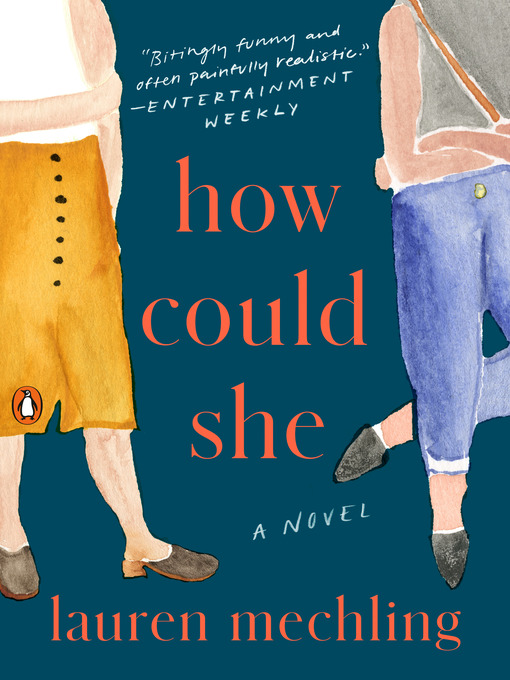 How could she a novel
Format:

Kindle Book

2019

2019

Adobe EPUB ebook

OverDrive Read

Availability:

Unavailable

0 of 9 copies
6 people on waitlist
Summary
"An assured and savagely funny novel about three old friends as they navigate careers, husbands, an ex- fiance, new suitors, and, most importantly, their relationships with one another "I know these women, I am these women." --Stephanie Danler, author of Sweetbitter "As wise and unforgiving as a nineteenth-century French novel." --Elif Batuman, author of The Idiot After a devastating break-up with her fiance, Geraldine is struggling to get her life back on track in Toronto. Her two old friends, Sunny and Rachel, left ages ago for New York, where they've landed good jobs, handsome husbands, and unfairly glamorous lives (or at least so it appears to Geraldine). Sick of watching from the sidelines, Geraldine decides to force the universe to give her the big break she knows she deserves, and moves to New York City. After she arrives, though, and zigzags her way through the downtown art scene and rooftop party circuit, she discovers how hard it is to find her footing in a world of influencers and media darlings. Plus, the magazine where Sunny and Rachel work is on the brink of folding. Rachel is struggling to juggle her life as a writer, wife, and new mother--how is it that she was more confident and successful at twenty-five than in her mid-thirties? And Sunny's life as a popular West Village tastemaker is not nearly as charmed as it seemed to Geraldine from Toronto. Perhaps worst of all, why are Sunny and Rachel--who've always been suspicious of each other--suddenly hanging out without Geraldine? Hilarious and fiercely observed, How Could She is a novel of female friendship, an insider's look into the cutthroat world of New York media--from print to podcasting--and a witty exploration of the ways we can and cannot escape our pasts. In Geraldine, Sunny, and Rachel, Mechling exposes how women can pragmatically manipulate one another in life and in love, and how the glamour, energy, and hope of New York City doesn't deliver for everyone, but sometimes, in the most unexpected and delightful moments, embraces those who have just the right amount of hope and delusion"--

Published Reviews
Booklist Review:
"Sunny, Geraldine, and Rachel have dipped in and out of one anothers' lives for decades. Friends, colleagues, rivals: their combined relationship defies easy explanation. Newly single Geraldine, the trio's hub, leaves Toronto for new opportunities in life and love in New York City. Scatterbrained Sunny's recent success as an artist allows her to live comfortably without changing her outlook on life. Rachel is a pragmatic writer who spends more time composing perfect tweets than working on her next YA novel. Now that they're all in the same city again, inside jokes, lost loves, and old grudges pop up everywhere. Tackling relationship problems, parenthood, and career changes, they learn that they're undoubtedly stronger together than they are apart. Journalist and YA novelist Mechling's whip-smart portrait of female friendship is perfect for fans of Meg Wolitzer's The Interestings (2013) and Beverly Gologorsky's Every Body Has a Story (2018). Mechling excavates the layers of envy, support, and respect that fill the cracks in any long-term relationship. With an insider's view of today's media landscape, How Could She is a delight.--Stephanie Turza Copyright 2019 Booklist"
From Booklist, Copyright (c) American Library Association. Used with permission.
Publisher's Weekly Review:
"Mechling turns a sharp eye on the relationships between women in her first adult novel (after YA novel Dream Life). Geraldine Despont, Sunny MacLeod, and Rachel Ziff-all 37-are old friends. They all met while working as junior staff at a Toronto weekly newspaper in their 20s, and their paths have wildly diverged since. Sunny is the most obviously successful of the trio, making a career as a watercolor artist and ensconced in a picture-perfect marriage to an architect husband. Rachel, a native New Yorker, is struggling as a young adult novelist but has a beautiful daughter and an adoring husband. Geraldine, once engaged to the owner of the paper where they all met, is feeling stalled personally and professionally. Her decision to move to New York and get into podcasting has surprising consequences for her, Sunny, and Rachel's relationships, opening old wounds and dredging up past betrayals. Mechling is particularly insightful when it comes to the envy and affection that marks friendship, and clearly delights in writing Geraldine as the New York ingénue. Though the characters' shallowness and relatively minor problems may turn off some readers, this is nevertheless a breezy, entertaining romp. (June) © Copyright PWxyz, LLC. All rights reserved."
(c) Copyright PWxyz, LLC. All rights reserved
Additional Information