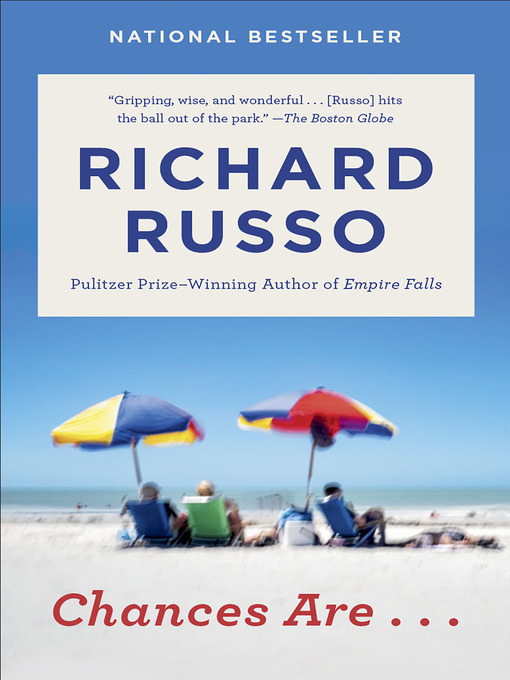 Chances are... a novel
Format:

Kindle Book

2019

2019

Adobe EPUB ebook

OverDrive Read

Availability:

Available from OverDrive

4 of 36 copies
4 people on waitlist
Summary
"From the Pulitzer Prize-winning Richard Russo--in his first stand-alone novel in a decade--comes a new revelation: a gripping story about the abiding yet complex power of friendship. One beautiful September day, three sixty-six-year old men convene on Martha's Vineyard, friends ever since meeting in college circa the sixties. They couldn't have been more different then, or even today--Lincoln's a commercial real estate broker, Teddy a tiny-press publisher, and Mickey a musician beyond his rockin' age. But each man holds his own secrets, in addition to the monumental mystery that none of them has ever stopped puzzling over since a Memorial Day weekend right here on the Vineyard in 1971. Now, forty-four years later, as this new weekend unfolds, three lives and that of a significant other are displayed in their entirety while the distant past confounds the present like a relentless squall of surprise and discovery. Shot through with Russo's trademark comedy and humanity, Chances Are. also introduces a new level of suspense and menace that will quicken the reader's heartbeat throughout this absorbing saga of how friendship's bonds are every bit as constricting and rewarding as those of family or any other community. For both longtime fans and lucky newcomers, Chances Are. is a stunning demonstration of a highly acclaimed author deepening and expanding his remarkable achievement"--

Published Reviews
Booklist Review:
"Thrown together as kitchen-staff co-workers for the Theta sorority at Minerva College in 1971, Lincoln, Teddy, and Mickey form a bond as strong as their namesake Three Musketeers. Part of what unites them is their affection for the comely, capricious Jacy Rockafellow. With graduation looming and Mickey destined to head to Vietnam, the four friends revel in a final weekend at Lincoln's family cottage on Martha's Vineyard. While they all hope to convince Mickey to flee to Canada, each musketeer privately schemes to induce Jacy to declare that she is in love with him and him alone. Instead, before the weekend is over, Jacy will have disappeared without a trace. Fast-forward 40 years, when the now senior-citizen Three Musketeers have reunited at the cottage for another last hurrah before Lincoln puts it up for sale. Ghosts of Jacy abound, leading Lincoln to delve into the mystery behind her presumed death. For his first stand-alone novel in 10 years, Russo has written a bewitching tale of male friendship with thriller elements, leading to a shift in tone and pacing that may startle his loyal readers. That Russo takes deep philosophical dives into issues of fate and free will, loyalty and lies in the subtlest ways will, however, surprise no one. This is vintage Russo with a cunning twist.HIGH-DEMAND BACKSTORY: Russo's fans will be on the hunt, and his bend into suspense will attract new readers, too.--Carol Haggas Copyright 2019 Booklist"
From Booklist, Copyright (c) American Library Association. Used with permission.
Publisher's Weekly Review:
"Russo's first standalone novel in a decade (after Everybody's Fool) mixes his signature themes-father-and-son relationships, unrequited love, New England small-town living, and the hiccups of aging-with stealthy clue-dropping in a slow-to-build mystery about a young woman's 1971 disappearance. Set mostly in Martha's Vineyard circa 2015 with flashbacks to the characters' coming-of-age in the 1960s and '70s, the story follows three college buddies who, now in their mid-60s, decide to reunite on the island. There's Lincoln, a happily married and successful real estate broker with six kids; Teddy, an editor and publisher of a small university press who's prone to panic attacks and disorienting spells that leave him depressed; and Mickey, a musician renowned for his ability to rock hard, play hard, and sometimes beat up anyone in his way. Then there's the missing link-gorgeous Jacy, the "three musketeers''" closest gal pal from college and secret crush-who was engaged to "privileged, pre-school, Greenwich, Connecticut" Vance, and had joined her boys at Lincoln's Vineyard cabin for one last hurrah before she vanished. Relayed in alternating chapters from mostly Lincoln and Teddy's perspectives, the narrative touches on the Vietnam draft, Lincoln's complicated relationship with his dogmatic father and meek mother, and an accident that befalls Teddy. In the final stretch, surprising, long-kept secrets are revealed. This is vintage Russo. (July) This review has been updated to remove a spoiler. © Copyright PWxyz, LLC. All rights reserved."
(c) Copyright PWxyz, LLC. All rights reserved
Additional Information