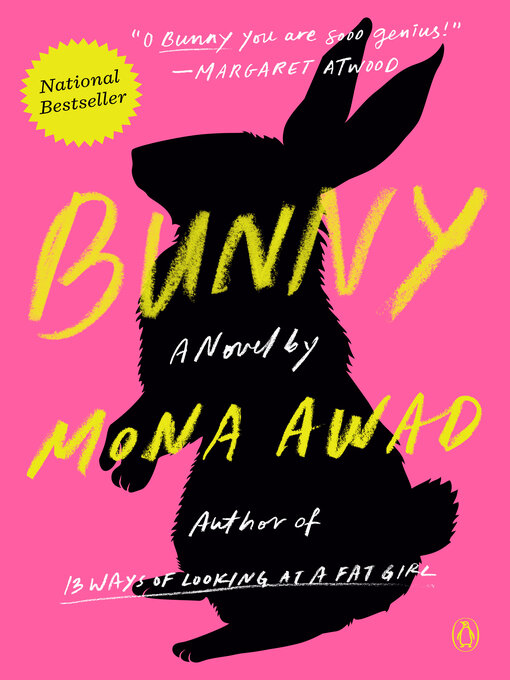 Bunny
Format:

Kindle Book

2019

2019

Adobe EPUB ebook

OverDrive Read

Availability:

Available from OverDrive

1 of 7 copies
1 person on waitlist
Summary
"Samantha Heather Mackey couldn't be more of an outsider in her small, highly selective MFA program at New England's Warren University. A scholarship student who prefers the company of her dark imagination to that of most people, she is utterly repelled by the rest of her fiction writing cohort--a clique of unbearably twee rich girls who call each other "Bunny," and are often found entangled in a group hug so tight they become one. But everything changes when Samantha receives an invitation to the Bunnies' fabled "Smut Salon," and finds herself inexplicably drawn to their front door--ditching her only friend, Ava, a caustic art school dropout, in the process. As Samantha plunges deeper and deeper into the sinister yet saccharine world of the Bunny cult and starts to take part in their ritualistic off-campus "Workshop" where they magically conjure their monstrous creations, the edges of reality begin to blur, and her friendships with Ava and the Bunnies are brought into deadly collision. A spellbinding, down-the-rabbit-hole tale of loneliness and belonging, creativity and agency, and friendship and desire, Bunny is the dazzlingly original second book from an author whose work has been described as "honest, searing and necessary" (Elle)" --

Published Reviews
Booklist Review:
"In this wicked tale, MFA candidate Samantha rails against, but nonetheless engages in, the faux-gritty, privileged culture of her highly selective creative-writing program. Though her cohort is exclusively female, the group is far from picture-perfectly progressive. Samantha loathes the clique of sugary-white besties who relentlessly refer to one another as Bunny. That is, until they decide to include her in their weekly Smut Salon, a gathering shrouded in vanilla-scented mystery. What Samantha discovers the Bunnies are up to is beyond mortal comprehension: they've been sacrificing (via axe) actual rabbits and turning them into their ideal men, all in the name of creating art beyond their bedazzled, turquoise typewriters. A series of gory hangouts, and Samantha's Bunny indoctrination, ensues. Samantha is eventually saved from the cupcakey murder cult by a few helpful reminders that a world beyond the MFA program exists, and that she will very soon have to engage with it. Awad's (13 Ways of Looking at a Fat Girl, 2016) latest is sharp and utterly bonkers; think Heathers gone to grad school.--Courtney Eathorne Copyright 2019 Booklist"
From Booklist, Copyright (c) American Library Association. Used with permission.
Publisher's Weekly Review:
"Awad's outstanding novel follows the highly addictive, darkly comedic tale of sardonic Samantha Mackey, a fiction MFA student at a top-tier New England school. There, four of her fellow writers are a ghoulish clique of women who cryptically refer to each other as "Bunny." To outsiders, the Bunnies come across as insipid with their colorful, patterned dresses and perfect hair. Samantha feels more grounded after her first year and after meeting Ava, who becomes her only friend, over the summer break. Samantha dreads the Bunnies' return upon learning the four of them are the only other participants in her writing workshop; once in class, they dismiss her work while praising their own. The trajectory of Samantha's life alters after she receives an unexpected invitation from the Bunnies to join them. Samantha's desire for acceptance leads her down a dangerous path into the Bunnies' rabbit hole, which begins with them drinking weird concoctions and reading erotic poetry together in sessions they call the "Smut Salon." Soon, though, Samantha begins to believe in the Bunnies' views, becomes unreliable as a narrator, and willingly participates in their increasingly twisted games. Awad (13 Ways of Looking at a Fat Girl) will have readers racing to find out how it all ends-and they won't be disappointed once the story reaches its wild finale. This is an enchanting and stunningly bizarre novel. Agent: Bill Clegg, the Clegg Agency. (June) © Copyright PWxyz, LLC. All rights reserved."
(c) Copyright PWxyz, LLC. All rights reserved
Additional Information