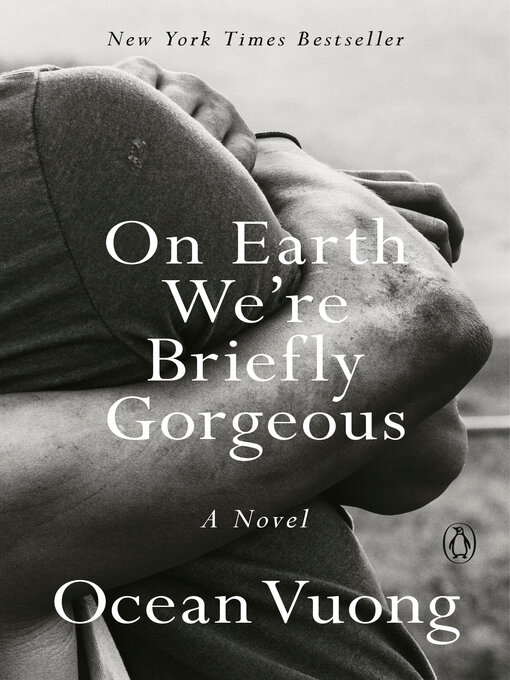 On earth we're briefly gorgeous a novel
Format:

Kindle Book

2019

2019

Adobe EPUB ebook

OverDrive Read

Availability:

Unavailable

0 of 29 copies
79 people on waitlist
Summary
"Brilliant, heartbreaking, tender, and highly original - poet Ocean Vuong's debut novel is a sweeping and shattering portrait of a family, and a testament to the redemptive power of storytelling. On Earth We're Briefly Gorgeous is a letter from a son to a mother who cannot read. Written when the speaker, Little Dog, is in his late twenties, the letter unearths a family's history that began before he was born--a history whose epicenter is rooted in Vietnam--and serves as a doorway into parts of his life his mother has never known, all of it leading to an unforgettable revelation. At once a witness to the fraught yet undeniable love between a single mother and her son, it is also a brutally honest exploration of race, class, and masculinity"--

Published Reviews
Booklist Review:
"This first novel by poet Vuong (Night Sky with Exit Wounds, 2016) is narrated by Little Dog, a Vietnamese refugee who grew up in Hartford with his mother and his maternal grandmother, Lan. A writer now, he addresses his story as a letter to his mother, who cannot read, ""to tell you everything you'll never know."" He recalls her painful attempts to toughen him and his simultaneous rage for all that frays her work, memories, difficulty communicating. At 14 he gets a job cutting tobacco, and there meets Trevor. Two years older, Trevor works to escape his alcoholic father and makes Little Dog feel ""seen I who had seldom been seen by anyone."" Their covert love blooms brilliantly as Trevor, battling his own demons, handles Little Dog with bewildering warmth. This plot line is its own speeding train, while Little Dog's letter also reveals the family's inextricable legacy from the Vietnam War. In Vuong's acrobatic storytelling, Lan's traumatic wartime tale unspools in a spiraling dive, and a portrait of Trevor emerges in the snapshots of a 10-page prose poem. Casting a truly literary spell, Vuong's tale of language and origin, beauty and the power of story, is an enrapturing first novel.--Annie Bostrom Copyright 2019 Booklist"
From Booklist, Copyright (c) American Library Association. Used with permission.
Publisher's Weekly Review:
"Poet Vuong's frank first novel (after Night Sky with Exit Wounds) takes the form of a letter from a man to his illiterate mother in which 28-year-old Little Dog, a writer who's left the impoverished Hartford, Conn., of his youth for New York City, retraces his coming of age. His childhood is marked by abuse from his overworked mother, as well as the traumas he's inherited from his mother's and grandmother's experiences during the Vietnam War. Having left Vietnam with them as a young boy, and after the incarceration of his father, Little Dog's attempts to assimilate include contending with language barriers and the banal cruelty of the supposedly well-intentioned. He must also adapt to the world as a gay man and as a writer-the novel's beating heart rests in Little Dog's first, doomed love affair with another teenage boy, and in his attempts to describe what being a writer truly is. Vuong's prose shines in the intimate scenes between the young men, but sometimes the lyricism has a straining, vague quality ("They say nothing lasts forever but they're just scared it will last longer than they will love it"; "But the thing about forever is you can't take it back"). Nevertheless, this is a haunting meditation on loss, love, and the limits of human connection. (June) © Copyright PWxyz, LLC. All rights reserved."
(c) Copyright PWxyz, LLC. All rights reserved
Additional Information