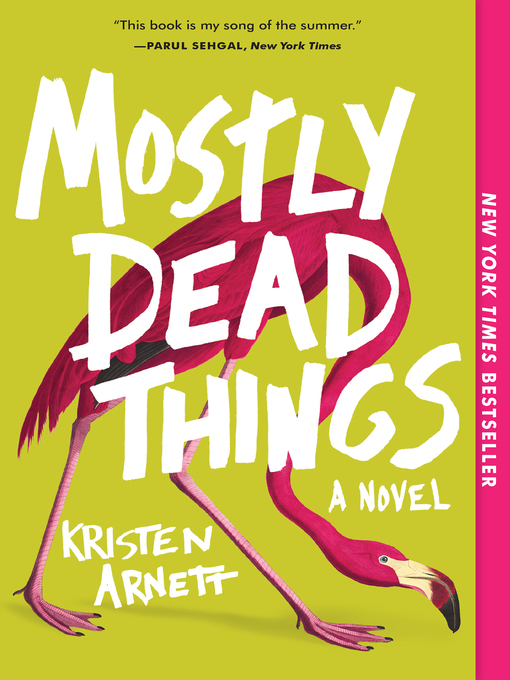 Mostly dead things
Format:

OverDrive Read

2019.

Adobe EPUB ebook

Kindle Book

Availability:

Unavailable

0 of 6 copies
32 people on waitlist
Summary
One morning, Jessa-Lynn Morton walks into the family taxidermy shop to find that her father has committed suicide, right there on one of the metal tables. Shocked and grieving, Jessa steps up to manage the failing business, while the rest of the Morton family crumbles. Her mother starts sneaking into the shop to make aggressively lewd art with the taxidermied animals. Her brother Milo withdraws, struggling to function. And Brynn, Milo's wife--and the only person Jessa's ever been in love with--walks out without a word. As Jessa seeks out less-than-legal ways of generating income, her mother's art escalates--picture a figure of her dead husband and a stuffed buffalo in an uncomfortably sexual pose--and the Mortons reach a tipping point. For the first time, Jessa has no choice but to learn who these people truly are, and ultimately how she fits alongside them. Kristen Arnett's debut novel is a darkly funny, heart-wrenching, and eccentric look at loss and love.
Published Reviews
Booklist Review:
"Jessa-Lynn Morton grew up and stayed put in central Florida, learning taxidermy from her father and then keeping his shop afloat after he commits suicide. She drinks too much and helps raise her niece and nephew after their mother, Jessa's sister-in-law and also, inconveniently, the love of her life, abandons them. Her mother makes obscene art using animals Jessa has preserved. Making a list of what's quirky about this debut novel from Arnett, author of the story collection Felt in the Jaw (2017), is too tempting to resist, but these quirks also serve as the novel's starting points. Arnett's writing cuts through all the unusualness and renders Jessa human and relatable. Jessa lives in a world of pain with little clue how to cope, and Arnett doesn't sugarcoat her or her Florida home. Both are described in unapologetically unvarnished terms: sour-smelling armpits, popped-zit gore on mirrors, garbage, rot, and roadkill. The novel alternates its storytelling between before Jessa's love abandoned the family and after. Florida animal species structure the before chapters, and their taxidermy is described in detail. The squeamish may struggle to read about Jessa's life, but readers who persevere will be both compelled and rewarded.--Emily Dziuban Copyright 2019 Booklist"
From Booklist, Copyright (c) American Library Association. Used with permission.
Publisher's Weekly Review:
"In Arnett's dark and original debut, Jessa discovers her father dead of a suicide in the family's Florida taxidermy shop. She also finds a note asking her to take care of the failing business, her mother, and her brother, Milo. Additionally, Jessa mourns the loss of Brynn, her brother's (now) ex-wife and Jessa's longtime lover, who left both her and Milo years before. As Jessa grieves over her lost loved ones, she must also deal with her remaining ones: Milo sinks from the world, missing work and barely paying attention to his children, and Jessa's mother enters a late creative period, using the stuffed and mounted animals from the shop to make elaborate sexual tableaus for a local art gallery. Jessa also begins a romantic relationship with Lucinda, the director of the gallery and benefactor for Jessa's mother's newfound (and, for Jessa, "perverted") artistry. Set in a richly rendered Florida and filled with delightfully wry prose and bracing honesty, Arnett's novel introduces a keenly skillful author with imagination and insight to spare. (June) © Copyright PWxyz, LLC. All rights reserved."
(c) Copyright PWxyz, LLC. All rights reserved
Additional Information
Subjects
Humor -- Fiction.
Electronic books.

Publisher

[Place of publication not identified] :Tin House Books2019.



Contributors
OverDrive, Inc.

Language

English



System Details

Mode of access: World Wide Web.




Format: Adobe EPUB eBook




Format: Kindle Book




Format: OverDrive Read




Requires Adobe Digital Editions or Amazon Kindle



Description

1 online resource



ISBN
9781947793316
9781947793316

Other
Classic View