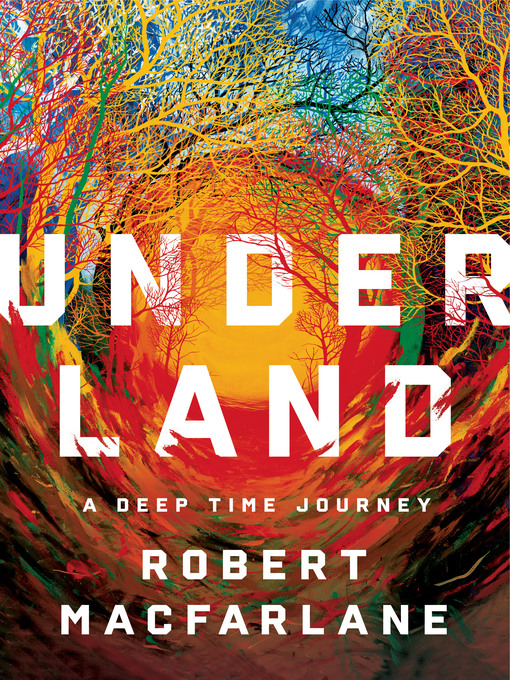 Underland a deep time journey
Format:

Kindle Book

2019

2019

Adobe EPUB ebook

OverDrive Read

Availability:

Available from OverDrive

1 of 7 copies
1 person on waitlist
Summary
National Bestseller • New York Times "100 Notable Books of the Year" • NPR "Favorite Books of 2019" • Guardian "100 Best Books of the 21st Century" • Winner of the National Outdoor Book AwardFrom the best-selling, award-winning author of Landmarks and The Old Ways, a haunting voyage into the planet's past and future.Hailed as "the great nature writer of this generation" (Wall Street Journal), Robert Macfarlane is the celebrated author of books about the intersections of the human and the natural realms. In Underland, he delivers his masterpiece: an epic exploration of the Earth's underworlds as they exist in myth, literature, memory, and the land itself.In this highly anticipated sequel to his international bestseller The Old Ways, Macfarlane takes us on an extraordinary journey into our relationship with darkness, burial, and what lies beneath the surface of both place and mind. Traveling through "deep time"—the dizzying expanses of geologic time that stretch away from the present—he moves from the birth of the universe to a post-human future, from the prehistoric art of Norwegian sea caves to the blue depths of the Greenland ice cap, from Bronze Age funeral chambers to the catacomb labyrinth below Paris, and from the underground fungal networks through which trees communicate to a deep-sunk "hiding place" where nuclear waste will be stored for 100,000 years to come. Woven through Macfarlane's own travels are the unforgettable stories of descents into the underland made across history by explorers, artists, cavers, divers, mourners, dreamers, and murderers, all of whom have been drawn for different reasons to seek what Cormac McCarthy calls "the awful darkness within the world."Global in its geography and written with great lyricism and power, Underland speaks powerfully to our present moment. Taking a deep-time view of our planet, Macfarlane here asks a vital and unsettling question: "Are we being good ancestors to the future Earth?" Underland marks a new turn in Macfarlane's long-term mapping of the relations of landscape and the human heart. From its remarkable opening pages to its deeply moving conclusion, it is a journey into wonder, loss, fear, and hope. At once ancient and urgent, this is a book that will change the way you see the world.

Published Reviews
Booklist Review:
"In the astonishing, keen sequel to The Old Ways (2012), revered nature writer Macfarlane considers the disparate spaces humanity has used to shelter, yield, and dispose that which we fear and wish to lose, and that which we love and wish to save. In three sections Seeing, Hiding, and Haunting and in vivid, rhythmic prose, Macfarlane describes a formidable array of mostly abhorred places, some underground. For example, one of the most complex, little-understood, and overlooked communication networks lies just underfoot as the roots of mighty trees and microscopic mycelia nourish and heal each other. Paris' labyrinth of catacombs and tunnels was created to cradle the dead, but it has become a lively city mirroring its above-ground sister. At the poles, glaciers are melting at an astounding rate, sounding an alarm few choose to hear. Underland masterfully and subtly argues the necessity of looking beyond our species and the Anthropocene the present era of cataclysmic change to dive into deep time and grasp the greater context of life on Earth. Humanity's past mistakes, thought long-buried, persistently reemerge, and Macfarlane urges us to confront these crucial realities. A powerful, epic journey for anyone wondering about the world below and all around us and, perhaps more important, for those who aren't.--Katharine Uhrich Copyright 2019 Booklist"
From Booklist, Copyright (c) American Library Association. Used with permission.
Publisher's Weekly Review:
"Nature writer Macfarlane (The Old Ways: A Journey on Foot) expands readers' horizons while delving into the various "worlds beneath our feet" in an eye-opening, lyrical, and even moving exploration. His look at the network of roots below London's Epping Forest leads into a discussion of the recent discovery that trees share nutrients with neighboring trees that are ill or under stress, a finding consistent with new ideas about plant intelligence and a "wood wide web" of interconnected plant and fungal life. In another section, Macfarlane descends more than half a mile below the Yorkshire countryside to visit "a laboratory set into a band of translucent silver rock salt left behind by the evaporation of an epicontinental northern sea some 250 million years earlier," where a physicist is searching for proof of dark matter's existence. Here, too, Macfarlane makes counterintuitive concepts fully accessible while capturing the poetry beneath the science, describing the tangible world humans perceive "as mere mist and silk" in relation to dark matter. Perhaps most importantly, he places humanity's time on Earth in a geological context, revealing how relatively insignificant it is. Macfarlane's rich, evocative survey enables readers to view themselves "as part of a web... stretching over millions of years past and millions to come," and deepen their understanding of the planet. (June) © Copyright PWxyz, LLC. All rights reserved."
(c) Copyright PWxyz, LLC. All rights reserved
Additional Information