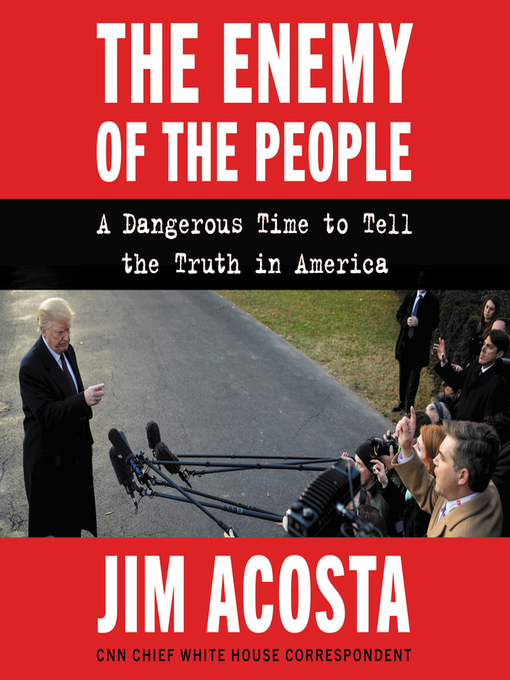 The enemy of the people a dangerous time to tell the truth in America
Format:

OverDrive MP3 Audiobook

2019

2019

OverDrive Listen

Availability:

Available from OverDrive

2 of 2 copies
Summary
From CNN's veteran Chief White House Correspondent Jim Acosta, an explosive, first-hand account of the dangers he faces reporting on the current White House while fighting on the front lines in President Trump's war on truth. In Mr. Trump's campaign against what he calls "Fake News," CNN Chief White House Correspondent, Jim Acosta, is public enemy number one. From the moment Mr. Trump announced his candidacy in 2015, he has attacked the media, calling journalists "the enemy of the people."Acosta presents a damning examination of bureaucratic dysfunction, deception, and the unprecedented threat the rhetoric Mr. Trump is directing has on our democracy. When the leader of the free world incites hate and violence, Acosta doesn't back down, and he urges his fellow citizens to do the same.At Mr. Trump's most hated network, CNN, Acosta offers a never-before-reported account of what it's like to be the President's most hated correspondent. Acosta goes head-to-head with the White House, even after Trump supporters have threatened his life with words as well as physical violence. From the hazy denials and accusations meant to discredit the Mueller investigation, to the president's scurrilous tweets, Jim Acosta is in the eye of the storm while reporting live to millions of people across the world. After spending hundreds of hours with the revolving door of White House personnel, Acosta paints portraits of the personalities of Sarah Huckabee Sanders, Stephen Miller, Steve Bannon, Sean Spicer, Hope Hicks, Jared Kushner and more. Acosta is tenacious and unyielding in his public battle to preserve the First Amendment and #RealNews.

Published Reviews
Publisher's Weekly Review:
"CNN's chief White House correspondent takes on an anti-media president in this passionate memoir. Acosta recounts the challenges of reporting after President Trump labeled CNN and him personally as purveyors of "fake news" and "enemies of the people," which precipitated death threats, confrontations with foul-mouthed Trump supporters at political rallies, and pipe bombs delivered to CNN headquarters. The narrative recounts the big stories from the Trump campaign and administration--probing the investigation into Russian collusion, the travel ban on people from majority-Muslim countries, immigration policy, and the soap opera of White House infighting--with the focus on Acosta and his tenacious efforts at briefings and press conferences to get his confrontational questions answered, to the point of getting his press pass temporarily revoked in 2018. ("Where does it say in the Bible that it's moral to take children away from their mothers?" he asked White House press secretary Sarah Sanders about Trump's border policies after then--attorney general Jeff Sessions used Bible passages to support the separation of migrant families at the U.S. border.) Framing modern-day political journalism as a truth-vs.-Trump showdown, Acosta is forthrightly opinionated, writing that "neutrality for the sake of neutrality doesn't really serve us in the Age of Trump." Fans of the author's hard-hitting reporting will love it, but critics who have accused him of grandstanding and bias may not have their suspicions allayed. Photos. (June)"
(c) Copyright PWxyz, LLC. All rights reserved
Additional Information