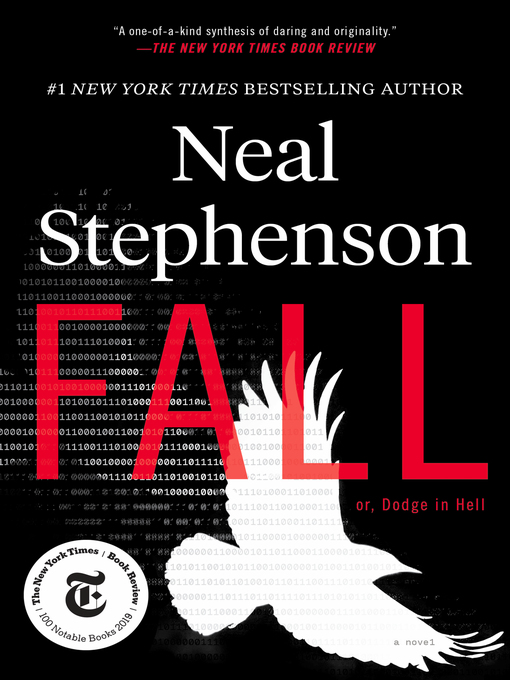 Fall; or, Dodge in hell a novel
Format:

OverDrive Read

2019.

Adobe EPUB ebook

Kindle Book

Availability:

Unavailable

0 of 13 copies
40 people on waitlist
Summary
The #1 New York Times bestselling author of Seveneves, Anathem, Reamde, and Cryptonomicon returns with a wildly inventive and entertaining science fiction thriller--Paradise Lost by way of Philip K. Dick--that unfolds in the near future, in parallel worlds.



In his youth, Richard "Dodge" Forthrast founded Corporation 9592, a gaming company that made him a multibillionaire. Now in his middle years, Dodge appreciates his comfortable, unencumbered life, managing his myriad business interests, and spending time with his beloved niece Zula and her young daughter, Sophia.
One beautiful autumn day, while he undergoes a routine medical procedure, something goes irrevocably wrong. Dodge is pronounced brain dead and put on life support, leaving his stunned family and close friends with difficult decisions. Long ago, when a much younger Dodge drew up his will, he directed that his body be given to a cryonics company now owned by enigmatic tech entrepreneur Elmo Shepherd. Legally bound to follow the directive despite their misgivings, Dodge's family has his brain scanned and its data structures uploaded and stored in the cloud, until it can eventually be revived.
In the coming years, technology allows Dodge's brain to be turned back on. It is an achievement that is nothing less than the disruption of death itself. An eternal afterlife--the Bitworld--is created, in which humans continue to exist as digital souls.
But this brave new immortal world is not the Utopia it might first seem . . .
Fall, or Dodge in Hell is pure, unadulterated fun: a grand drama of analog and digital, man and machine, angels and demons, gods and followers, the finite and the eternal. In this exhilarating epic, Neal Stephenson raises profound existential questions and touches on the revolutionary breakthroughs that are transforming our future. Combining the technological, philosophical, and spiritual in one grand myth, he delivers a mind-blowing speculative literary saga for the modern age.
Published Reviews
Booklist Review:
"In this supersized sequel to his best-selling technothriller Reamde (2011), speculative-fiction virtuoso Stephenson creates new challenges for his returning protagonist, computer-gaming mogul Richard Dodge Forthrast, including his literal transformation into a digital avatar. When a routine medical procedure goes awry, rendering Dodge brain-dead, a long-forgotten will drafted during his salad days abruptly takes effect, leaving his remains in the hands of wealthy and wily cryogenics entrepreneur Elmo El Shepherd. Twenty years later, his computer savvy grandniece Sophia devises a way to boot up Dodge's digitized brain in a cyberspace realm dubbed Bitworld, where he finds himself suddenly conscious again and in charge of fashioning a new virtual universe. As the decades pass and the Bitworld population of freshly deceased and uploaded souls grows, Dodge is forced to exercise tighter control until disenchanted, power-hungry El finally arrives on the scene and turns Dodge's palace into a prison. Stephenson devotees with a taste for Tolkienesque fantasy will revel in the author's imaginative world building as the story shifts more and more into Bitworld, while those who favor his ingenious riffs on future tech may find it tedious. Still, there are enough futuristic, envelope-pushing ideas here, especially related to AI and digital consciousness, to keep even nonfans and science buffs intrigued.HIGH-DEMAND BACKSTORY: Best-selling Stephenson is cutting edge and his followers and all readers intrigued by shrewd speculative fiction will queue up.--Carl Hays Copyright 2019 Booklist"
From Booklist, Copyright (c) American Library Association. Used with permission.
Publisher's Weekly Review:
"This laboriously detailed follow-up to Reamde explores where human imagination ends and artificial intelligence begins, providing some speculative concepts without any real payoff. Richard "Dodge" Forthrast, founder of the gaming company Corporation 9592, is rendered brain-dead when a routine surgery goes horribly wrong. His will stipulates that his brain be scanned and preserved by a tech company run by elusive Elmo Shepherd, in hopes of future regeneration. Decades later, Dodge's grandniece, Sophia, designs a method for turning on Dodge's brain, making him a lone god of sorts in a new digital world. Her invention allows people to leave Meatspace, or the terrestrial world, which is reinventing itself after the implosion of the internet, and travel to Bitworld, where Dodge and the now-dead Elmo battle for power. Though Bitworld is liberated from physical constraints and Meatspace is exploring a "post-truth" era, both simplistically replicate present-day societal power structures, showing the limits of Stephenson's imagination. Fans of Stephenson's passion for the minutiae of technological innovations will revel in the intricacies of his construction, but unwieldy dialogue, uneven pacing, and a narrow-minded view of the future betray the story's promise. Agent: Liz Darhansoff, Darhansoff & Verrill. (June) © Copyright PWxyz, LLC. All rights reserved."
(c) Copyright PWxyz, LLC. All rights reserved
Additional Information